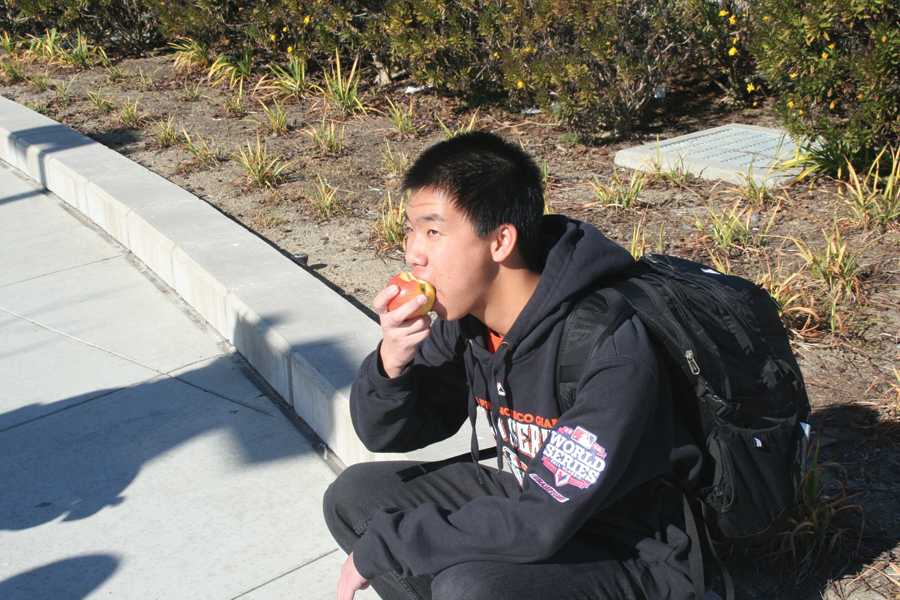 unknown
A trip through the line at the Cal High cafeteria has become a daily ritual for hundreds of Cal students.
Although it is convenient for students to buy lunch at school, some of the cafeteria food may actually be quite unhealthy for them.  With all this food being distributed, the health of the food is something that needs to be examined.
This may seem like a no-brainer, and something that the school has dealt with a long time ago.  But with a little time and research, it's not hard to see that there is a problem.
A simple glance at the cafeteria selection reveals the available unhealthy food, such as pizza, teriyaki chicken, chocolate milk, and french fries, everyone's favorite side.
"I don't really have another choice," said freshman Dillon Hathaway. "My parents give me money every day to buy food, and I would love it if they were to offer better healthy items."
With child obesity on the rise, there is still unhealthy items available despite district health guidelines.
"We are required to meet certain guidelines for sodium, fat, carbs, and overall calorie count," said cafeteria worker Sherry Moore.
Although this may seem like an easy solution to the problem, a quick look at the school lunch menu nutrition facts, which are available online but not at the cafeteria, shows the guidelines aren't doing much at all.
A teriyaki chicken bowl has a whopping 947 calories and 178 carbs.  A cheese quesadilla has 484 calories and an alarming 57 carbs. Finally, a slice of pizza sports an daunting 460 calories and 60 carbs.
The average calorie intake for most meals is more than 60 percent of the daily recommended value.  The menu average of all meals for  each day of the week is 2,693 calories, 318 percent over the 846 "target."
All of these nutrition facts are available on the district website, and as exaggerated as they sound, it's what is being handed out to high schoolers around the district each day.
The district compensates for this by proudly providing healthier alternatives and sides of fruit for free with purchase of a meal.
But the fact of the matter is the district are still selling junk food to high school students.
Even though the school may sell healthy items along with the unhealthy ones, students feel that does not create a legitimate solution since they  are still prone to go for bad food, not a salad and some fruit.
It's just the way that humans are programmed.
Biology teacher Brilynn Schrader explains that in the early years of human existence, people were taught to stock up on high calorie items for energy, and this habit has stuck with humanity ever since.
The healthier items that Cal offers, like salads and Subway sandwiches, are more expensive and, in the opinion of some students, taste really bad.
" If the school is going to sell healthy items, they could at least make them taste good and less expensive, " said sophomore Alex Bru.
The district also prominently displays on its website – the same one that reveals its nutrition facts – that it supports institutions such as Kids Health and the American Academy of Pediatrics. Some students find this ironic.
"The school should spend more money on providing better healthier options for the students," said senior Georgie Ramirez.
Many other students agree and would be happy to choose the healthier options if the district would place more time and effort into making them better.
Many students also suggest that they should modify the unhealthy items to make them more student friendly. Ideas such as exchanging white for brown rice, and selling protein bars on the side can be a serious game changer.
"Packing and bringing your own lunch is definitely a healthier alternative to the unhealthy food that the school sells," said sophomore Greg Bretezing.
Bringing a lunch instead of buying one to avoid the unhealthy items offered by the school seems to be a popular way to stay fit and feel great.
As a matter of fact, most students are greatly opposed to the idea of buying cafeteria food in the first place.
When asked, "How do you feel about the unhealthy food sold in the cafateria?" Most teenagers would answer with the common teenage refrain, "I don't care!"
This popular mindset may have detrimental effects in the future.