Loma Prieta anniversary reminds us of earthquake drill importance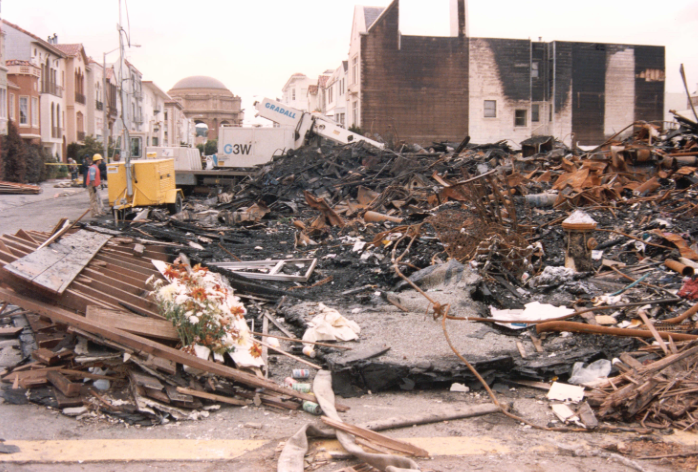 Earthquake drills have been literally drilled into students in San Ramon since kindergarten. After all, our town lies right next to the Calaveras Earthquake Fault Line.
But with today's 25th anniversary of the devastating magnitude-6.9 Loma Prieta Earthquake – which killed 63 people, collapsed the Cypress Freeway and caused billions of dollars in damages throughout the Bay Area – Californians are reminded of the importance of being prepared for an earthquake whenever it may occur.
Experiencing an earthquake might not be such a rare thing for the students of Cal High, but the earthquakes are usually minor shakes in the middle of the night.
So what would happen if a large-scale earthquake hit Cal on a sunny Tuesday in the middle of third period?
"[Our school's current procedure] in an earthquake, it's just drop, cover, and hold," said assistant principal Crystal Lopez.
What happens after the earthquake depends on what the situation is, said Lopez.
"At that point it would be up to law enforcement," she said.
Lopez mentioned that Cal is required to have one earthquake drill a year. Even though students get to experience a drill, how would they act in the face of a real earthquake during school?
"I think everyone will freak out," said junior Lilly Ortiz. "Some people will be like 'Oh my god,' and some will actually go under the desks."
Some students are unsure whether they would actually follow drill procedures.
"I would run for my life and try not to die," sophomore Josh Kyser said.
But Lopez thinks all students would be following procedures in case there was an earthquake during school hours.
Ready.gov, the national disaster awareness website, recommends to have an emergency kit available at all times. The kit could include: one gallon of water per person per day for three days, a three-day supply of non-perishable food per person, flashlight and batteries, blankets, a First-Aid Kit, and a local map.
Although out of sight, Cal has all supplies secured in case of an emergency. Lopez said food, water, blankets, and other supplies are locked up in storage.
Teachers are informed of where the rations are located, but only administrators are able to access it.
"Students don't really need to know where the supplies are," said Lopez.
If following the recommendations given by the Federal Emergency Management Agency (FEMA), Cal should be storing enough supplies for 2,800 students: 8,400 gallons of water, 8,400 servings of non-perishable food, 2,800 blankets, and much more.
"I don't know the exact amount of supplies in there," said Lopez, "but it's enough food and water for at least a day or two."
Teachers also have enough emergency rations in the first aid bags of their classrooms to provide for around 30 students.
FEMA stresses importance of preparing school facilities in case of an emergency.
Lopez also said the school does not contain elements that may prove to be dangerous in the case of an earthquake.
"Especially with the modernization of the old school," said Lopez. "Everything has been done recently and brought up to code."