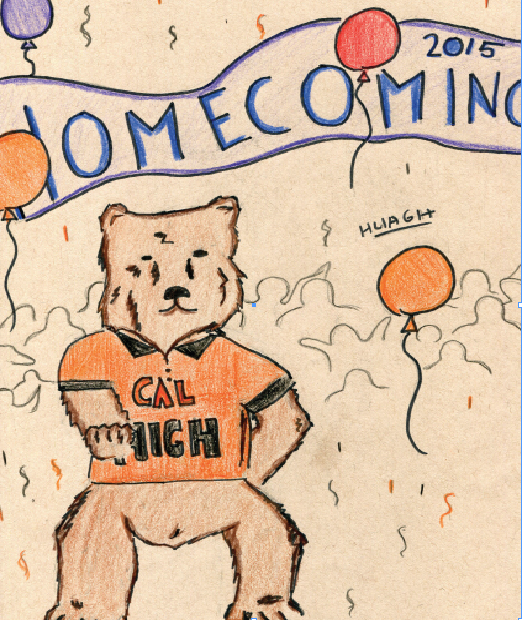 The arrival of fall is slowly settling in and welcomes students with all it has to bring.
The halloween thrill, warm drinks, comfy clothes, and "pumpkin spice" everything has arrived, and  with that homecoming is here, too
The thought of homecoming evokes nostalgia as students remember crazy football games, intense preparations for the float and parade, spirit weeks, and that  one night when they can dance like no one's watching.
It's a time that brings everyone together, both alumni and current students, reminiscing about what it truly feels like to come together as a school.
Many current Grizzlies said they are excited for this year's homecoming week.
"I like to see the increase in school spirit and how it brings everyone together as a whole school," said senior Ysabelle Saguin.
Angela Bushard, a Cal High alumni and current teacher, said homecoming has changed a lot since she graduated in 2004.
"Homecoming is taken a lot more seriously now than before," Bushard said. "There's also a lot more school spirit now then when I used to go here, and that might have been because our football team wasn't good."
Bushard said she enjoys homecoming now as a teacher more than she did as a student.
"I feel connected to school being an alumni," Bushard said. "It's a time that brings everyone together and makes the community stronger."
Many students wonder what this year's dance has to offer, who will be king and queen, what the floats will end up like.
"I am excited for all the spirit days and the dance," said junior Hallie Beard. "It's fun dressing up and taking pictures with all my friends, we all have good time preparing for it,"
Although  many Cal students are pretty excited for several aspects of homecoming, others can do without the dance at the end of the week.
"I hate dances," said junior Ondray Cooper. "It's so crowded, and I don't want to plan an elaborate way of asking someone, bring flowers, and get rejected it's embarrassing
"I'd rather hang out with my friends instead," he said.
Some students agree that dances just aren't for them.
Students who didn't go last year said they mainly hung out with friends and watched movies.
Many students said they would enjoy the dance more if there was better music.
Most students who are experiencing homecoming for the first time are looking forward to partipating in the festivities.
"I'm pretty excited," said freshman Lee Swen. "My sister's a senior and I've heard so many good things from her. She seemed like she really liked it."
With all these students looking forward to it, it's safe to say that homecoming is definetly worth the hype.