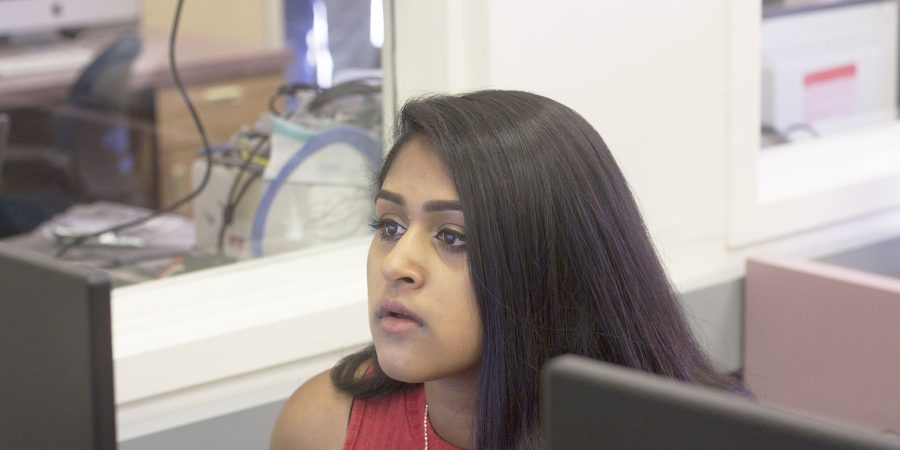 Photo by Des Jower
While most students hang out with friends or play video games for fun, Cal High senior Ridhi Vuriti enjoys coding.
Vuriti took this love to the next level last summer by  attending an intensive seven week program known as Girls Who Code.
At the program, Ridhi attended classes every day for seven weeks. From 9:30 a.m. to 3 p.m., she would join her class of 20 in learning the basic early syntax of coding.
Vuriti learned the basic coding languages such as Python and C, and other introductory coding skills, including programming simple functions for robots.
"They taught us a lot of material, one topic a week," said Vuriti. "But it was a lot of fun."
The supervisors would provide the students with activities and problems that they had to solve on their own. Many of Vuriti's supervisors agree that she was a very eager and hard-working student.
"Ridhi was really enthusiastic," said Gaby Balanon, one of the supervisors at Girls Who Code. "Sometimes she would be so into it that I'd have to remind her to take a few breaks."
At the end of the program, Vuriti had to complete a challenging yet fun final project. Using what she had learned, she had to discover and create something of her own with the help of two other students.
"My final project was a career exploring web application that sets long term goals with progress bars and graphs," said Vuriti.
This year's Girls Who Code program took place at GE Digital San Ramon. Girls Who Code is a Summer Immersion program, which is a non-profit organization that provides camps and programs for students to realize their future.
In addition to the classroom activities, Vuriti was also able to go on field trips with her class to professional companies to see how coders fit in to the workplace. They visited the offices of companies such as Dropbox and Instacart
Vuriti researched and applied for Girls Who Code after her parents suggested she take on an internship over the summer. She actually found out about the program from the homepage of the Dougherty Valley High School website.
To apply, she had to fill out an online form of quantitative questions, write short personal essays, and provide two references from teachers. The entire application process took about two hours to complete.
Girls Who Code is a free program, so every year organizers receive hundreds of applications. Because of this, the applicant selection process is very selective.
Vuriti didn't tell her parents about her application until she was actually accepted.  Needless to say, her parents were pleasantly surprised.
"When I found out about it, I knew it was a program that was not easy to get into," said Manoj Vuriti, Ridhi's father. "So naturally when she got in I was overjoyed."
Ridhi Vuriti had always had an interest in coding. She takes AP Computer Science Principles at school, and has participated in numerous hack-a-thons.
"Ridhi is a great student," said Sean Raser, AP Computer Science teacher. "She seems to really enjoy what we do."
Ridhi Vuriti wanted to learn to code because she plans on pursuing a career with computer programming and management. Careers involving computer science are mostly male dominated, something she believes should change.
"There's a big wage gap between men and women," she said. "I think more women should go into computer programming to change that."