Art makes memories with project
Students draw portraits of children in developing world
Hang on for a minute...we're trying to find some more stories you might like.
Art is not only a way for people to express themselves, but it's also a way to give back to people and spread kindness.
This past month, 11 students from Art 3 and AP Art have participated in the Memory Project to learn about different cultures and help children in other parts of the world feel valued. 
Anyone can apply to receive a photo of a child and create portrait that will be sent back to the youth.
Since 2004, the Memory Project has worked to spread love to children around the world, especially those facing challenges such as abuse and poverty. The project has delivered more than 100,000 portraits to children in 43 countries in places such as South America, Africa, and the Middle East, according to the non-profit organization's website, www.memoryproject.org.
This year, the Alamo Danville Artists' Society sponsored art students at Cal and Monte Vista  high schools in this project by donating $900 for the delivery of the portraits to the children. 
Cal's advanced art classes have been participating in this project for several years already, but art teacher Michelle Traynor-Stephanos plans to continue the project and expand it to include all art students instead of just those in Art 3 and AP Art.
"[The students] could use their talents to give to other kids," said Traynor-Stephanos. "It's such a neat opportunity to learn about another culture and different socioeconomic groups and be able to brighten someone's day."
Prior to creating the portraits, the students watched videos about Bolivia in order to learn more about the culture and experiences of the children who would receive the portraits.
"We try to push [students'] skills where they are integrating culture into the portrait," said Traynor-Stephanos. "[The childrens'] viewpoint of the world is so different from ours. That's their experience in the world."
Students who participated in the projects had positive experiences and are eager to be part of it again in the future.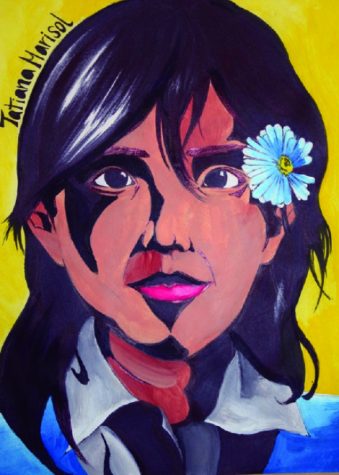 "I got to learn more about [the childrens'] country," said sophomore Art 3 student Annaka Lee. "It feels nice to be able to give something back through art."
The Memory Project's website also features a video that shows how students are impacted when receiving portraits.
"I hope that [the project] inspires [the kids] and shows them how people from across the world can interact," said junior AP Art student Shruthi Reddy. "I hope that it inspires them to pursue art too."
AP art student Nieves Winslow thinks the idea of receiving artwork from someone anonymous is especially exciting. 
After having participated in the project for two years, Winslow hopes to see the project expand to help even more children. 
"The kids we get are really poor or at an orphanage, and although I'm sure they appreciate a piece of artwork, I would love to do more,"  Winslow said.
Copies of these unique portraits are displayed in the Cal library, a reminder of how students can use their skills to touch the lives of others and make a difference in the world.