Miravalles-Calceta is shooting for the stars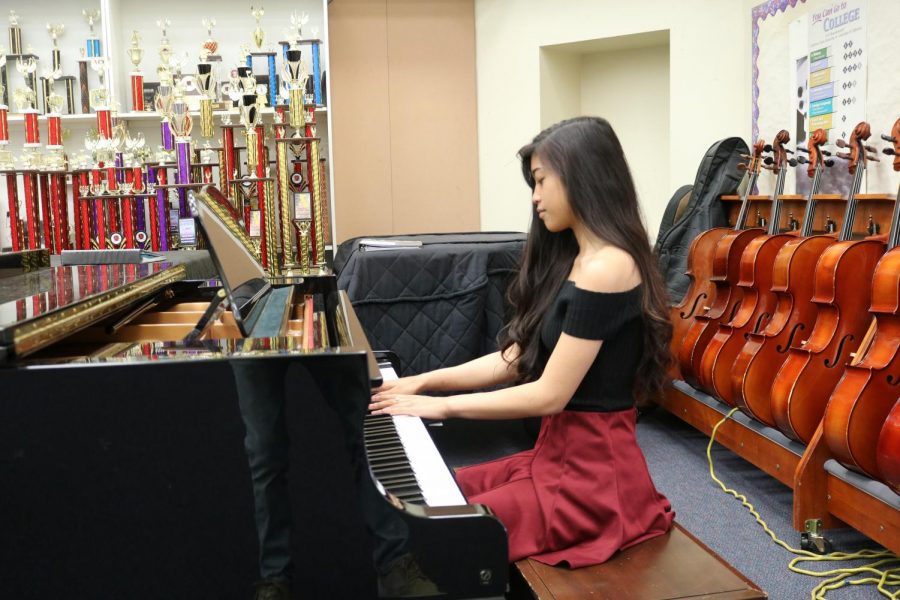 Sierra Randel and Isabella Belof, Staff Writers
May 29, 2019
When the stage lights blare and the spotlight focuses on her, Brooklyn Miravalles-Calceta knows that despite her apprehension, she can't let her nerves get the best of her.
Miravalles-Calceta, a sophomore at Cal High, has been passionate about singing since the age of three. At  eleven years old, she became more invested in theater which inspired her to join her current company, San Francisco Children's Musical Theater.
More recently, she has played roles in independent films, a few of which she was paid for. The role she enjoyed the most was Mary Lou in the movie "Shake, Rattle, and Roll." The character contrasted greatly with Miravalles-Calceta's personality, which made her enjoy it even more. 
She also performed in "Broadway Movie Musical," a documentary about musicals. The film featured characters from well-known musicals, such as "Rent" and "Chorus Line."
"I like being in independent films because you're not attached to anything," Miravalles-Calceta said. "I like supporting the underdogs, the unknown directors."
In addition to movies, Miravalles-Calceta performs in theater productions with her company. She played Moana in "Disney Movie Magic," which was her favorite theater performance. She also played one of Ariel's sisters in Iron Horse Middle School's production of "The Little Mermaid."
"I attended one of the plays she starred in at Iron Horse Middle School and I remember being amazed by her voice and overall acting skills," sophomore Juhi Hariawala said. "Since then, I've attended two more performances and seen this talent continue to grow and I know I will continue to be impressed by it." 
Miravalles-Calceta said she actually enjoys playing background characters more than leading roles.
"That way you can sit back and relax more, but you can still enjoy all the fun the main characters are having," she said.
In the industry, many performers experience stage fright. Miravalles-Calceta deals with this feeling by singing and dancing to clear her head.
"If you want it, you want it," she said with a smile. "You won't let nervousness get in the way." 
Miravalles-Calceta's mother, Rhenan Miravalles-Calceta, is very involved in her daughter's acting pursuits.
"I believe that Brooklyn's inspiration is derived from her ability to adapt to certain situations," her mother said. "Brooklyn is very engaged with the world around her and the impact it can have on musical theater."
Miravalles-Calceta usually gets offered roles by her director or her friends. If she chooses to audition, it involves three main parts: reading one line, a callback for chemistry reading, and a vocal performance.
For inspiration, Miravalles-Calceta looks up to actress Laura Osnes for her humble, down-to-earth attitude. Miravalles-Calceta said the key to improvement is accepting constructive criticism, which many people in the industry lack the ability to do.
"Humility is a really big part of it," Miravalles-Calceta said. "A lot of people think they're gonna make it far in the industry but they don't. They think, 'I'm too good for this role.' "
Sophomore Janae Dungca has been Miravalles-Calceta's friend since the second grade, and has seen her become more confident in her roles.
"I've seen her practicing, rehearsing, going over lines," Dungca said. "She always makes sure that whoever or whatever she is playing, she portrays them the best way she can."
While Miravalles-Calceta loves acting, she is not sure she wants to pursue it as a career. Instead, she is interested in being a psychiatrist because she greatly values mental health.
Until then, she will continue to practice her performances and shine in the spotlight.