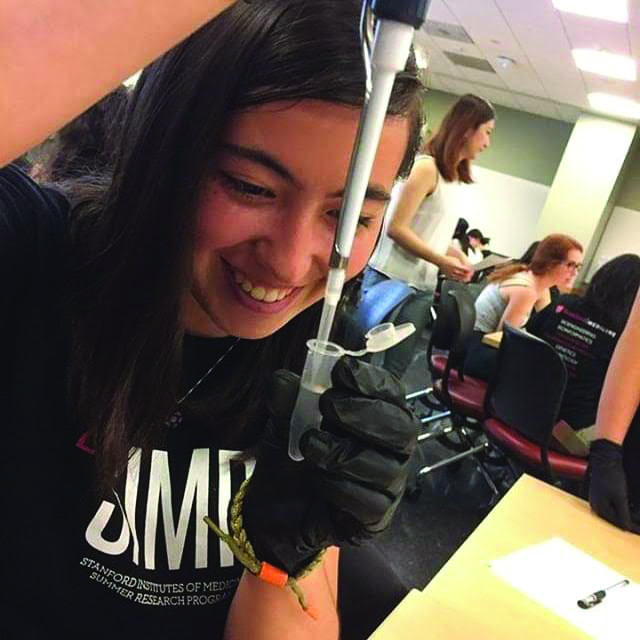 Photo Courtesy of Nadya Higgins
Not many high school students can say that they've conducted laboratory research at Stanford University.
But after this summer, senior Nadya Higgins can.
Higgins received the eight-week experience of a lifetime through the Stanford Institute of Medicine Summer Research Program (SIMR), a program for high school juniors and seniors who are interested in the medical field.
Higgins interned with a mentor, Adrian Rodrigues, and worked in an experimental lab with spinal cord tissues to stain, image, and analyze cell marker antibodies using laser settings on a confocal microscope.
"The main focus was [researching how] to regain motor function after paralysis caused by a spinal cord injury," Higgins said.
Higgins' favorite part was working with the laboratory rats. She even gave the rats names based off the unique patterns of their fur, such as Stripy, Patchy, and Dot.
The Stanford lab tests solutions by placing human spinal cells in rats, which also allows them to conduct behavioral testing. Higgins learned how to suture and staple incisions after surgery, as well as perform dissections and perfusions.
"Nadya is very studious. She sacrifices a lot of free time," senior Jessie Weiss, a close friend of Higgins, said. "But she has a really strong focus on what needs to get done, which is a good life skill."
AP Biology teacher Andrew White said Higgins was one of his most genuinely passionate students. He described her as inquisitive and attentive during class.
"[Nadya] really drove the lectures sometimes," White said. "She asked questions that would take the lecture further."
Higgins was accepted into SIMR as one of 50 students in the program. Prospective students had to complete an intensive  application that included two essays, standardized test scores, and GPA.
As an attendee, Higgins found a welcoming community at Stanford. She worked in the lab with two other students under the guidance of the lab manager Vanessa Doulames.
"I looked forawrd to going into the lab everyday," Higgins said. "Doctors and scientists are less intimidating than you think."
Higgins also formed a relationship with her lab group. They participated in group lectures from professors and weekly combined lunches with other attendees.
"I met a lot of great and really driven people," Higgins said, "Not often do you get to meet a bunch of people who are into the same thing as you."
Along with her aptitude for science, Higgins is also a storied artist. She has published her own children's book, complete with original illustrations.
When asked about her plans to combine her two passions, she said that at first she was worried that scientific research would be too rigid. Ultimately, the experience at SIMR showed her the opposite.
"Creative problems need creative solutions too," Higgins said.
Senior Paige McKindra, who also attended the SIMR bioengineering program, agreed that lab experience is key in order to gain an understanding of the practical application of science in the real world.
Through SIMR, McKindra said she learned to take the information from AP classes and then apply it to a need in the community.
"[Lab experience] made me believe that I can do things to actually change the world," McKindra said. "At first, just [studying] textbooks was discouraging. Now I'm inspired to use technology and research to impact peoples' lives."
White says that laboratory work these students did is important in gaining both experience and connections.
"Get into a lab as soon as you can," White said.
He advises students interested in STEM to follow in Higgins' and McKindra's footsteps and get real experience as soon as possible so they can understand what it's truly like.
Higgins' interest in STEM has heavily evolved from her childhood days. At first, she wanted to be a veterinary pathologist because of a fascination with the cycles of life and death.
Now, Higgins' keen interest in anatomy and disease has led her to pursue an interest in medical reseasrch, where hands-on experience like the SIMR program is key.
In the future, Higgins hopes to get more clinical experience on top of her research.
"If you're interested, just go for it," Higgins said. "I wouldn't have been able to see this side of the medical field without the program."