Cal Goes Digital: Schooling Away from School
Teachers, students adjust to remote learning as district enters Phase 2 of instruction during the coronavirus pandemic
In the new era of social distancing and shelter-in-place orders because of the coronavirus pandemic, teachers at Cal High and across the country are learning to adapt to the new requirements for online learning.
When the San Ramon Valley Unified School District announced on April 7 that it was following the State Superintendent's recommendations and closing its campuses for the rest of the school year, teachers began preparing new material to administer electronically when Cal students would return from Spring Break this week.
During the two weeks prior to Spring Break, teachers prepared for remote learning by covering review materials online with students.
"During Phase 1 of our virtual learning, I was able to create Google Classrooms to connect with my students," freshmen PE and team sports teacher Sheridan Kautzmann said. "I felt that this was the most effective way to provide some stability and easily communicate."
Many other teachers have also been utilizing Google Classroom to reach out to their students and assign work. AP US History teacher Scott Hodges has been using Google Classroom, Calendar, and Meet.
"[I've adapted to online learning] through just diving in but testing different elements when I could to see what worked and what didn't work," Hodges said.
This new way of educating has been a learning curve for all, students and teachers alike.
"It was hard to change from being in a class all day then abruptly leaving to have school at home," freshman Alex Vanier said.
Schools throughout the district entered Phase 2 of online learning on Wednesday, April 15, pushing out new material for the first time since students' last day on campus on March 13.
Many teachers have been trying to stick to the district's suggestion to only assign students about three hours of work per class each week, which includes AP classes.
"[My workload has] been manageable and it really depends on how much you'll procrastinate," junior Amanda Le said. "But some of my teachers have definitely added more assignments than others."
Most students' work in Phase 1 consisted of worksheets, online review videos, as well as Google and Zoom meetings. Many teachers were concerned how online instruction would change once new material rolled out.
"My main concern with online learning is that students be engaged and stay engaged and focused on the material and on their work," Spanish 2 and AP Spanish teacher Scott Tinetti said. "Because a lot of the material will be delivered asynchronously, the students themselves will need to figure out a system that works for them individually."
The concept of time management and learning outside of a classroom setting has also been a concern for some students.
"I miss actually learning things in class instead of being handed things to do," Vanier said.
Students entered the week of April 15 curious as to how the work they are receiving will change and how communication will evolve throughout Phase 2.
"I'm mainly worried about how future assessments will be administered, as well as constant communication with all of the students," Le said.
In addition to concerns about online schooling, people also have to worry about the health of those they care about while they are unable to see their friends and loved ones.
"My biggest concern reflects what I miss the most and that is actual contact with my students," Hodges said. "I really miss being able to see them and work directly with them."
For students, it has been especially hard to work from home without being able to see their classmates and friends.
"I miss my classes and seeing my teachers and friends," Le said. "I wish everyone is doing well, and staying safe."
Though the current situation is still everchanging and often frightening, some teachers hope their students can develop a greater respect for school.
"I hope students can gain a greater appreciation for teachers and what they do as well as the value of school. This whole quarantine has really highlighted not to take things for granted," Kautzmann said. "This quarantine has really helped emphasize that physical activity isn't just a waste of a class or less valued than an academic class, but needed."
Teachers also want students to continue to learn, while taking the time to stay healthy.
"I hope that my students will be intrinsically motivated to keep up with Spanish so that they can be prepared for the next level and that my AP students are well-prepared for the AP exam," Tinetti said. "In addition, it's important that students take time for themselves and their families amid this crisis."
As the school year progresses, so will the evolution of online learning. Teachers will have to figure out how to keep students engaged for the remaining four weeks while students must navigate their way through this unfamiliar style of learning.
"This is the first time we're taking the initiative to pursue online schooling," Le said. "Changing the curriculum to adapt to the changes is something that is new for everyone."
About the Contributor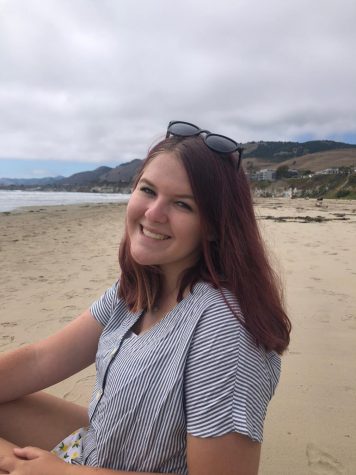 Emmy Burrus, Co Editor-in-Chief
Emmy Burrus is a senior at California High School, and is entering her third year of being a part of the Californian staff as Co Editor-in-Chief. Last...