DeSoto is school's lone NCS champion this year
Senior is first Grizzly to win an individual wrestling title en route to state finals
A season of redemption became a historic moment in Cal's wrestling history. 
Senior Daniel DeSoto won the first NCS wrestling title in Cal High history on Feb. 22, when he defeated Ian Richardson from Granada in the 182-pound championship match at James Logan High School in Union City.
Considering there is unlikely to be any more high schools sports played this season because of the coronavirus pandemic, DeSoto's title will be Cal's only NCS championships this season and stand out as the school's greatest athletic accomplishment for the 2019-20 school year.
Going into the match, DeSoto had some anxiety, but was also ready for the challenge.
 "I was nervous but excited," DeSoto said about how he was feeling before the finals. "I had beaten the guy before but didn't change anything for preparation."
DeSoto was ready to take on his opponent, and after defeating him, became NCS champion and qualified for the CIF State Finals. Looking back on last year, DeSoto recalled a memory that stuck with him, which made this title even more rewarding.
"[Last year at NCS] I lost by one point to go to state," DeSoto said.
 In the previous rounds at NCS, DeSoto defeated Andrew Hamant from College Park in the semifinals and Landon Saal from Maria Carrillo in the quarterfinals. In the round of 16, DeSoto defeated Daniel Marinez from St. Helen after beating SF Drake's Aidan Bergman in the opening round.
The emotions after the NCS championship match were overwhelming for DeSoto and his father.
 "We could only hug for a couple seconds but in that moment I told him that I was proud of him," said first-year varsity coach Bob DeSoto, who not only took on the role of coach but also the role of dad of the team's top wrestler.  "We could've stood there and hugged for five minutes."
When Coach DeSoto saw his son holding up the completed 182-pound bracket on top of the podium at NCS, he said he was filled with a lot of emotions.
"It was a lifelong dream to see another DeSoto excel in the same sport you loved in high school and college," he said. "It was a great year."
Unfortunately, DeSoto's run to a state championship came up short on Feb. 28-29 in Bakersfield. DeSoto lost his opening match Carsten Rawls from St. Francis before being knocked out of the competition by Clovis North's Spencer Steiner.
Throughout the season, DeSoto earned many impressive wins. During an in-season tournament, DeSoto beat longtime friend Jonathan Gruber from San Ramon Valley in the semifinals.
DeSoto lost to Gruber during the season and when it came to the tournament, DeSoto got his revenge.
DeSoto's teammates expressed great fondness and appreciation for him throughout the year.
"DeSoto was huge," junior Itay Udler said. "His work ethic shows how to be a Cal High wrestler. The way he leads and motivates us and sets a good example for the rest of us."
Udler and his teammates said DeSoto's legacy will stick with the program for years to come. His commitment, hard work and motivation will be passed down to other Grizzly wrestlers. DeSoto said he plans to attend Cal Poly-San Luis Obispo next year, but he doesn't expect to wrestle or play football.
About the Writer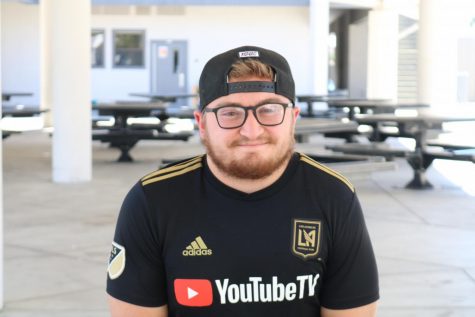 Greg Warrington, Staff Writer
Greg Warrington is a first time reporter for the Californian Newspaper here at Cal High. He is a Senior this year at Cal. He also is the team manager for...