The struggles of obtaining a PS5
The pandemic has hurt many industries but gaming companies have been thriving. The new edition consoles, the Xbox Series X and PS5, have been selling like hot cakes and are in huge demand.
"I asked my parents if I could buy a PS5 around Thanksgiving," junior David Castillo said. "They had intended and hoped to be able to buy one by Christmas time, but my mom ended up finding one in stock at Target at 4 a.m. on Jan. 20 and got it later that day. I would say that it is pretty difficult to find a PS5 currently."
With so many people buying consoles, the issue of stocking stores while customers patiently wait for the next shipments of consoles to arrive has been a huge issue.
Unfortunately, there are always troublesome groups present who intend on scamming customers.
These groups of people are known as scalpers. Scalping is the process of buying highly coveted items in order to resell at a much higher price point. With the PS5 specifically, scalpers have increased the price by double in many instances and people are still buying them even with that $1,000 price tag.
"People would literally do anything to get a PS5 even start fights and other stuff," senior Alex Silva said.
Silva believes buying overpriced PS5's from resellers is a waste of time.
"You don't even know them and it might not even be a PS5," Silva said. "People have been getting sent foods and bricks and other things instead. In general it's not worth it."
A group of scalpers boasted on Twitter that they had bought more than 2,000 PS5s in a single day, stating that it "just keeps getting easier every time." After a lot of backlash, the account went private. Some scalpers say that they need to resell these consoles to stay financially stable during the pandemic.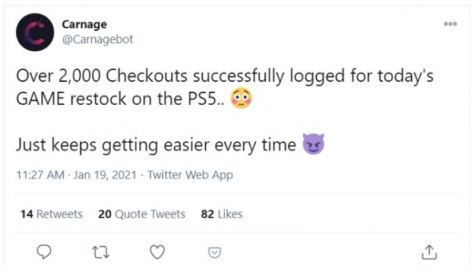 As time passes, it is slowly getting easier to find a PS5, but there is no sight of these scalpers ceasing to buy thousands of PS5s.
"Before I got a PS5 I was kind of pissed off at the people buying and reselling," Castillo said. "But now that I have my own, I am somewhat indifferent to people reselling."
Some have even resorted to violence to get their hands on PS5s. A teenager in Austin, Texas was charged for stealing a PS5 from scalpers with a gun. He met two scalpers face to face to buy a PS5 and robbed them.
In Chicago, police said two men, ages 22 and 24, were in a parked vehicle after arranging to meet two other people via a smartphone app to buy a PS5. A teen and another male allegedly approached the vehicle, pulled out guns and demanded property from the men before fleeing, police said.
Responding officers later arrested the 15 year old, who is now facing a felony count of armed robbery with a firearm.
"It's absolutely wild that something like this happens just for a console," junior Nate Reith said. "[It] reminds me of the time everyone was fighting each other for toilet paper."
Multiple PS5-related robberies were reported in Canada as well. Toronto Police posted a safety alert on Twitter informing the public about the crimes and urging PS5 sellers to be careful with the locations they choose to sell these consoles.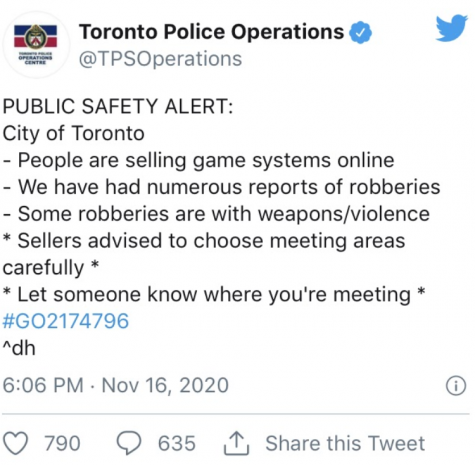 "In one or two years I think it will be easier to get a PS5," senior Matthew Houston said. "It's gonna take a long time before this hysteria dies down."