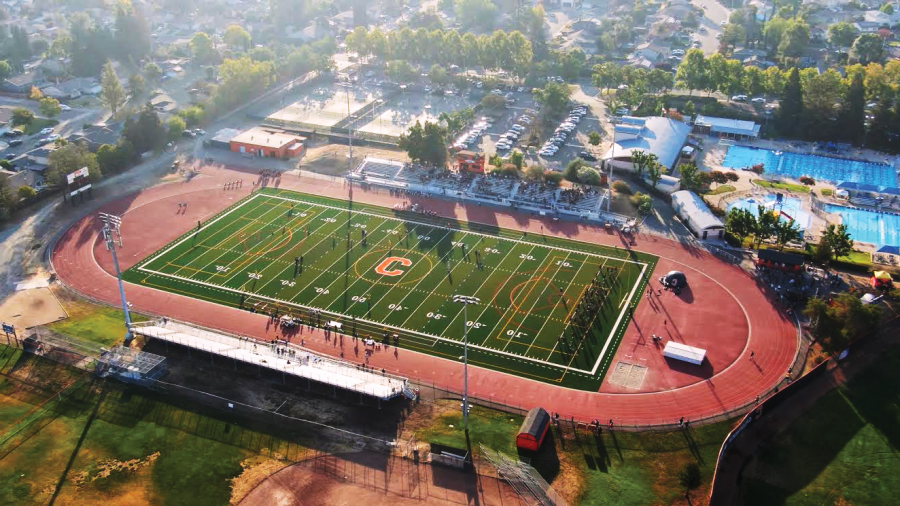 Alex Gomes
Cal High's field had a little bit more of a shine to it during the first football game this year after the district installed new turf over the summer as part of its plan to replace fields at all four high schools.
The San Ramon Valley Unified School District spent about $810,000 to replace the turf field, which is used by the football, men's and women's soccer, and men's and women's lacrosse teams.
This marked the first time since 2010 that Cal has had any work done to its field, athletic director Chris  Declercq said.
"The old field was very worn down and it made it more difficult to play on." varsity soccer player Naya Pollack said.
Work on Cal's field begin early in summer and took about three months to complete. The field was available for use the second week of school in August.
While the project was being completed, the football teams used other practice facilities, such as the turf field at Diablo Vista Middle School in Danville.
The district's field replacement project actually began during the 2019-20 school year when Dougherty Valley had its new field installed. 
Before this project started, all district high schools were given the option of when they wanted to replace the fields.
This meant that schools could risk doing construction before the school year and possibly not have a field for football season, or not having the new field for the football season but possibly cost winter sports teams the chance to use it.
Cal elected to do construction over the summer while other schools like San Ramon Valley and Monte Vista high schools are waiting until after football season. 
Although the price of the field seems expensive, the field needed to be replaced to give athletes a better, and safer, experience while playing. Several athletes said the old field needed to be changed because it was starting to become dangerous and affect play. 
"The old field had a lot of divots and was worn out," senior varsity football player Jason Duggs said.
This isn't good  for sports that require quick movements like football and soccer because it can lead to serious injury and prevent athletes from playing at their highest ability.
If athletes are trying to play sports in college or in an important game and the field affects the way they perform then that could be a big problem.
Some athletes like to put their concerns with the field in more simple terms.
"That old  field was  horrible," senior varsity soccer player Gavin Navarro said. "I'm excited to use the new one." 
The new field has already proven its effectiveness when it comes to the health of the players this year.
"Rolling an ankle and tripping is less of an issue," Duggs said.
This is a good sign for the health of athletes because it means they will be able to play with more confidence that the surface they are playing on is safer.
While the field was a large investment, it should be worth the money because the athletes that have already used it have noticed the difference.
"I used it at open field and the ball moved more smoothly and it is much nicer and more fun to play on." Pollack said.
Added senior varsity soccer play Derek O'Brien, "The new field should be way better. I am excited to use it."