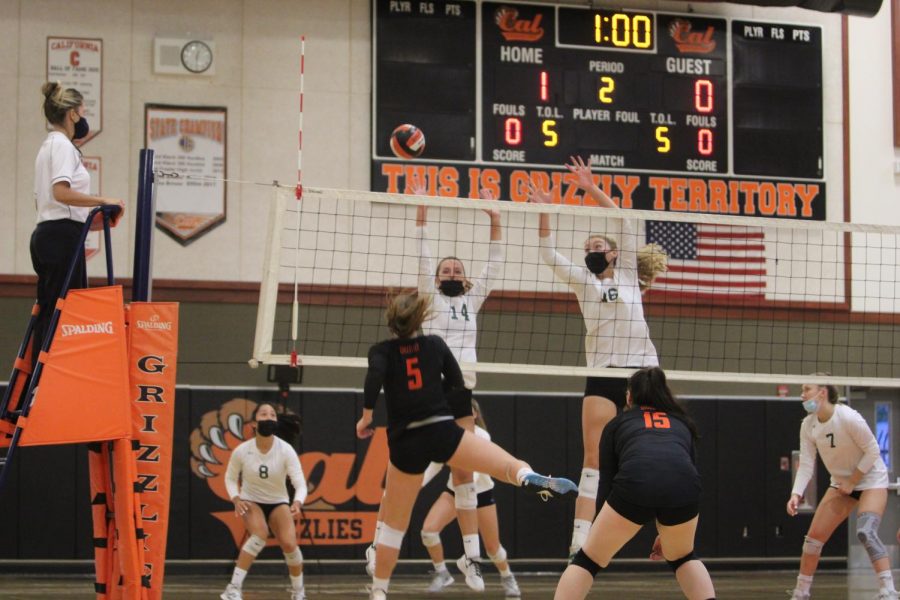 Erica Dembrowicz
Last year all sports were affected by the COVID-19 pandemic, but none were more affected than those that took place in the fall.
Because the season coincided perfectly with the chaos of the beginning of the first ever fully online school year, the fall sports season was unable to continue during its regularly scheduled time.
Seasons were pushed to the winter and spring, and most sports had to deal with shortened schedules with no postseason. But excluding some safety mandates to address COVID-19, fall sports are pretty much back to normal. 
Football
The varsity football season could not have started any better, with the team undefeated at 6-0 and ranked third in the  North Coast Section.
"We're just playing more disciplined than the other teams we've played," senior Adam Linari said. "Less penalties, right personnel."
Linari said the schedule for the rest of the season just gets harder, with the difficulty of games ramping up this month. The game on Oct.  15 against De La Salle is the ultimate test, followed by league games against Monte Vista, San Ramon Valley and Amador Valley.
Cal, which has outscored its opponents 257-92, narrowly pulled out a victory in their last game against Clayton Valley Charter on Friday.
The game was decided on a last second touchdown throw from quarterback Teddy Booras to wide receiver Jake Calcagno.
Women's Golf
Last year's golf team may have been impacted more than any other sport. The team only had four members, including senior captain Leah Keswani.
But this season the team has 10 rotating members on varsity which contributed the team being closer, Keswani said.
"We got a lot of new girls to play [this year]," Keswani said. "It's good because it means we'll have a team next year."
The regular season ended last Wednesday with a narrow 236-238 loss to Dougherty. Cal  (6-12) will play in the EBAL Championships on Monday.
Women's Volleyball
The only indoor sport of the fall season, women's volleyball is in a unique situation when dealing with COVID-19. 
Last season, the team had a shortened schedule and was only able to play half the teams in league, senior player Payton Lee said. But this year has featured a full schedule, including tournaments and playoffs.
"The shortened season was fun and didn't get in the way of my schoolwork," Lee said. "But I am enjoying this year's season because we get more time to establish relationships with our teammates."
The team is 14-13, 4-10 in league play. Lee believes if the team plays to its potential they will be able to finish strong and make NCS.
"Everything's going well because our team chemistry is really good," Lee said. 
Women's Tennis
Despite the limiting factors COVID created, the tennis team was still able to have a successful season last year.
"It was a short season but a fun one," senior varsity tennis player Tina Zeng said. "We got to play with the boys which helped us improve drastically and I'm grateful for that."
So far this year, the tennis team is 2-8, but Zeng has reason to be optimistic.
"Some players were injured," Zeng said. "Now we're more prepared for what we have thrown at us."
Men's Water Polo
The men's water polo team is excited to get back to their regular schedule. 
Last year's season was only five weeks long and took place in winter instead of fall, senior Conner Tom said.
"It was super cold and annoying," Tom said. "It's way better during the fall." 
This year, the team has had an up-and-down 5-9 start, but this isn't entirely due to lack of talent.
"We've sucked because we're missing half our starters," Tom said. "We're getting better."
Tom is confident that by the end of the season, the team will improve to a record that they can feel satisfied with.
"We'll get better," Tom said.
Women's Water Polo
Similar to the men's team, the women's water polo team is off to a rocky start. With an early record of 1-8, they are looking to improve moving forward.
"Our success comes when we talk to each other and listen," senior Victoria Waller said.
 She is hoping the team can learn from what they did right in their lone win and apply it in future games. 
"We are trying our hardest and will continue to do so for the rest of the year,"  Waller said.
Last season, the pool the team uses was under construction, so they had to travel to practice and play in a smaller pool. They no longer have to deal with that issue this season.
Cross Country
The cross country team had a very different season than normal last year.
"Because of COVID guidelines, all courses were around the schools instead of our regular ones," senior Aryan Sarda said. 
The season also was pushed to spring, causing conflicts for those who also ran track. This year, the team is back to normal for the most part.
"Some of the usual meets have been canceled because of lasting COVID effects," senior Matthew Alm said.
But this hasn't hindered the team too much. The team won their last meet, and haven't shown signs of slowing down.
"The team has been looking a lot better than in year's past," Alm said. He is optimistic about the team's chances of making it to the NCS playoffs.
"It'll be tough [to make the playoffs], because Dublin and Dougherty are really good, but it's possible," Alm said.