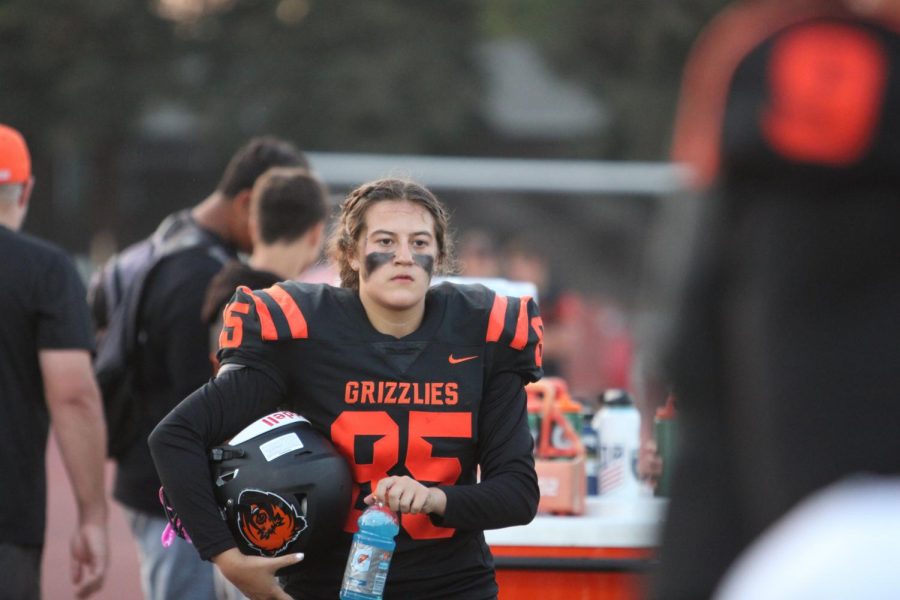 Samantha Contreras
For the first time in three seasons, Cal High has a female player on the varsity football team.
Senior Victoria Coninck, commonly known as Vicky, is a new addition to the Grizzlies this year, serving as one of the team's backup kickers. 
Coninck is in her first ever season as a football player, but she said this has been a dream of hers for quite a while now. 
"I remember my freshman year, we had Khylie Weed on the team," Coninck said. "It kinda made me feel like I could do it too."
Though Coninck had never tried out for the football team  before, she wasn't very nervous because she had been getting help from other football players she knew, one of them being senior Macray Madruga.
Madruga is one of the football captains and is Cal's main varsity kicker. He had been helping Coninck practice before the tryouts and is a fan of having her on the team.
"She doesn't really change things too much," Madruga said. "I mean, it's not like we all treat her differently just because she's a girl."
Coninck may not be a seasoned player, but she's proven herself so far. She's performed two kickoffs and made all four of her extra points, including one in Cal's season opening 49-7 win over James Logan.
Although Coninck is new to the team, she isn't new to Cal's athletic programs. Coninck has an impressive record when it comes to sports, participating in soccer, track and field, and wrestling in the past.
Having played on all-girl teams before, Coninck has noticed some differences in the dynamics between that and being the only girl among 40 plus men. Understandably, Coninck says she can't really talk about more feminine issues, but also feels that a men's team has more fun, and less rivalry.
Thankfully though, even with the differences, Vicky doesn't think she's treated any differently from the rest of the team, especially by her fellow players.
"I've been friends with most of the guys on the team since freshman year," Coninck said. "Besides the coaches maybe being a little nicer, I just feel like part of the team."
Head varsity coach Danny Calcagno has also had a big impact on Coninck's experience with football so far. 
Calcagno had his own apprehensions about Coninck joining the team, but they were never about her gender. Instead, they were about the logistics behind having a girl on an all boys team.
But aside from the physical differences, Coninck isn't treated as a "girl" on the team.
"We're a family here," Calcagno said. "We don't see Vicky as a female. She's just another part of our family."
He also says that Coninck has been a great addition to the team. She has her strengths and weaknesses on the field, but she gets along great with her teammates and is a hard worker.
Calcagno's positive attitude has caused a lot of people to like him more than the prior football coach, according to Coninck.
Another teammate of hers, junior Brian Kirrane, agrees with Coach Calcagno.
"I mean, I don't really see any differences from freshman year," Kirrane said.
Being an avid sports fan all her life, football is no different for Coninck.
When it comes to professional football, she is a strong Patriots supporter.
"People always give me s*** for it around here, but I'm from Massachusetts," Vicky said. "I was raised being a Patriots fan."
Vicky has her hands full with football this year, having practices every day, but isn't nervous about the whole situation.
Rather, she feels excited about what's to come. It's been something she's wanted to do for a while, and she's not stopping now.