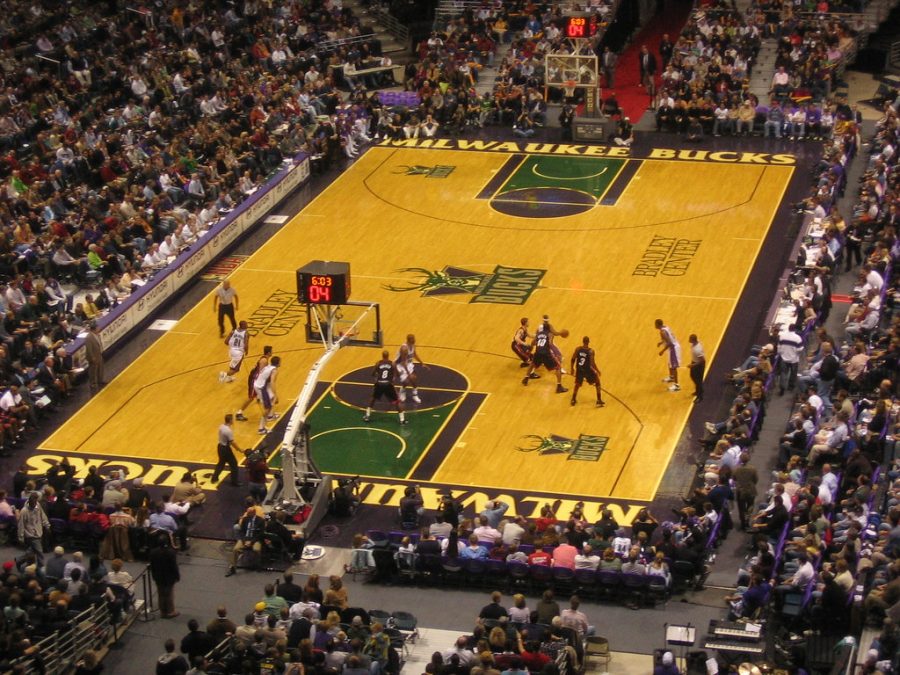 Jeramey Jannene
For the first time in three seasons, the NBA is going to return to its normal 82-game schedule.
With the last two years having shortened schedules because of COVID-19, a return to the norm for the NBA is a welcome sign that the pandemic's influence on professional sports is coming to a close.
The season opens tonight with the Brooklyn Nets taking on the defending champion Milwaukee Bucks at 4:30 p.m. on TNT, The game hasn't even tipped off and it has already been struck with drama surrounding Net guard Kyrie Irving's vaccination status
The teams that will be able to avoid such drama are the ones that are going to succeed this season. Below is a prediction for how each team will fare through the soap opera that is the NBA.
Western Conference
Pacific Division
Golden State Warriors
The Warriors have looked absolutely incredible in this year's preseason. Making it through undefeated (6-0), Golden State could not be much happier.
For the first time since the last 82-game schedule, the team actually looks like it has a chance to compete. Notable veteran additions such as Otto Porter Jr., Nemanja Bjelica and Andre Igoudala, a returner from the dynasty years, should skyrocket the team's efficiency, especially from behind the three-point line, where Porter Jr. and Bjelica excel.
In addition, the continued breaking-out of Jordan Poole, the 28th pick in the 2019 NBA draft, should make the Dubs optimistic about their chances this year. Stephen Curry continues to only get in better and better shape, and Klay Thompson will finally make his long-awaited return.
Thompson is coming off of back-to-back season-ending injuries, including an ACL tear in the 2019 NBA finals and a subsequent Achilles tear in a pick-up game leading up to the start of the 2020 NBA season.
His projected return time is around Christmas, but the more likely scenario is he gets slowly reintegrated into the lineup in early to mid January. Fans should expect his defense and over to have taken a hit, but Thompson's main attraction was always his historic three-point shooting ability, and the injuries should not have taken that away.
Overall, the Warriors should have their first solid season and playoff seed since 2019.
Prediction: 5th in West, out in the second round
Los Angeles Lakers
The Lakers' big move this offseason was to nab former All-Star point guard Russel Westbrook in an extremely complicated 5-team trade that saw a total of nine players and six second-round draft picks change hands.
Westbrook will join LeBron James and Anthony Davis to form one of the most unconventional big threes in NBA history. None of them are particularly complementary, and it will cause headaches for head coach Frank Vogel to decide who to give the ball to in important situations.
The Lakers are also by far the oldest team in the league this year. The team's average age is 30.9 years old, ancient by NBA standards. The second oldest team is the Miami Heat, who's average age is 28.8.
The team added a plethora of other old heads to the team as well in Carmelo Anthony, Trevor Ariza, Dwight Howard, Rajon Rondo, DeAndre Jordan and Kent Bazemore. All 32 years or older.
If the Lakers can stay healthy and their big three can be successful despite the fact that Westbrook seems to have an affinity for turnovers in his older age, they are favorites to win the Western Conference, though I predict a rocky regular season.
Prediction: 3rd in West, lose in the NBA Finals
Los Angeles Clippers
The key to the Clippers' success is Paul "Pandemic P" George. Since the better half of the Clip's star duo, Kawhi Leonard, went down with a partially torn ACL in the second round of last year's playoffs, Los Angeles is going to rely a lot on George.
The team didn't really add or lose anyone significant in the offseason. Their most impactful addition was trading for Eric Bledsoe. They did lose their firebrand defender and vocal leader on that end by trading Patrick Beverley for Bledsoe, but in reality Bledsoe is arguably the better defender.
The Clippers will have a decent season but ultimately without their best player fail to achieve their dreams.
Prediction: 6th in West, out in the first round
Phoenix Suns
The Suns added solid end-of-rotation pieces to a team that was already good enough to make the NBA Finals last year. They haven't made any major movement for better or worse, and will continue to be one of the best regular seasons in the league.
If it wasn't for major injuries on every team the Suns faced in last year's playoffs, Phoenix likely wouldn't have made it as far as they did. 
Prediction: 2nd in West, out in the second round
Sacramento Kings
Once again the Kings have no shot. Their biggest pickup was rookie Davion Mitchell, who is basically a younger and worse version of their star DeAaron Fox.
A successful season for Sac-town would be to overachieve and maybe sneak into the Play-In Tournament. Unfortunately, the chances for that are quite slim. A more realistic success would come through finding a solid trade partner for Buddy Hield.
Finally, if Marvin Bagley can finally live up to some of the expectations that came with being the second overall draft pick ahead of guys like Luka Doncic and Trae Young, Kings fans should be ecstatic.
Prediction: 12th in West
Northwest Division
Denver Nuggets
The Nuggets enter the year without their second best player in Jamal Murray. He went down with a torn ACL in early April of last year, and Denver was actually still pretty good without him. This was largely due to the absolute dominance of Nikola Jokic, who was last year's MVP.
Denver didn't make any significant moves in the offseason, but they will still be a solid regular season team as long as Jokic continues to be his historically dominant self.
Prediction: 4th in West, out in the first round
Minnesota Timberwolves
The highlight of the T-Wolves' offseason was the team moving on early from the former sixth overall pick in the 2019 NBA draft, Jarret Culver. The move was less than intriguing, as they swapped him for the 33 year-old Patrick Beverley, who is at this point clearly at the end of his career.
That being said, if everything goes well for Minnesota, they should be knocking on the playoff door. Karl-Anthony Towns should come out with something to prove after having injury-ridden seasons the past two years and missing the playoffs entirely.
Despite former All-Star D'Angelo Russel being considered the better player in the 2020 offseason trade that sent Andrew Wiggins to the Warriors, most people would now say that Golden State won that deal. For a player of Russel's caliber, that should be preposterous, and Russel is the type of player to use that as motivation to come out and shut up the haters.
Overall, the Timberwolves have a solid core of players that have massive chips on their shoulders.
Prediction: 9th in West, out in the second Play-In game
Oklahoma City Thunder
The Thunder will undoubtedly find themselves at the bottom of the West once again. They added three new promising rookies to the squad, the best of whom is Australian point guard Josh Giddey.
Shai Gilgeous-Alexander is a top tier guard in this league, and as such his name is worth mentioning, but he isn't enough to put the rest of the Thunder anywhere above a bottom five team in the league.
Prediction: 14th in the West
Portland Trail Blazers
Portland breathed a collective huge sigh of relief when star point guard Damian Lilliard announced that he would not be forcing his way out of Rip City.
Early in the offseason, there was some speculation that Lilliard may have shown his first signs of feeling the fatigue of mediocrity, but it turned out to be moot.
That being said, the Blazers had a productive offseason. They picked up big man Larry Nance Jr. in a three-team trade from the Cleveland Cavaliers. Nance's presence will certainly be felt on both sides of the floor.
The Trail Blazers are pretty much a lock for a low playoff seed year in and year out, and this year is no different.
Prediction: 8th in the West, out in the first round
Utah Jazz
Last year's best regular season team is poised to do just that once again.
Adding backup bigs Hassan Whiteside and Eric Paschall in the offseason, as well as veteran wing Rudy Gay, cleaned up a rotation that showed some weaknesses in the postseason last year.
The Jazz didn't really address one of their biggest problems, however, which is their perimeter defense. Utah's entire defensive scheme revolves around sending offensive players to the rim to be met and subsequently stopped by three-time Defensive Player of the Year Rudy Gobert.
But this system was exposed in the playoffs for the second year in a row. While the Jazz will continue to be a dominant regular season team, they will be kept short once again from reaching the promised land.
Prediction: 1st in the West, out in the Western Conference Finals
Southwest Division
Dallas Mavericks
The Mavs' performance this year is almost entirely on the shoulders of Kristaps Porzingis.
His past few seasons have been injury-ridden, which has kept him from finding the groove that landed him in the All-Star game back when he played for the New York Knicks.
Luka Doncic is going to continue to be one of the best young talents in NBA history. The Mavs added Reggie Bullock to their already vast supply of 3-and-D wings. The big question is Porzingis.
Prediction: 7th in West, out in the first round
Houston Rockets
While Houston fans should have no expectations whatsoever of even making the playoffs, they have every right to be optimistic about the future.
Houston arguably had the most successful 2021 NBA draft by adding guards Jalen Green – the second overall pick – and Josh Christopher, and bigs Alperen Sengun and Usman Garuba. 
Adding on to that the high-potential young guys like Kevin Porter Jr. and Christian Wood that Houston already had, the Rockets are clearly building for the future.
Prediction: 15th in West
Memphis Grizzlies
Having overperformed the past two seasons, it might seem strange to say that the Grizzlies are going to stay stagnant and once again find themselves at the bottom of the Play-In Tournament.
But the reason is less about them making bad moves in the offseason and more about the rest of the West being healthy and better. The Grizzlies did swap centers with the New Orleans Pelicans, shipping off Jonas Valanciunas for Steven Adams which is a clear downgrade, but that wouldn't be enough to make them slip out of the playoffs entirely.
Maybe Memphis can once again prove the world wrong. But more likely Grizzlies fans will find themselves having to watch other teams in the 2022 NBA playoffs.
Prediction: 10th in West, out in the first Play-In game
New Orleans Pelicans
While the Pelicans on paper should be good enough to make the seventh or even sixth seed, the big question is their big star and former first overall pick Zion Williamson.
The question about Williamson since he was drafted was his weight. Historically, people of his size tend to not fare well in the NBA and break down easily. The trend hasn't exactly been disproven with Williamson.
In two seasons he's only played 85 out of 144 games, which is concerning for a 21 year old who's hype rivaled that of high school senior LeBron James.
Once again this year he is going to miss the beginning of the season, which is going to hurt the Pelicans. That's not even taking into account their confusing offseason. They let their starting guard Lonzo Ball walk and replaced him with Devontae Graham, who is a solid shooter but worse than Ball in nearly every other way.
If Williamson were completely healthy New Orleans would probably see themselves somewhere in the Play-In Tournament, but there are too many red flags as of right now.
Prediction: 11th in West
San Antonio Spurs
The story in San Antonio is waiting for Greg Popovich to retire.
They let go of all of their good veterans in DeMar DeRozan, Rudy Gay and Patty Millsap and replaced them with sub-par veterans. Why, nobody really knows.
They did get sharpshooter Bryn Forbes back after a one-year period where he left the Spurs to win a championship in Milwaukee, but other than that the Spurs don't have anything worth mentioning.
Dejountae Murray is a solid defensive guard who has potential to be a really good guard in the league, but not enough to move the needle for the Spurs in any significant way.
Prediction: 13th in West
Eastern Conference
Atlantic Division
Boston Celtics
The C's had a few solid pickups this offseason, adding veteran guard Dennis Schroder and centers Al Horford and Enes Kanter. They also picked up solid 3-and-D wing Josh Richardson.
While Boston did lose their starting point guard in Kemba Walker, they shouldn't stress too much about that, as historically the Celtics have actually performed better with lesser guards, especially if they have chips on their shoulders, which Shroeder certainly does.
The biggest question for them is the coaching change, since former head coach Brad Stevens stepped into the general manager role after last year's season and was replaced by Popovich protege Ime Udoka.
Prediction: 6th in East, out in first round
Brooklyn Nets
If it wasn't for superstar point guard Kyrie Irving's hesitance to get a COVID-19 vaccine, the Nets would be clear favorites heading into the 2021-22 NBA season.
Brooklyn is one of three NBA teams whose home city requires everyone entering arenas to be vaccinated, including the athletes. Because Irving is refusing the vaccination, he's not going to be able to play in any home games because of NBA's rules.
The Nets front office also came out and said that they weren't going to let him play in away games either, meaning that one of the superstar trio in Brooklyn is going to miss every game until he gets vaccinated or the rules change.
Despite this, the Nets are still a top tier team without Irving. Kevin Durant is arguably the best player in the league at this point, and James Harden is also in the conversation for best guard in the league. 
They also added a plethora of veteran players who are still good enough to contribute, including guard Patty Mills, and convinced big LaMarcus Aldridge to come back out of retirement.
Prediction: 2nd in East, out in Eastern Conference Finals
New York Knicks
The Knicks had a Cinderella season last year, overperforming to nearly everyone's surprise and earned the fourth seed.
They also got measurably better in the offseason, signing former All-Star Kemba Walker and forward Evan Fournier in free agency.
But the rest of the East also improved this year, and the other teams are simply better. Last year's Knicks relied on stellar defense and historic three-point shooting, both of which have fallen off with this year's team.
If this Knicks team was in last year's season, they would likely place even better than they did, but the East is just too good this year. 
Prediction: 9th seed in East, out in Play-In Tournament
Philadelphia 76ers
The 76ers are by far the hardest team to place because of the mystery that is Ben Simmons.
After last year's playoffs, the team and entire city of Philadelphia exploded with outrage at Simmons' play, claiming it was weak and too unaggressive. People were burning Simmons jerseys and denouncing his name in a fervor that hadn't been seen since LeBron James left the Cleveland Cavaliers the first time.
Until recently, it was out of the question that Simmons would return to play with the team in the 2021-22 season. But events as of late have called that into question. For the first time since June it seems possible that Simmons may actually be a Sixer for the upcoming season.
Either way, the 76ers likely will land in the middle of the pack in the East. Joel Embiid, one of last year's MVP candidates, is going to continue to carry the city of Philadelphia on his back.
Prediction: 5th in East, out in second round
Toronto Raptors
While the Raptors severely underperformed last year, there are a great number of reasons why that's going to be a one-time thing.
For starters, they will actually be playing in their home arena in Toronto. Because of COVID-19 restrictions, they spent the entirety of the season last year in Tampa Bay.
Former All-Star Pascal Siakam had an off-year, but he should come out aggressive and with something to prove. The keys to the offense were handed to guard Fred VanVleet this offseason after the Raptors left Kyle Lowry in Florida for him to play for the Miami Heat.
With the fourth overall pick, they also added rookie Scottie Barnes, who has been classified as one of the more polished rookies of the past draft class.
All of that to say, just making the playoffs should be the goal for Toronto. Anything more would be foolish.
Prediction: 8th in East, out in first round 
Central Division
Chicago Bulls
The team that had probably the best offseason, Chicago is looking like it has finally returned to its former days of being solid competitors.
They severely upgraded their guards, adding Lonzo Ball and Alex Caruso in free agency. This is now a backcourt that is going to be one of the best in the league defensively.
They also added forward DeMar DeRozan, who's been one of the more underrated players in recent years because he's played for the San Antonio Spurs.
While this is one of the better teams in the league, it is their first year together, so it wouldn't be too surprising if they struggled a bit at times and were eliminated in the playoffs earlier than they expected.
Prediction: 4th in East, out in first round
Cleveland Cavaliers
There's not too much to say about the Cavs. They seem to have had their own goal this offseason: to accumulate as many 7-footers as is possible for one team to have.
They added Lauri Markannen, rookie Evan Mobley and Tacko Fall to a team that already had Jarret Allen. They also got center Ed Davis and already had Isaiah Hartenstein.
The team makeup is confusing, and this season is going to largely be a decision season between Collin Sexton and Darius Garland. Don't expect them to win very many games.
Prediction: 14th in East
Detroit Pistons
The clear worst team in the NBA, the Pistons only reason for excitement is first overall pick Cade Cunningham.
Jerami Grant is the only other player on their roster capable of winning them some games. Not much to say here.
Prediction: 15th in East
Indiana Pacers
The main change for the Pacers was new head coach Rick Carlisle, who returned to the franchise as a head coach after a 14-year hiatus.
The Pacers are consistently a playoff team, but they don't have enough firepower to really make any noise. They will likely fall once again into the tenth seed, scaring a team or two because of their solid lineup.
Prediction: 10th in East
Milwaukee Bucks
The Bucks had a solid offseason, adding to their guard rotation while keeping the main championship core intact.
They didn't get any worse, so there's no reason to think they shouldn't do it again. If Kyrie Irving gets vaccinated, or the rules are changed to allow him to play, the Bucks would have to worry more about dealing with the Nets in the playoffs.
But they should steamroll their way into the playoffs, especially because they are in the weakest division in the NBA.
Prediction: 1st in East, NBA Champions
Southeast Division
Atlanta Hawks
The Hawks made themselves villains in a lot of people's minds in last year's playoffs. By upsetting both the Knicks and the 76ers, Atlanta solidified themselves as a solid young up-and-coming team.
They also added solid veterans in guard Delon Wright and center Gorgui Dieng, adding to the experience of the team.
But as is the story with a lot of the other teams near the middle of the East, the meteoric rise of a couple teams will keep the Hawks fighting for a clinched playoff spot. Most likely they will be a Play-In team, though one that is still really solid.
Prediction: 7th in East, out in first round
Charlotte Hornets
The Hornets had a very successful offseason. They added wing Kelly Oubre Jr., a controversial member of the Warriors last year, and solid rookies in James Bouknight and Kai Jones.
The addition of Jones and Oubre work very well with their franchise player LaMelo Ball, as they are both lethal lob threats and Ball is one of the best lob throwers in the league.
They still have their solid veterans in Terry Rozier and Gordon Hayward, as well as a few other really solid rotational pieces in Miles Bridges and P.J. Washington. The Hornets are going to be one of the teams heavily competing for the Play-In Tournament.
Prediction: 11th in East
Miami Heat
Yet another team that had a very successful offseason, Miami is looking to recapture the magic that led them to the 2020 NBA finals.
Some of that magic could have been found with the addition of veteran and former All-Star guard Kyle Lowry, who should fit right in with what the Heat are trying to do.
The Heat culture, formed by Jimmy Butler, is that of hard work and dedication, and they should always be considered to overperform and make a deep run in the playoffs. Last year's first round loss to the Bucks was an anomaly, and Butler will not let that happen twice in a row.
Prediction: 3rd in East, out in second round
Orlando Magic
Despite the fact that Jalen Suggs was drafted very early by the Magic with the fifth overall pick, many people still consider him to be the steal of the draft. That's how good Suggs is.
This season will also feature the return of Jonathan Isaac, who missed the entirety of the 2020-21 season because of  a torn ACL and meniscus that happened in the 2020 bubble in Orlando. He has been one of the bright spots for the Magic, who don't have much of a future aside from Isaac and Suggs.
Prediction: 13th in East
Washington Wizards
The Wizards were busy this offseason, adding a lot of new players, the majority of whom came through trade. In the Russel Westbrook trade, they got back forwards Kyle Kuzma and Kentavius Caldwell-Pope, as well as center Montrezl Harrel.
They also got Spencer Dinwiddie in free agency to pair with star Bradley Beal in the backcourt, and they should work very well together. A solid young group of Rui Hachimura, Deni Advija and Corey Kispert will work well together, allowing the Wizards to easily outperform people's expectations.
Prediction: 12th in East