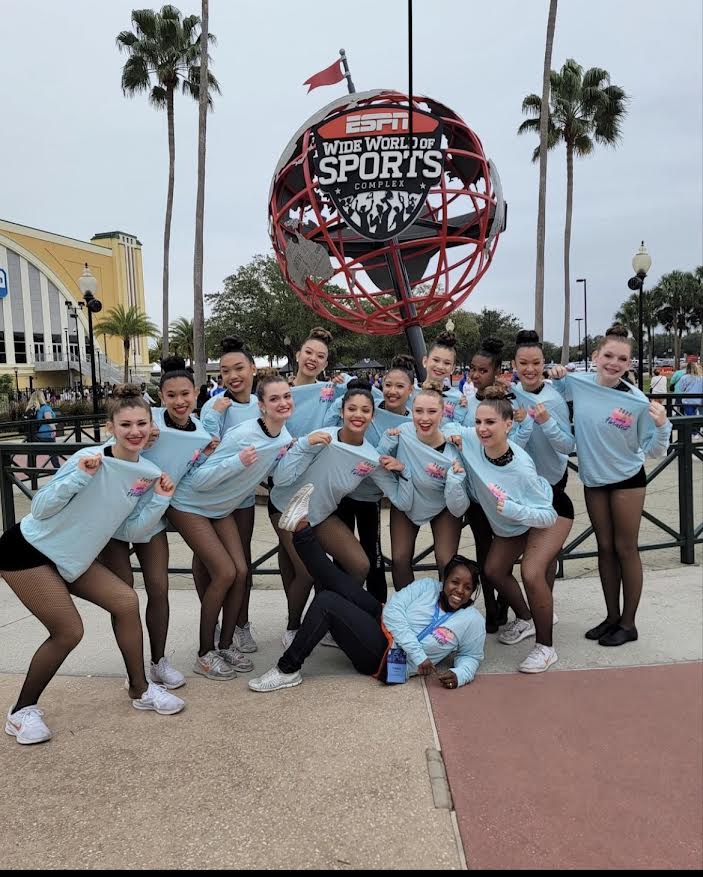 Courtesy of Cal High song team's Instagram
Year-long seasons. Twenty-plus hours of practice per week. A personal role for each member.
These are all characteristics of Cal High song, a  nationally competitive dance team which performs different styles of dance, such as pop/hip hop, and showcases their routines at different sports games during fall and winter sports seasons. 
Cal High's song team has always been passionate and hardworking, but this year they reached a whole new level with their performance at nationals.
The song team placed ninth in the pom category last month at the National Dance Team Championship, which is sponsored by the Universal Dance Association and is considered one of the most grueling high school dance competitions.
The competition is televised on ESPN and includes teams from mostly Northern  California but also some other states.
"We cried when we found out we placed ninth," junior Isabella Chimenti said. "We'd worked so hard for nationals and finding that out-it was just amazing."
Sophomore Caroline Kontaxis, who is experiencing her first year in-person at Cal and on the team, was also overjoyed by the experience.
"It was really emotional," Kontaxis said. "I almost couldn't believe it. Everyone was so happy the whole rest of the trip."
It wasn't easy getting there though. The national championships have a whole process of qualifications, requiring prior successes in smaller scale competitions. It also accounts for months of dedicated practices perfecting the same routines for hours on end until they're ready to perform on the major stage. 
On top of that, the girls have to maintain proper grades as is required of Cal athletes.
Toneka Webb, who has been the song team coach since the late 1990s, had a lot to say about the work the team members put in this season.
"They practice for hours on end," Webb said. "They're training for nationals year round and each of them play a unique role and can't be easily replaced."
And that's only the training that goes into it. Reaching nationals and performing on a public stage before a nationally televised audience is a whole other battle.
"For most of them, it [was]the most pressure [they've felt] in their lives," Webb said.
Among all the stress and hard work, though, they find time to build strong bonds.
"We're like sisters," said Chimenti, who has been a song team member for three years. "We get really close with each other because of all the time we end up spending together."
The sisterhood formed between the song girls was never as apparent as when they achieved their goals together. And ninth place is only the beginning. As amazing as the placement was for the team and their coach, they say this year is only motivating them further.
"Those girls work hard for their success," Webb said. "They deserve it."