Six candidates vying for two school board seats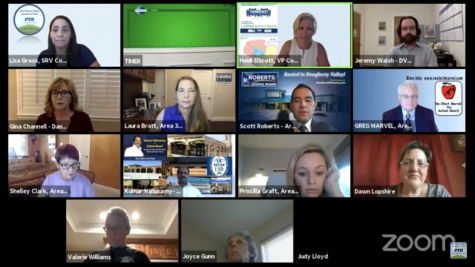 With national elections coming up, local politics are often overshadowed by the big names running for president.
But Nov. 3 is not only election day for the next president. It also includes the candidates for the San Ramon Valley Unified School District Board of Education.
Incumbent Greg Marvel looks to keep his seat as the Area 2 trustee as he takes on challengers Shelley Clark and Priscilla Graft. Area 2 includes attendance boundaries for Monte Vista and San Ramon Valley high schools.
Vying for the open seat in Area 3, which covers the Dougherty Valley area, are Laura Bratt, Kumar Nallusamy, and Scott Roberts. The current trustee, Mark Jewett, is not seeking re-election.
Here's a brief bio of each candidate. Candidates are listed in alphabetical order for each area. Trustees in Areas 1, 4 and 5 are not up for re-election this year.
Area 2
Clark is a local business owner, had two children attend schools in the district, and is "a proven parent leader experienced in all levels of education," according to her official campaign website.
Clark has proposed more focus in ethnic studies for the district's schools and is a strong advocate for inclusive education and anti-racism measures such as No Place for Hate, a district-wide, anti-bullying initiative to build community.
With her experience as Chairperson of the district Parcel Tax Oversight Committee, Clark said she has a view into financial decisions and allocation of funds within the district, according to her website.
An active PTA participant and corporate executive, Graft looks to unseat Marvel and represent Area 2.
Graft plans to focus on getting kids back to school safely. She is "rethinking the way the district funds its schools and programs," according to DanvilleSanRamon. She is the only candidate running for the Area 2 seat with kids currently in the district.
Graft said during the candidates' forum that she supports allowing any student to continue with online learning, although she looks to open schools as soon as possible with measures such as sanitization and social distancing to decrease risk of contraction.
Marvel, the current board president, is the lone incumbent who is running for re-election. He first assumed office on the board in 2000 and was elected as president of the board by default in 2016 because of a lack of opposing candidates. Marvel has said he would like to have students return to in-person school as soon as possible. He was originally one of two trustees pushing to fully re-open campuses in August before Gov. Gavin Newsom prevented this from happening.
Marvel says he's a strong advocate for teachers' benefits, stating that the district's staff has the highest teacher salary in the Bay Area despite being the second-lowest funded district in the state.
"We've turned this district from a good district to one that is one of the best ranked in the country," Marvel said during a school board forum hosted by the San Ramon Valley Council of PTAs.
Area 3
Bratt has a plan to prioritize diversity, inclusion, equity, and belonging at district schools. She has four students currently in the district.
"As a parent and community advocate, Laura puts students first and believes that inclusion is key to educational success," Carrie Nevins, a teacher at Iron Horse Middle School, said on Bratt's website.
By focusing on academic fulfillment and achievement, she hopes to give the district a more supportive academic program. Bratt states on her website that she is a strong advocate for inclusive education and mental health care for students.
Nallusamy is a parent of two students who are enrolled in the district. He has experience in community leading with the PTA and EdFund, according to his website.
He says he will increase counseling for students and improve mental health for their educational needs, which may resonate with many members of the community. Nallusamy also said he would like to strengthen student safety on school campuses.
Nallusamy said during the candidates' forum that he is a strong supporter of inclusive education and would like to change the curriculum to include more culture and diversity.
As a 1992 alumnus from the district, first generation Asian-American Scott Roberts plans to place more emphasis on mental health, according to his website. He says his experience on the San Ramon Teen Council will help him understand youth issues.
Roberts said during the candidate form that he is a strong supporter of the police force despite saying he supports Black Lives Matter, a movement to eradicate white supremacy and police brutality against black people.
He plans to enhance the remote learning experience for students who are participating in school online because of COVID-19.