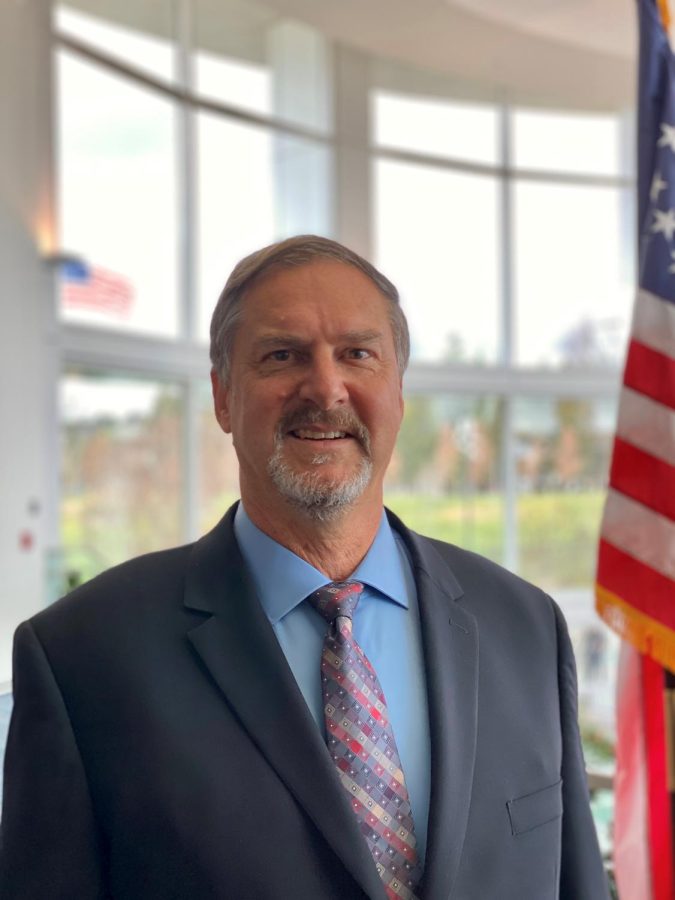 Courtesy of the City of San Ramon
District 2 candidate Mark Armstrong
As the incumbent District 2 city council member, Mark Armstrong has been in charge of managing the city budget and overseeing city functions for two years. 
Armstrong's leadership history dates back to his time in the military where he served for 30 years, commanding units and leading different staff organizations, and retired as a colonel in 2011. He attended Palo Alto High School and West Point United States Military Academy. He has lived in San Ramon since 2004 and has three children all have graduated from Cal High.
Shortly after retiring from the military, Armstrong joined the Federal Emergency Management Agency (FEMA), an organization that oversees disasters and emergencies such as hurricanes, earthquakes, and tsunamis. Armstrong led the Response Division as an operations manager of FEMA Region 9, which includes California, Nevada, and Arizona, from 2011 to 2018 before retiring.
Armstrong said he was selected as a FEMA Federal Coordinating Officer by the President, meaning he was in charge of managing the federal response for any specific disasters he was assigned to.
"I have leadership experience from a full 30 year career in the army and from my time in FEMA," Armstrong said. "I have the time to dedicate to being on the city council, and after being on this job for two years, I know what our challenges are and I think that my experience makes me a pretty strong candidate to continue to do the job."
Armstrong was initially inspired to run for city council when past District 2 councilman Dave Hudson was elected mayor in 2020. Before Hudson was elected, previous mayor Bill Clarkson notified Armstrong of the city council seat vacancy and nominated him to fill it. 
"[Bill Clarkson] is a former mayor, and I trust his judgment," Armstrong said. "He encouraged me to throw my name in the hat and apply for the position, so I did and I was elected."
As the current District 2 city councilman, Armstrong has had a hand in many projects around the city in the last few years. He is responsible for the establishment of affordable senior housing on Alcosta Boulevard and the renovation of San Ramon's Crow Canyon Gardens. 
"I voted in favor of getting Crow Canyon Gardens off of the list of the worst parks in San Ramon," Armstrong said. "I helped move it forward and changed it into a beautiful nature-based park."
Aside from the big projects, Armstrong also regularly meets local citizens to get opinions on how to improve the welfare and development of the city. These conversations have helped him to fix many small problems, such as road pavement and damaged traffic lights.
"Sometimes I like to focus on the little things, like if I'm walking around and someone says, 'Hey, there's a crack in the cement and I use a wheelchair. Is there any way you can fix this?' I try my best to help them," Armstrong said. "Sometimes it's some of those kinds of small things that make a difference for people, even if it's just tree-trimming around a street lamp to make it safer for people to walk in their neighborhood."
If re-elected, Armstrong wants to continue working toward public safety within the community. He's also planning on refining the city budget plan to combat the growing cost of expenditures and to get more done within the city. Additionally, Armstrong would like to work on creating more affordable housing for everyone, from seniors who need a place to live to families who can't afford the current housing prices in San Ramon. 
"I've got four kids and none of them can afford to live in San Ramon," Armstrong said. "They're still living in the area, but they can't afford to live in our city. We need to figure out a way so that kids can grow up here, go off to college or get a job, and still be able to live in the city they grew up in."