Student dances to scholarship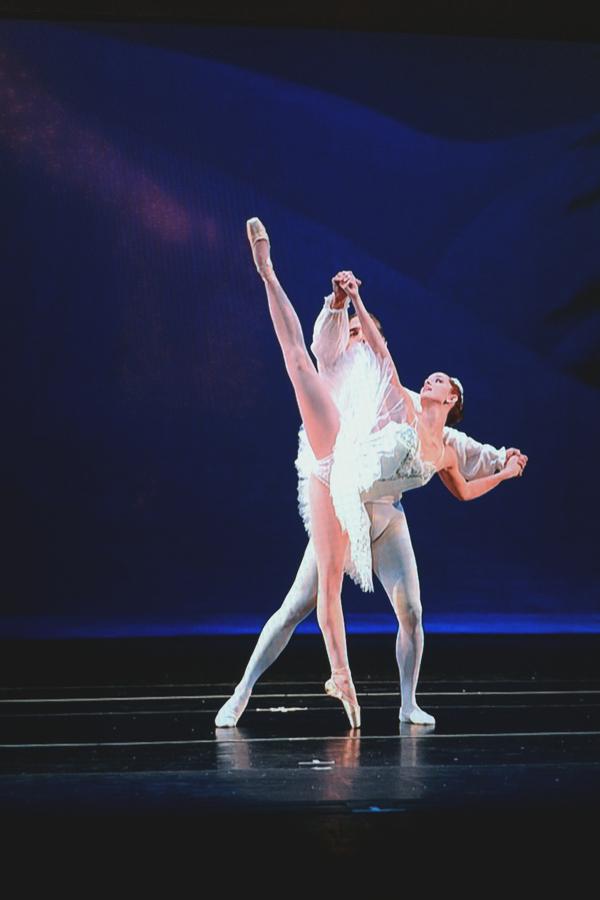 Repetition is the key to mastering any skill, and after 14 years of dancing, senior Allie Gomes' hard work is starting to pay off.
After a nerve-wracking audition among thousands of students in October, Gomes' dream came true when she became one of 30 dancers to earn a scholarship to the University of Arizona.
"I didn't think it would happen in a million years," said Gomes. "I underestimated myself."
Senior Vivian Li never doubted her friend's talent for a moment.
"I was pretty sure she was going to get in even before she auditioned," said Li.
Gomes first heard about the renowned Bachelors of Fine Arts (BFA) program at University of Arizona from some of her dance teachers, who majored there in the past.  After seeing the campus while at a dance performance, Gomes decided she wanted to attend the school in the fall.
"I couldn't be more proud of her," said Robin Gomes, Allie's mother. "She is living proof that if you set your mind to something and work really hard, your dreams do come true."
Though Gomes' success is a result of her ardent dedication, she acknowledges she could not have done it on her own. She's thankful for her supportive family and friends, specifically her parents.
"Dance classes aren't cheap," Gomes said. "(My parents) have sacrificed a lot for me."
Fourteen years ago, Gomes' mother was responsible for jumpstarting Gomes' dancing career.
"Allie has always loved to dance," said Robin Gomes. "Ever since she was a baby she moved to any kind of music."
When Gomes was three, her mother signed her up for ballet classes, but she showed a dislike for the class and was put in a tap class instead. She stayed in that class for a year, but later switched to gymnastics.
Two years later, Gomes went with her mother to see her cousin dance at Jamie's Dance Company in Pleasanton, and the rest was history.
"We signed her up for classes that day and she has not stopped (dancing) since," Robin Gomes said.
After two seasons of recreational dancing at Jamie's Dance Company, Gomes became more serious and joined the team at Tiffany's Dance Academy in Pleasanton. Two years after that, Tiffany Henderson, the owner and director at Tiffany's Dance Academy in Livermore, discovered Allie's talent and invited her to join the older girls' team in Livermore.
"I saw great potential in Allie at a young age and knew that she needed a challenge," Henderson said.
Now, in the afternoons at Tiffany's, Allie practices several styles of dance: ballet, contemporary, hip-hop, jazz, lyrical, pointe, and tap.
Her favorite style is jazz because she can dance to more recent songs.
In a normal week, Gomes dances four to five hours a day, Monday through Saturday. Her typical day consists of school, a quick trip home to change clothes, and then dancing until she returns home between 9 and 10 p.m.
Although she has little free time, Gomes does not mind putting in the long hours because she truly loves to dance.
"I like how I can express myself without talking," said Gomes. "(Dancing) is like a therapy."
Although she occasionally has a bad day, she has never seriously thought about quitting. She keeps herself motivated by reminding herself about her goals and how much she loves to dance.
"I just look ahead to the future," Gomes said.  "I'm not going to throw away all those years of work just because of one bad day."
Two years ago, she was forced to give up dancing for a short time when she developed a slipped disc in her spine, and had to sit out for several weeks.
The injury served as a glimpse into what her life would be like without dancing.
"Having to sit and watch for a month without being able to get up and do it myself was almost more pain than the injury itself," she said.
Gomes has since recovered and returned to dancing.  But she still has to see a chiropractor for regular adjustments, and has to remember not to push herself too hard.
Gomes's unyielding devotion has gifted her with many triumphs over the years. A few of these achievements include special awards from her teachers, earning first place on her team, receiving a scholarship to dance in New York for two weeks, and winning two lead roles in "The Nutcracker" in December.
But Gomes considers earning her scholarship to Arizona her greatest success.
"I am over-the-moon proud of Allie and what she has accomplished," Henderson said.  "She will continue to grow and prosper under the intensive training at the University of Arizona and I can't wait to see what she becomes."
Currently, Gomes is looking forward to a showcase on Feb. 23 at Chabot Community College. She has several other competitions through the winter and spring, and she will be performing in several recitals in June.
After college, she hopes to be hired by a company and tour across the country. Once she has satisfied that desire, she wants to become a dance teacher.
"Teaching kids to do what I love would make me happiest," Gomes said.