Cal graduate is singing her way to the top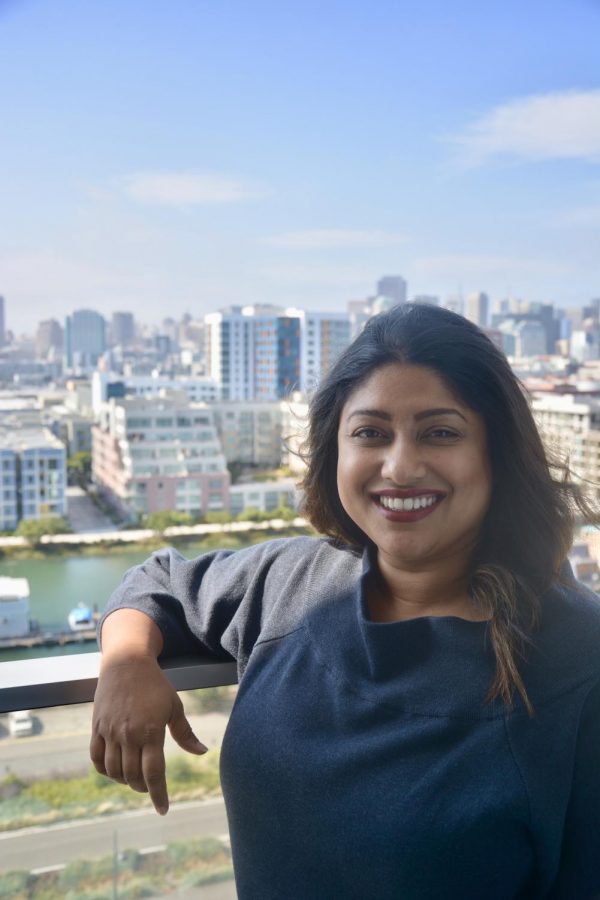 Kavita Baliga is a profession- al singer. But that wouldn't be giving her credit where it's due.
She's a choir conductor, a TED Fellow, a CEO, and an activist.
She also happens to be a former Grizzly.
A 2000 Cal High graduate, Baliga has made a name for herself in the music world by performing at the Venice Film Festival, choreographing the Oscars In Memoriam choir, helping design a music school's curriculum, and creating her own music start-up.
Baliga's music career started in high school as part of Cal's chamber singers, where she enjoyed performing in Vancou- ver and Disneyland. She still remembers the choreography she learned for the Madrigal Dinner and Pops Concert per- formances.
She also fondly remembers her time as The Californian's co-editor in chief, crediting her experience with the newspaper to her professionalism and work ethic today.
"In high school, you know, you have so many [influences] coming at you from different directions, " Baliga said. "But [music] was the one thing I knew I could do well."
It also helped that her parents wholeheartedly supported her decision to pursue music as a career.
"We knew she was into music from the age of four," Kavita's mother, Asha Baliga said. "We didn't think much of it. It be- came more apparent [that she would pursue it] as she reached high school,"
Originally, Baliga sought to further her studies in piano, but a hand injury prevented her from submitting portfolio pieces for her college applications. She
then sent in vocals for her au- dition, and the rest of the pieces fell into place.
Baliga attended UC Irvine for performing arts, and her studies were progressing as planned until her junior year when she was diagnosed with stage 2A Hodgkin's lymphoma, a cancer that develops in white blood cells.
This brief encounter with a terminal illness ultimately gave Baliga a newfound purpose: to make the most out of an unpre- dictably short life.
"Once I got diagnosed with cancer, it became very obvious that I didn't necessarily have time to waste," Baliga said. "Doing what you love and really focusing on it is something I strongly believe in because you never know how long you're going to be around."
"I de nitely live in the mo- ment and work as organically as I can and try to be as truthful creatively as possible."
Her realization meant pursu- ing music as a career.
Baliga specializes in oper-atic-style singing, speci callyGerman and French art song, pieces composed for one voice with a piano accompaniment.
She never anticipated that this genre would help her work with Grammy Award winner AR Rahman.
While performing at an Indian cultural convention, the Konkani Sammelan, her unique singing style thoroughly impressed Guitar Prasanna, an Indian classical music pioneer. Prasanna then referred her name to Rahman, who was trying to create the music school KM Conservatory in Chennai, India.
Living in India for nearly a decade, Baliga said she has learned to relax since the Amer- ican work mentality is solely "concerned about money andsystematic ef ciency."
Her experience working as a musician in India is a lot more relaxed, allowing her to enjoya better creative process owand explore various aspects of the industry from singing, to music technology.
Baliga, Rahman and five
other musicians from around the world helped create the entire curriculum for KM Conservatory, which was later accredited by London's Mid- dlesex University.
She helped create her own chamber choir and conducted them during the In Memoriam segment at the 2012 Oscars. She has also sung scores in variousBollywood lms such as "Gha- jini" and "Jab Tak Hai Jaan."
Baliga has been able to perform at many prestigious venues around the world from the Venice Film Festival to Le Vieilles Charrues, where she performed in front of 40,000 people with Indo-French per- formance troupe Olli Goes to Bollywood.
Baliga had received an education in operatic singing,
but had amassed a lot of work experience with performance, music technology and post-pro- duction.
She sought to combine these acquired skills by creating a music incubator startup, Desi Music Entertainment, an au- dio visual company currently focused on promoting South Asian talent and content.
Their rst single, releasedon August 15, was called "Solidarity Song (Hindi)," featuring popular Bollywood singers like Benny Dayal and Neeti Mohan .
It's been three years since its inception with a successful Kickstarter campaign, and the project is still going strong.
"[I have been] taken by the magic in the Indian music indus- try where anything is possible," Baliga said.