Quarantine Binge List: TV and Movie Recommendations
Are you stuck at home with nothing better to do? We've got you covered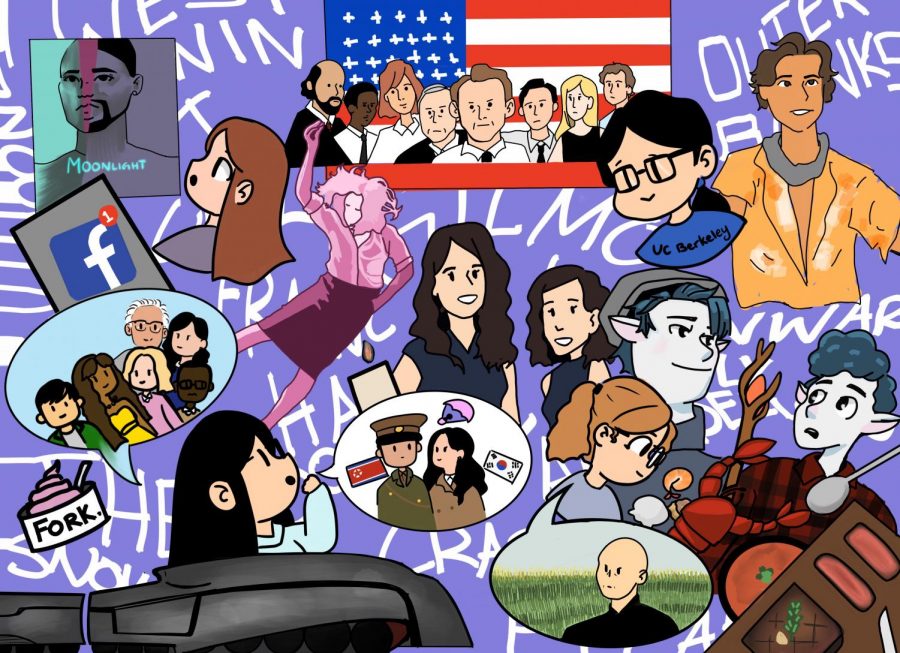 We know you're bored. We are too.
We also know you're sitting at home watching a lot of TV. We are too.
So to help you sift through all the shows that you can devote your valuable free time to watching, we thought we'd each make our top three suggestions of shows to binge or movies to watch. Hope you enjoy.
Michelle's Picks
"The Good Place"
Fake it until you make it with Kristen Bell as Eleanor Shellstrop, a recently deceased girl from Arizona who ends up in The Good Place, where good people go for their afterlife. 
Eleanor knows she's not supposed to be there, but she's determined to become a better person to be in The Good Place. That is if she isn't caught by the neighborhood's architect, Michael (Ted Danson) and his assistant Janet (D'Arcy Carden). 
This NBC comedy series is so well written, tackling a complex problem that even those with the highest IQ or the biggest brain can not solve. Michael Schur has once again brought his magic from his previous works, "The Office" and "Parks and Recreation" but he certainly outdid himself here.
Fun Fact: D'Arcy Carden, who plays Janet,  is a San Ramon Valley High School alumna.
"Crash Landing on You"
Yoon Se-ri (Son Ye-jin), a wealthy South Korean heiress, finds herself dangling off a branch with a gun pointed at her after the paragliding accident.  The first season of the Netflix show was so popular that its streaming sites literally "crashed" and it would "lend" itself to become the fourth highest-rated show in South Korea, both puns intended.
The production quality was amazing, with a perfect supporting cast. Each character was so well written and the chemistry between all of the actors was something that can't be manufactured. If you have watched "Parasite", you may even recognize some of these faces. 
"Snowpiercer"
"Snowpiercer" literally gave me the chills as I was watching it and it definitely kind of ruined trains for me. The movie takes place in a train that is constantly on the go, keeping the last remaining humans alive in an accidentally manmade ice age. 
If you think quarantine life was bad, imagine staying in a segregated train for 17 years being forced to eat nasty protein blocks from who knows where to survive where the rich were the ones in charge of "natural selection".
This was such an amazing film, and it literally pierced my perception of everything. If you watched the award-winning movie "Parasite", you'll love "Snowpiercer". The film's approach and commentary on the class structure are much like "Parasite" but so much more graphic and in your face and trust me, after you finished the movie you'll be scared of trains too.
Jeana's Picks
"The West Wing"
Set in the heart of American politics, "The West Wing" showcases the day-to-day busy lives of the leaders of our nation. From the confirmation of Supreme Court judges to stopping war in Pakistan, despite the show being fictional, it gives the audience a good glimpse of what goes on in the White House. 
Originally airing on NBC from 1999-2006, "The West Wing" is on Netflix now and is one show that will actually help you gain brain cells instead of losing them. Politics may sound boring to some teenagers, but  iconic characters like Deputy White House Communications Director Sam Seaborn (Rob Lowe), Press Secretary CJ Cregg (Allison Janney) and Deputy Chief of Staff Josh Lyman (Bradley Whitford) keep us fairly entertained. 
The show has won numerous Emmy Awards and two Golden Globes which sets it apart from other political TV shows. If you want to gain a better understanding of American politics, "The West Wing" is a must see. 
"Gilmore Girls"
"Gilmore Girls" is one of those pleasant TV shows that make you feel warm and fuzzy inside. 
Set in the tiny Connecticut town of Stars Hollow, the show centers on the daily lives of single mom, Loreli Gilmore, (Lauren Graham), and her teenage daughter, Rory(Alexis Bledel).
While Lorelai and Rory are mother and daughter, their relationship resembles more of a best friend dynamic. From late night movies to stupid fights, "Gilmore Girls" is both humorous and blissful. With a cup of coffee in one hand, the two ladies take on their own lives. 
Witty and independent, Loreli, runs The Independence Inn in her own style. Smart and sweet Rory is never without a book at hand and is bound for Harvard. She also has her fair share of attractive boyfriends. "Gilmore Girls" is guaranteed to make you want to hop right into the intimate Stars Hollow life. So grab a bag of popcorn and let the Netflix binging begin.
Miranda's Picks
"Outer Banks"
"Outer Banks" is a Netflix original that will keep you at the edge of your seats. It contains all the elements that make up a great teen show: action, romance, mystery, and comedy. 
The storyline focuses on John B (Chase Stokes), a wild teenager whose father mysteriously disappears while on the search for the Royal Merchant, an ancient sunken ship carrying 400 million in gold. When John B and his close knit gang of friends, the Pogues, discover clues that lead to the Royal Merchant, they embark on a thrilling and dangerous hunt. 
Despite numerous near death experiences, the Pogues manage to stick together and get closer to discovering the treasure. The Pogue's hilarious banter and tight comradery make them  quite entertaining. And since we ourselves may not be able to go on adventures amid the COVID crisis, why not join the Pogues in their heart-racing journey?
"Ugly Delicious"
If you're looking for a cooking show that travels beyond the pristine spotlessness of five-star kitchens, look no further than "Ugly Delicious".
A fun and fascinating cooking show, we follow David Chang across the world as he talks with chefs from all walks of life, breaks down cultural barriers, and enjoys all kinds of foods, even if they're not plated on fine china. 
Explore street food, cultural staples, and dishes you may have never heard of before on this Netflix original show. Chang also brings in a variety of guests, not just chefs, to give him viewers a taste of not only the dishes but the places they come from. It may give you cravings for eating out, but now's the perfect time to learn how to home cook new foods! 
"Picard"
Any Next Generation fan should jump on this show because t's excellent. Even if you're new to the Star Trek fandom, you need almost no prior knowledge to enjoy it. 
Everyone's favorite retired Starfleet captain is swept up in a journey to protect the daughter of an old friend, but everything may not be as it seems. With stunning visuals, compelling stories, and of course the acting talents of Sir Patrick Stewart, it's definitely not one to miss. 
It's the perfect place to immerse yourself during this quarantine. You can watch "Picard" on Amazon Prime or CBS.
"Onward"
Pixar has a reputation for producing engaging and beautiful kids movies that even adults can enjoy. "Onward" is both of these things! 
The latest Pixar film, which was released in March, has the heart and beautiful animation we've all come to expect. "Onward" is a funny, lighthearted comedy about two siblings just trying to spend a little more time with their late father. Most of all it's well balanced, none of the jokes get in the way of the message the movie is trying to convey. 
You can find the film on Disney+, Netflix, or Hulu.