Cameron McKeon, Sports Editor

January 19, 2019
We're one step away from the Super Bowl, and the tops four teams most of the season have given us two intriguing title game match-ups tomorrow afternoon. AFC Championship Patriots at Chiefs - About 95 percent of America wants to see the Pats lose this game. A Super Bowl berth would grant them...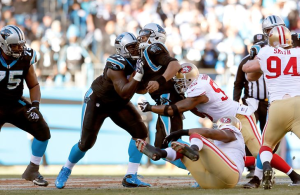 Eric Yee, Sports Editor

January 16, 2014
For the third season in a row, the San Francisco 49eres are headed to the NFC Championship game. After a sluggish start against the Carolina Panthers on Sunday, the 49ers finished the game scoring 14 unanswered points. Touchdowns by quarterback Colin Kaepernick and tight end Vernon Davis led the 49ers...