Cal sends Mustangs to glue factory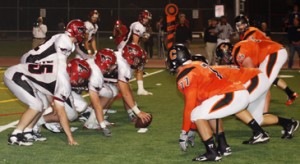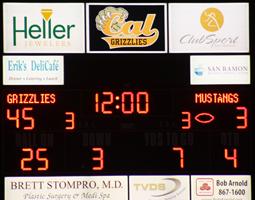 By Brandon Eiges
For only the third time in the rivalry's 35-year history, the Cal High football team defeated Monte Vista Friday night at Ernie Berger Memorial Stadium.
But Cal didn't just beat Monte Vista. The Grizzlies dominated one of the Bay Area's most successful football programs, whipping the Mustangs 45-3. It was the first time in school history Cal won at home against Monte Vista.
After a shaky start on the first defensive stand for the Grizzlies that led to a field goal by Monte Vista and a fumble recovery by the Mustangs on the ensuing kickoff, Cal buckled down and dominated the entire game thereafter by scoring 45 unanswered points through three quarters.
Cal (4-0 overall, 1-0 EBAL), now ranked second by the Bay Area News Group and Maxpreps, ran over the Monte Vista (2-2 overall, 0-1 EBAL) defense on their first offensive drive of the game scoring on a 9 yard touchdown run by junior Armani Washington.
The Grizzlies entered the game ranked fifth, one spot behind Monte Vista. De La Salle is ranked first by both publications.
After stalling Monte Vista's high flying offense without star running back Michael Sullas due to a knee injury, junior running back Brian Krause pulled in a screen pass from senior quarterback Drew Reil midway through the second quarter and turned what should have been a 3 yard loss into 47-yard reception.
After rumbling down the sidelines, a Monte Vista defender forced a fumble on the one yard line. After a scuffle in the end-zone, Brian came up with his own fumble recovery in the end zone for a touchdown. The electric catch and run sent the home crowd going crazy for their Grizzlies.
After those two TD runs that sent the score to 14-3, it was all Grizzlies until the scoreboard hit double zeroes.
Senior kicker Guillermo Rivas nailed a field goal for Cal and junior Jerrell Dunn took a hand off for a 13 yard TD run to send Cal into halftime with a 24-3 lead.
Monte Vista came onto the field for the third quarter fired up, ready to try and make a comeback.
Unfortunately for the Mustangs, their offense led by quarterbacks Jeff Lockie and Seamus Finnegan couldn't get past a swarm of Grizzly defenders on every play they faced.
One of the game's highlights was when senior Trevor Taft pulled in a spectacular circus catch in the front-pylon of the end-zone, as Drew's pass was tipped up by Monte Vista defender Dane Turner. Trevor dove to catch the ball for the amazing 30 yard touchdown for a 31-3 lead.
Monte Vista had it best opportunity for a touchdown go horribly wrong in the third quarter when
junior linebacker Kevin Ezaburio recovered a fumble on the goal line and returned it 100 yards for the score.
Cal's defense, led by senior linebackers Marcus Prenot and DJ Spalliero, shut down the Mustangs offense on their last drive of the third quarter. After another punt by Monte Vista, the Cal High nine headed running-game turned in its third rushing score of the game.
Senior Kyle Alverez, Cal's leading rusher through four games with 410 yards and three scores, broke a 60 yard TD run with 39 second left in the third quarter to officially send the defeated Mustangs to the glue factory.
As the young season moves forward, new athletic director and assistant football coach Dave Kravtiz takes the Grizzlies back to his former team as Cal travels to San Ramon Valley (3-1, 0-1 EBAL) on Friday to attempt to spoil the Wolves' homecoming game. San Ramon was shut out by Granada 21-0 on Friday night.