Nick Pinto climbs his way to the pros
By Sierra Rainbolt, Staff Writer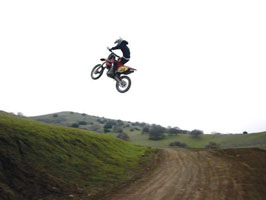 Senior Nick Pinto is climbing his way up to the professional class hill climb dirt bike competitions.
Nick has been riding for 11 years and is finally moving up to compete in his first professional class competition this fall.
"It was never my intent to go pro," Nick said. "My only intention was to ride."
Nick's first pro-class competition at the Carnegie Hill Climbs in Livermore takes place later this month. After that, Nick is scheduled to begin traveling to several out of state pro-class competitions.
Ultimately, Nick hopes to make his way to the A Class, which is the highest a rider can reach in professional hill climb competitions. He will start by riding in C Class competitions and can move up by placing well in those events.
Nick rides with as many people as he can, but he also enjoys riding alone because he can repeat trails and hill climbs until he rides them perfectly.
"When I ride with Nick, it's 100 percent, all the time," said junior Maddy Farhney, one of Nick's riding partners. "He is constantly pushing himself," said junior Maddy Farhney, one of Nick's riding partners.
"I try to ride with guys who are in the pro class and have done really well because they give me tips and help me improve my riding skills," he added.
Nick is excited about his first pro race and traveling to out-of-state competitions over the next several months.
"I know that there is one competition at Carnegie in Livermore and San Bernardino and then I travel to Idaho, Utah, and Montana," said Nick. "Those are the competitions I know I will be competing in, however there are others that are still a possibility."
Although Nick is entering the pro class competitions, he does not wish to pursue dirt biking as a career. He plans to leave for college next fall and major in business.
At a previous hill climb competition at Carnegie, Nick placed third in the standings. He is now trying to look ahead for first place in the upcoming competitions this month.
Nick estimates that he goes riding two to three times a week. When he isn't riding, he can be found working on his two bikes, a CR500 and a SXF450.
"I wash my bikes, change the oil, clean the air filters, etc. I just do all the small maintenance things to make sure my bikes are running properly," said Nick. "If the bike doesn't run right, you can't ride right either."
As an expert rider, Nick enjoys giving some words of wisdom to beginners.
"I've been riding with Nick for about three years and I have learned a lot from him," said junior Jake Edwards, another one of Nick's regular riding partners. "He is a really good rider."
Nick is sponsored by several companies including, Utopia Optics, Gaerne Boots, Motopro Graphics, and Twin Air.
But Nick still pays for his own competition fees and does all the work on his bikes himself.
Once Nick begins racing A Class in March, his sponsors will pay for half of the entry fees and he will receive a discount on their products.
Right now, it is a trial to see how Nick does in his first pro class competition.
When asked how he trains, Nick said he can really only practice.
He plans to do the hill climb routes at least once before the competition. He also said that he is constantly trying to improve his skills.
"The only thing I can really do for training is try to improve my riding skills, so I try to ride with people who are better and faster than me because it makes me push myself," Nick said.
Nick seems to be very confident that he will do well in his first pro class