Sabrina Clayton is a sophomore sensation
By Ritika Iyer, Staff Writer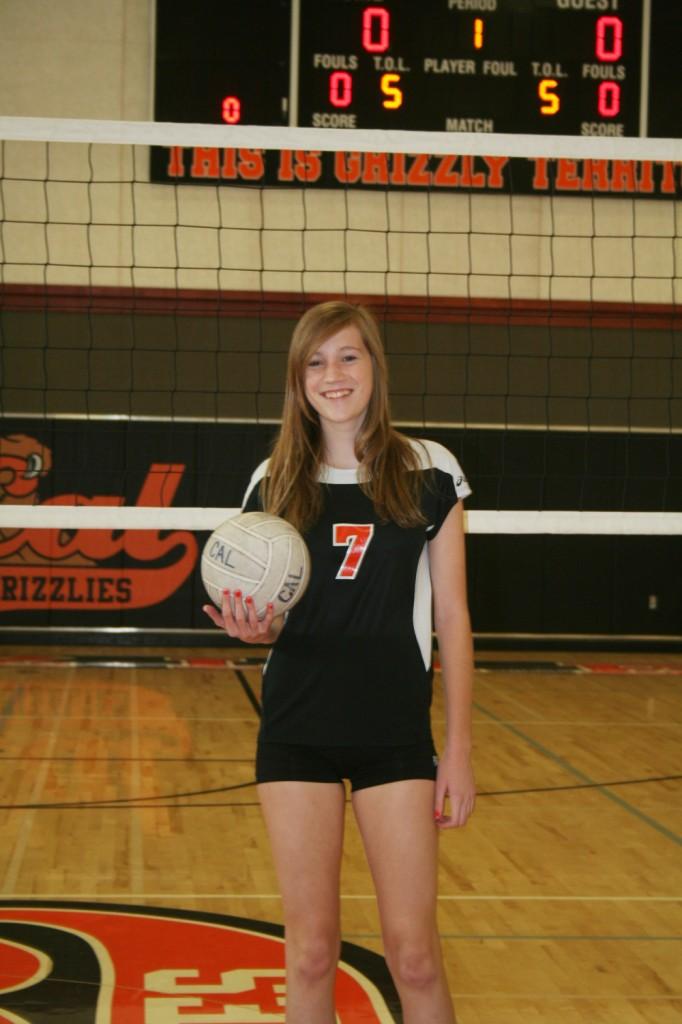 On freshman sports night last year, Cal High's head volleyball coach Todd Baham was approached by a parent. Baham was told that the man's daughter, an incoming freshman, was going to try out for varsity volleyball.
Baham laughed in the parent's face because he never allowed freshman onto varsity. And now, he is eating his words because that girl is the best player on his team.
"That girl" is sophomore volleyball star Sabrina Clayton.
Standing six feet tall, Sabrina is one of the youngest and tallest members of the varsity volleyball team for the second place Grizzlies. She's also one of the best.
Sabrina started playing volleyball when she was in fifth grade. What started out as a innocent game, soon became her biggest passion and main activity.
"My sister and I would play in the backyard, and ever since then I thought it was really fun," said Sabrina. "I was in fourth grade when my sister began to play, so she is my main inspiration."
Sabrina said her mother and sister were both volleyball players in high school, which sparked her interest.
When Sabrina decided to try out as a freshman for the volleyball team at Cal, the captains and coach decided she deserved to be on varsity, instead of the JV or freshman teams like the other girls her age.
They saw a potential in Sabrina, and knew she would be an important part of the team for years to come.
"Last year, we all thought we should bring her up to varsity automatically, because she was too good to be on JV," said senior co-captain Lauren Beyerle.
An offensive force on the court averaging about five kills per game and over 200 attacks this season alone, Sabrina has also established herself as one of the team's defensive leaders.
Baham considers her the best player on the team without doubt, and said she is the third best player in EBAL.
"She is our powerhouse, our go-to player," said junior Ali Good, Sabrina's close teammate and friend.
Sabrina's talent is not going unnoticed either, as she already receiving letters of interest from colleges.
Sabrina has been contacted by Arizona State University, Penn State, Louisiana State University (LSU), Duke, and other schools as well.
"I think it would be really cool if I got to [play in college]," said Sabrina. "I want to play in a Division I school."
Sabrina said her top college choices are ASU, because of the weather, and Brigham Young University (BYU) in Utah.
Baham has absolutely no doubt in his mind that she will play for college.
"She is going to have a lot of schools to choose from," he said.
Being so young in such a high position, one would think that Sabrina would be under a lot of pressure. But Sabrina thinks otherwise, saying she doesn't feel any pressure because she is doing what she loves to do.
If she does feel nervous, Sabrina said she talks to Ali.
"I just try to forget all my mistakes and start off new," said Sabrina. "I think about how badly I want to win."
Sabrina also gets a lot of support from her older teammates.
"The captains are really helpful," she said. "When you get down, they say things to pump you back up."
With her team, coach and family supporting her, don't be surprised to see the face of Sabrina Clayton on the television someday.
"Sabrina is one of the most talented players I have ever coached," said Baham. "Whatever 'it' is, she has it."