Step team shines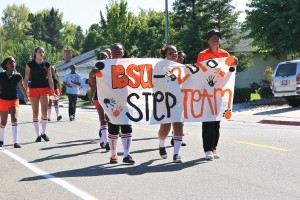 By Sydnie Parker
The new Cal High step team has the sass of cheer, the rhythm of song, but music that is all its own.
"In dance you have music, but in step you make your own," said freshman Onica Abrams, a step team member.
This year, the Black Student Union (BSU) has brought back the Cal step team after a two-year hiatus. 
Senior captain Dara Mitchell leads the group of nine girls who debuted at Cal's homecoming rally and will continue to perform at school events throughout the year.
Dara was a member of BSU's step team in 2008 and is the most experienced member.
"When I was a freshman, BSU had a step team, and it was really fun," she said. "I thought: why not do it again?"
Step-dancing is combination of many styles of dance. 
Just like cheerleaders yell cheers to crowds at sporting games, step dancers yell catchy rhymes to their audience. Like song, they incorporate many contemporary hip-hop elements into their routines.
But it's the characteristic stomps, slaps and claps that make step unique. 
"It is a different culture than the cheer and song teams," said junior Shannon Villanueva.
The team choreographer, freshman Jazmine Ezebairo, works to create interesting routines that mix traditional step moves with the popular style of hip-hop dancing.  
The audience is often excited by these contemporary yet sassy routines.
The team works hard to perfect their routines.  They meet everyday for three hours after school on the outside stage to practice their routine, and to prepare for shows and possible competitions later in the year.  
"It's not as easy as it looks," said sophomore team member Johnell Parkinson.
Their first performance this  year was at the homecoming rally.
"I like seeing them, and hope to see them at school events," said junior Molly Walker. "It was cool seeing someone new, showing off their dancing skills."
This year the team will  perform at Cal lacrosse and basketball games, as well as during midnight madness.
"I thought they got the energy of the crowd going," said Shannon.