A Festivus for the rest of us…and more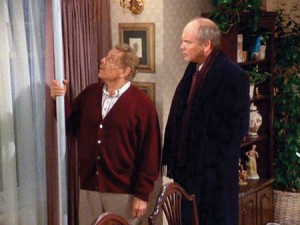 by Emily Gross
While most people will be spending their holiday season under the Christmas tree or by the menorah, some brave few choose to celebrate in other ways.
The most well-known alternative holiday is Festivus, which takes place on Dec. 23. Festivus is a holiday invented on the TV show "Seinfeld" by George Costanza's father, Frank, who thought that Christmas was too depressing and commercialized.
The most important part of this holiday is the beautifully unadorned Festivus pole, which cannot have any decoration, especially tinsel, which is "distracting."
Other activities include the "airing of grievances," which occurs during the Festivus meal. This event involves having each person tells everyone else all the ways they have disappointed him or her over the past year, something you never get a chance to do any other day of the year.
After the meal, "Feats of Strength" are performed, which involves wrestling the head of the household to the floor. The holiday can only end if he or she is actually pinned.
This holiday is for anyone who wants to break out of their mundane traditions and is commonly known as "Festivus for the rest of us."
"I think Christmas is boring and overrated, but Festivus is great because it's less of the fuss," said senior Katie Smith.
For people who are looking for any old reason to celebrate, there are many more holidays for just about every day of December.
Barbie and Barney Backlash Day, celebrated on Dec. 16, is possibly the most life-changing day for a child. This is the day when their parents explain to them that Barbie and Barney aren't real. It's time for them to grow up, because that's baby stuff.
Senior Jerrad Kenney plans on celebrating with his four-year-old brother.
"My brother is too old to be watching stuff like Barney," said Jerrad. "He should be watching '16 and Pregnant' and learning how to act like a grown-up."
Those kids' dreams will be crushed, no doubt. But luckily Dec. 16 is also National Chocolate-Covered Anything Day, so they can ease their deep emotional pains with sweet, sweet chocolate.
"I love chocolate and I'm so excited for this day," said senior Jonny Grishpul. "I'm going to be eating chocolate dipped in chocolate."
Christmas, and any other winter holiday for that matter, is infamous for being completely unsatisfying, right?
For this reason, Dec. 26 is National Whiner's Day, that special day of the year where everyone can complain about the ugly sweater Grandma B got them, or how they hate when their aunt squeezes their cheeks or how they got a BMW but it was the wrong color (the nerve!).
Dec. 30 is quite possibly the most American holiday besides July 4. It is Bacon Day. The holiday season is notorious for overeating, which is why this is the day to cleanse. Studies show that a diet of strictly bacon is great for clearing out the digestive system.
Senior Drew Reil plans on eating bacon with every meal.
"Bacon is the tastiest food ever and this is my favorite day of the year," said Drew.
The holiday season has always been a time of celebration, family, and overeating. Now students can enjoy these alternative holidays to make every day a holiday.