Students spread holiday cheer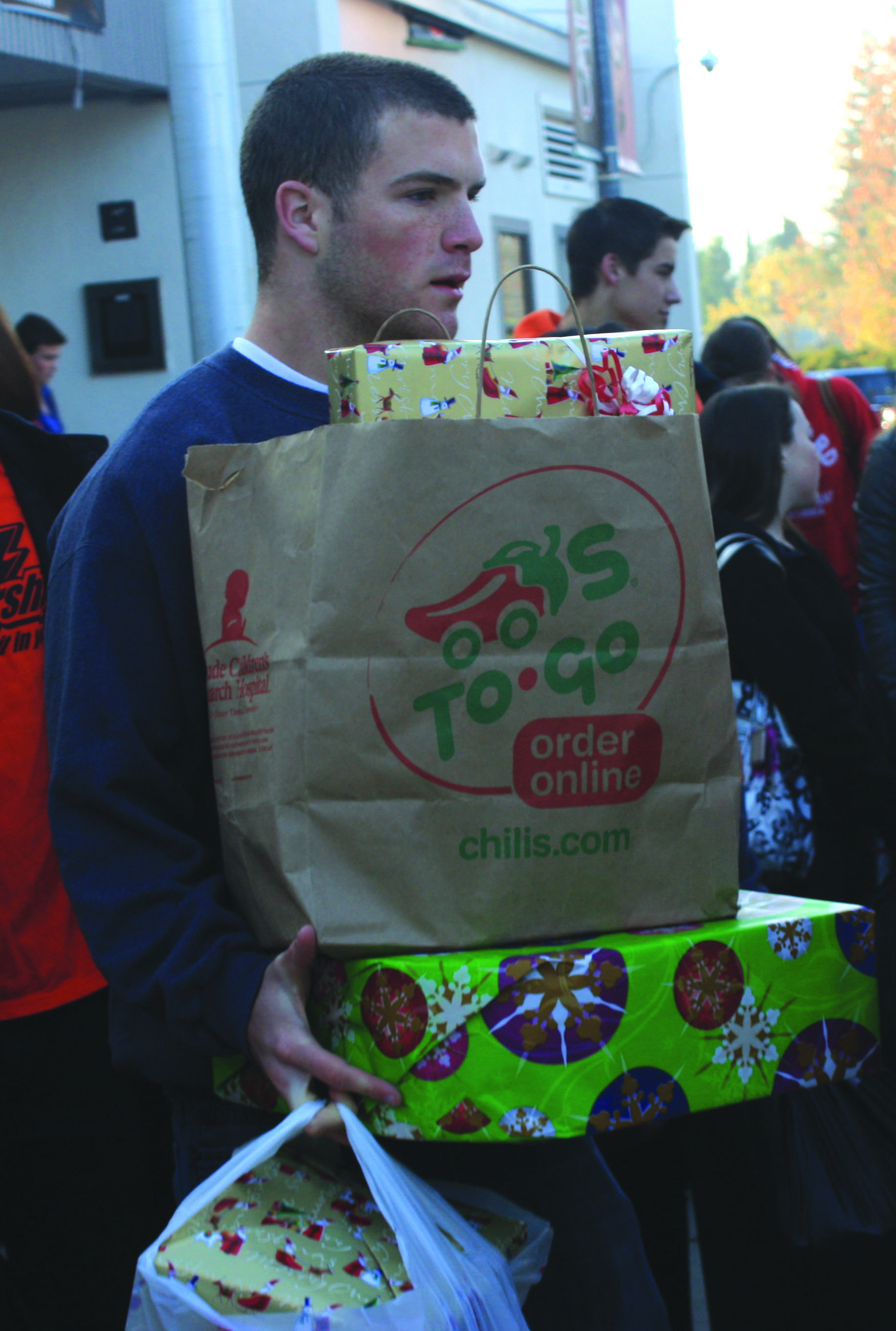 Tessa De Vilbiss and Joshua Gu
Staff Writers
Many Cal High students and organizations have embodied the true spirit of the season and are giving back to the community during the holidays.
Even though the holidays can be stressful, students are still taking time out of their busy schedules to help make this the most wonderful time of the year for others.
Many clubs have charity events dedicated to helping the less fortunate this time of year. Rotary Interact has several annual events, from collecting cans, books and coats, to gift-wrapping merchandise at local bookstores.
In November, the club collected books for Cal's sister school, Wilson Elementary in Richmond, and canned foods for the local Food Bank.
"We collected 2,562 pounds of food for the Food Bank, which is enough to feed around 1,700 people for one meal," said junior Julie Li, the event coordinator for Interact.
This month, Interact will be collecting coats to give to Wilson Elementary students, also plan on gift-wrapping merchandise at a Barnes & Noble in Dublin, and volunteering at a Christmas tree nursery.
"Volunteering has really solidified Interact's motto of 'Service before self'," said Li. "It's great because I've personally seen the effect that my volunteering has."
Coats can be dropped off at room 108 For students inclined to donate to the drive, coats can be dropped off at Room 108, where there also will be sign-up sheets for the gift-wrapping and Christmas tree lot events.
Another club that conducts annual holiday charity events is S-Club.
"We have many events around the holidays," said senior Nicole Walker, S-Club co-president. "They can range from making things like gingerbread and pies to postcards and blankets."
Last month, the S-Club baked pies for the Villa, a senior center in San Ramon. They also had an event where they made postcards with uplifting messages to send to women worldwide, from Afghanistan to Costa Rica.
This month, they are making blankets for Project Linus, an organization that donates blankets to children in need.
"The blankets that we make go to the San Francisco children's shelter," said Walker.
The S-Club holds its meetings in Room 108 where students can sign up with their e-mail addresses.
The San Ramon Teen Council, headed by senior Saundarya Mehra, volunteers at the Toy Joy event with the Salvation Army.
"We go every year and distribute toys to those who can't afford them," said Mehra. "We give them a meal to make for Thanksgiving and wrapping paper for the presents."
This year, the Music for a Smile Club is going to bring some holiday spirit to the elderly.
"We're going to the senior center," said junior Megan Williams, co-president of the club. "This is our first year at the senior center."
The club performed on Saturday. Students who want to spread holiday cheer through song are welcome to attend the club meetings, every other Tuesday in the choir room.
In addition to clubs, last year some Cal High students founded a non-profit organization called Bikeaid, which is registered with the state of California as an official relief assembly.
"We are currently in the process of gathering used or old bikes to refurbish, to donate them to local charities," said senior Rizelle Dizon. "We believe that transportation is a vital part of life. We're hoping to have 20 bikes by Christmas."
Last year, Bikeaid donated 13 bikes to the Bay Area Rescue Mission. This year, they will donate about 20 bikes so that kids can have a bike for Christmas.
Students who are interested in helping this cause can contact the leaders of Bikeaid through their Facebook group to donate.
The PTSA also hosts an annual Adopt-a-Family event in which Cal High families and on-campus clubs donate gifts and gift cards to help 34 needy families from Wilson Elementary.
The gifts were wrapped on Friday and Monday, and will be delivered by members of the leadership class this week.