Cal band rocks Bay Area
Hang on for a minute...we're trying to find some more stories you might like.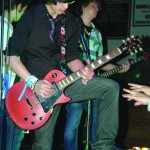 by Emma von der Lieth, staff writer
With grunge music slowly fading into the background amidst the increasing popularity of pop and rap stars such as Katy Perry, Nicki Minaj and Drake, Cal High band Adelyne strives to resurrect this once popular genre of music.
Bands such as Nirvana, Alice in Chains, Soundgarden, and Pearl Jam were some of the most popular grunge bands in the '90s, and serve as inspiration for Adelyne.
"We're inspired by a lot of grunge bands, like Soundgarden and Candlebox," said sophomore drummer Jon Annunziato. "But our biggest inspiration is Alice in Chains. Grunge is so different from any other style of music, that's what I like about it."
Annunziato first began playing piano in kindergarten, and in fourth grade he learned how to play the drums.
While in middle school, Annunziato started a band with classmates Mark Jones and Nolan Ngyuen, who are now sophomores as well.
The band played alternative rock music and was called Summerview. They played many shows, including concerts at Iron Horse Middle School and the DNA Lounge in San Francisco.
In 2010 Jones, Ngyuen, and Annunziato developed different tastes in music, and decided to go their separate ways.
Jones, now a guitarist for alternative rock band Vans on Elm St., continues to support Annunziato and Adelyne.
"Jon is an incredible musician," said Jones. "Adelyne is becoming more well-known, and they deserve it. They're bringing (grunge music) back, which is really hard to do."
While in high school, Jones, Annunziato and friend Brenden Massa, now a junior, played music together for fun.
Annunziato and Massa, who had similar tastes in music, decided to branch out and start a grunge band. They asked junior Wyatt Slanec to join them.
"Jon was in my Spanish class at the time," said Slanec. "He asked me if I wanted to play bass with him and Brenden, and I said yes. I was excited to play grunge because I've basically grown up with it."
Adelyne officially formed in late 2010, with Annunziato on drums, Massa on guitar and lead vocals, and Slanec on bass.
Slanec, who had never played bass before, learned to play while in Adelyne. In 2011, lead guitarist Nguyen joined the band.
"I joined the band because I had known Jon previously, in Summerview," said Nguyen. "We were good friends, and it sounded fun."
Ngyuen has been playing guitar for about five years, but can play multiple instruments.
Nguyen, unlike Annunziato, Slanec, and Massa, does not primarily listen to grunge music.
"I really don't listen to grunge music that much," said Ngyuen. "I mainly listen to all types of music."
Adelyne decided to play grunge music because Massa's voice fit the genre perfectly.
"A lot of other high school bands typically are the same genre, either pop, punk, or screamo," said sophomore Lauren Davies. "But Adelyne has a different style, and they are more old school, and that's what I like about them."
With their distinct "modern grunge" sound,  Adelyne proves to be unlike any other Bay Area rock band. Modern grunge has all the characteristics of grunge music but is more mainstream and radio-friendly.
Bands such as the Foo Fighters and Three Days Grace are often classified as modern grunge.
"There really aren't any high school or Bay Area grunge bands out there right now," said Nguyen.
Although grunge may not be of the mainstream genre as it was in the '90s, Adelyne continues to play the music that they love.
"Music, in our opinion, took a turn for the worse," said Annuniziato. "But there are a handful of people out there who understand our music and what we're trying to go for."
Massa, who has been playing guitar since he was seven, writes all of Adelyne's songs and bases them on personal experiences and emotions.
"I write about myself, and what I see around me," said Massa.
While Adelyne hopes to release more songs very soon, their song "Forgotten" can be found on their Facebook page.
Adelyne has played numerous shows in the past two years, two of which have taken place at the DNA Lounge and Slim's in San Francisco.
The band also performed at the Dublin High School Battle of the Bands on Feb. 4, and they continue to attract countless fans.
"I like Adelyne because they sound similar to Nirvana, and they have a different sound than other high school bands," said junior Mike Arata. "I think they'll make it big."
While Adelyne would love to become a household name, having fun and doing what they love continues to be their only goal.
"It's all for fun," said Massa. "We're in no rush to try to become famous, because if you try to become famous, you're not going to get there."