Cal soccer fights deep into NCS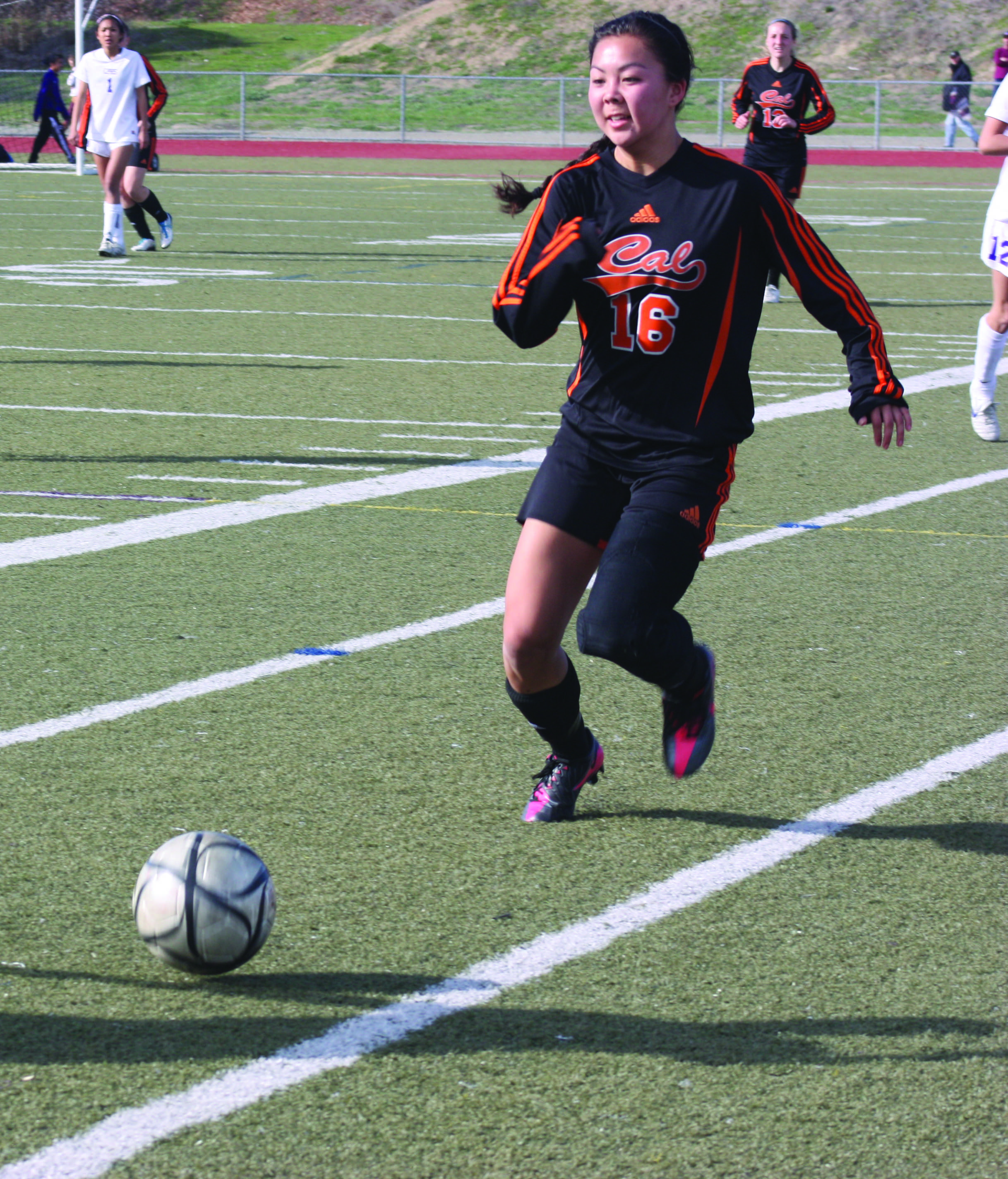 by Eric Yee, online editor
The women's soccer team made a deep push in the playoffs this year, exceeding their expectations before losing to eventual NCS runner-up San Ramon Valley in the semifinals.
Cal finished the season with a record of 12-4-5, which was good enough for fourth place and the No. 4 seed in NCS.
The top four seeds all were from EBAL.
In the NCS opener against No. 13 Clayton Valley on Feb.15, Cal won 3-0 thanks to goals by senior Morgan Collyer, and juniors Tess McConnell and Heather Donner.
In the second round, the Grizzlies faced No. 12 College Park. The lone goal scored in the game was by Collyer, giving Cal a 1-0 quarterfinal victory.
The semifinal matchup against top seeded San Ramon Valley ended in penalty kicks, after a 2-2 tie.
Eventually, the ladies lost 3-1 in penalty kicks. McConnell and Collyer each had a goal in regulation for the ladies.
"One of the most memorable games is the Senior Night, Monte Vista game," said senior Shannon Silver.
The team saw terrific individual performances. Collyer finished the season with a team high, 12 goals. Defensively, junior keeper Lauren Holden had nine shutouts. The team also finished the season with a goal differential of plus-13.
Men's Soccer
The Grizzlies fell short of their goals this season after a second place finish in EBAL and a first-round exit from NCS.
Cal finished the season with a record of 17-3-3, coming up just shy of its second straight league championship.
The Grizzlies earned the No. 3 seed, but were upset in the opening round of NCS by No. 14 College Park on Feb. 15.  The game ended in a 1-1 tie, but Cal lost 3-2 on penalty kicks.
Junior Jonathan Massimino scored Cal's lone goal in regulation.
The loss was a duplicate of last season's disappointing NCS championships game, which Cal lost to De La Salle in penalty kicks.
Junior Nate Grixti led the league this year with 18 goals, followed by senior Brandon Brown with 10 goals.
"My favorite part of this season was coming back from a 2-0 deficit versus Amador Valley, and beating them,"   Massimino said.
The team finished the season with a goal differential of plus-38.
Twelve shutouts were the most by any team in league play this year.
– Eric Yee
Wrestling
Cal sent two wrestlers to the NCS Championships this year.
Junior John Pricco (152-pounds) and senior Shaun Lin (182) represented the Grizzlies in the NCS wrestling competition.
They combined to score 19 points for Cal, but unfortunately neither wrestler finish in the top eight in respective weight classes.
– Luke Finkel
Basketball
Both the men and women's basketball teams ended their seasons on low notes by losing nine of their final 11 games. Neither team advanced to NCS.
The men finished 11-15, while the ladies were 8-18.
– John Sexton