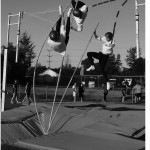 by Cliff Carpenello, staff writer
Track and Field
Head Coach: Mark Karbo
Key losses: Cory Chew, Elaine McVay, Vosa Hingano
Key returners: Marissa Rodrigues, David Pray, Madison Ricks, Noel Frazier
Track and field is off and running this year with the start of a fresh new season. Their hard work and commitment will hopefully pay off and get them the successful season that they're after.
The girls are looking for their fourth consecutive undefeated season. But if they hope to reach this goal, the ladies must race past rivals Monte Vista and San Ramon Valley.
"The tension between us is pretty big so those are the meets we're looking forward to the most," said sophomore middle-distance runner Madison Ricks, who advanced to the CIF state championships last season.
Ricks and senior high jumper Noel Frazier are Cal's only two returning athletes who advanced to state last season.
Baseball
Head Coach: Dan Ward
Last year's record: 15-10
Key Losses: Evan Brisentine, Steven Moen
Key Returner: Eric Tu, Thomas Peter, Tyler Johnson
Key Newcomers: Nick Allman, AJ Valezquez, Travis Roberts
The Grizzlies are hoping to repeat last season's hot 4-0 start as they once again look to finish near the top of EBAL.  Cal placed third last year behind San Ramon and De La Salle.
"We're looking forward to beating San Ramon this year," said junior Travis Roberts.
The Grizzlies open league play against last year's top dog, San Ramon, on March 23.
"Our team is going to go far this year," said Roberts.
This is Ward's third year as coach, and his team has improved every season, a trend  Cal hopes to continue.  After a disappointing 2-0 loss to Bishop O'Dowd in the first round of EBAL last season, Cal is out to prove itself this season..
– Luke Finkel
Softball
Head Coach: Joe Callaway
Last year's record: 18-7
Key Losses: Brittany Wright, Megan Gomm
Key Returner: Taylor Duffy
Key Newcomers: Lindsey        Chalmers, Audrey Howatt
The Grizzlies are looking to improve last year's impressive season which unfortunately ended in the second round of the NCS playoffs to league rival Amador Valley.  Cal placed second in EBAL but caught league champion Amador at the wrong time as the Dons went into the game on a 12-game winning streak.
"We need to beat Amador," said Cooper.
Cal is planning to get off to a good start in league play this year against San Ramon Valley, just like their male counterparts.
"We are going to be good this year, we are really athletic," said junior Kwyn Cooper.
– Luke Finkel
Men's Tennis
Head Coach: Manny Vasquez
Last year's record: 14-5
Key Losses: Shyam Kumar
Key Returners: Adhitya Mohan, Jonathan Stewart
Key Newcomers: Adith Kumarasvian
The men's tennis team is expected to hit their opponents hard this season. They are eager to bring their success and momentum from last year over to this year.
Seniors Adhitya "Lefty" Mohan and Jonathan Stewart are two of their best players. They are key returners from last year who are expected lead the team.
The team suffered a key loss with Shyam Kumar graduating. But the team still has the same core of players from last year and they have added many key  players, including freshman Adith Kumarasvian.
New head coach Manny Vasquez believes the team is good enough to win the league.
"One of our goals this year is to beat Monte Vista," said Vasquez.
Monte Vista is considered the team's top rival.  Cal is looking forward to winning the rematches this year after two crushing losses in 2011.
"As a team we hope to play the best we can this year and give it all we got," said Vasquez.
Overall, the team expects to be very competitive in EBAL in 2012.
– Alec Bandler
Men's Lacrosse
Head Coach: Mike Cincotta
Last year's record: 8-13 overall, 4-11 EBAL
Key Losses: Kyle Alvarez, Kelly Fielder, Mike Watson
Key Returners: Joe Abajian, Jaime Preston, Perry Wong
Key Newcomers: Angelo Beacon, Spencer Glazzy
After their shaky season last year, the men's lacrosse team is looking forward to making great improvement.
"I feel confident in our new team," said sophomore Peter Kravariotis. "We have some stuff to work on here and there, but I expect we should improve from last year."
The team is strong with their defense, and the players have a positive mindset and great deal of experience, but they will need to improve their catching and throwing forms.
With new coach Mike Cincotta running the show, Cal's team fitness will shape up this season.
"Our new coach is definitely a lot stricter and demanding than our last one, but he is really cool," said sophomore Christian Son.
– Justine Chang
Men's Volleyball
Head Coach: Joel Davidson
Last year's record: 17-8
Key Losses: Brian Alexander, Mitch Hoyt, Aquiles Montoya
Key Returners: Craig Horlbeck, Jack Farina, Chace Walsten, Chris Leal, Ryan Barbonio
Key Newcomers: Duke Driggs, Brian Watkin
The men's volleyball team is eager to build off of a successful 2011 campaign.
Cal is led by a strong core of seniors including captain Craig Horlbeck and Chace Walsten.
The team suffered key losses this year. Three of their captains from last year graduated. But the team has players who are expected to fill those shoes.
Seniors Duke Driggs and Brian Watkin are key newcomers who are expected to play well. Senior Ryan Jensen is another player to watch for.
"There is no one team in the area that has the depth we have," coach Joel Davidson said.
Overall, the volleyball team is expected to be strong and competitive in EBAL.
"Our goal is to win NCS this year," said  senior Jack Farina.
– Alec Bandler
Women's Lacrosse
Head Coach: Scott Corso
Last year's record: 13-9 Overall, 10-6 EBAL
Key Losses: Emily Chang, Avi Feldman, Madison Moore
Key Returners:Ari Barry, Jenna Herana, Jennifer Price, Michele Silver
Key Newcomers: Erin Cantoni, Shannon Geary, Sarah Monday
The women's lacrosse team has great deal of confidence and potential to have a strong season this year.
Seniors Michele Silver and Jennifer Price are the two captains expected to lead the ladies to another deep  NCS run.  Cal lost to Foothill 8-7 in the NCS semifinals last season.
Key returners include second-team All-EBAL player Ari Barry, who is returning from an ACL injury, and first-team All-EBAL attacker Jenna Herana, who was the team's leading scorer last season.
"I think our team is a really good group of girls and we work together really well," said Monday.  "We're really strong at playing as a team and running our offenses and defenses."
The team is focusing on strengthening their defense, throwing and catching.
To help with these improvements, the team hired two assistant coaches who used to play for UC Davis.
"They definitely know the game and what we need to work on in order to play at our full potential," said senior Jennifer Price.
– Justine Chang
Men's Golf
Coach: Mike Pottinger
Last year's record: 2-12
Key Losses: Michael Henning
Key returners:Michael Kelly, Ian Rogers
Key newcomers: Reid Souza, Jacob Johnson
Men's golf is underway after struggling through two of its three early season scrimmages.
This year's team is filled with mostly freshmen and sophomores, which makes Cal unique.
Reid Souza is a late newcomer this year after he transferred to Cal.
Their biggest rival is Amador Valley and they can not wait to play them in the near future.
"We're looking to just kill Amador Valley this year and for years to come," said sophomore Ian Rogers.
– Cliff Carpenello
Swim and Dive
Coach: Swim: Kimi Noltensmeier Dive: Chris Chamberlin
Key losses: Joseph Bugbee, Jake Hoyt, Daniel Alejandro, Tyler Stimpson
Key returners: Bobby Call, Jake Jernigan, Kirsten Trout, Toby Wong
Key newcomers: Eric Hua, Cole Melloch, Jenna Beadle
As the swim and dive teams start up, both are hoping to do well. After losing a large portion of last year's team, Cal is expecting a young group to step up.
"The team is looking really good," said senior swim captain Cameron Speltz. "I think we'll fair pretty well against most teams."
Although a large portion of the team are underclassmen, there are many seniors who know the ropes and are helping the team so they can succeed.
"We're a young team," said swim coach Kimi Noltensmeier, "[but] we don't have any weaknesses."
– Zach Stalcup