Fall teams off to sizzling starts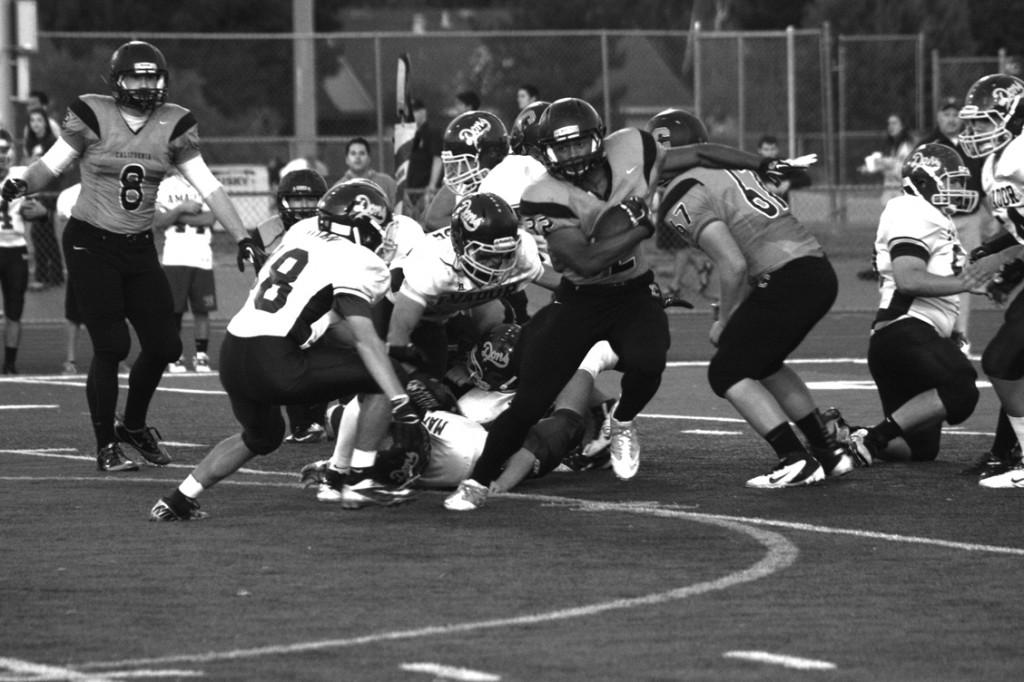 Alec Bandler, Eric Yee, Ashwath Mohan, Olivia Percivalle, and Luke Finkel
October 12, 2012
Head Coach: Eric Bellici
2011 Record: 7-4
Key Returners: Karris Johnson, Daniel Honett
Key Losses: Armani Washinton, Kevin Farley
Key Newcomers: Cameron Owen, Blake Bierwith
Coming off a tough loss to Monte Vista last Friday night, Cal is looking to bounce back with what would be a big win tonight at San Ramon Valley, the only EBAL team undefeated in league play.  Kickoff is 7 p.m.
The Grizzlies (2-1 EBAL, 5-1 overall) will be looking for vengance after getting whipped 44-26 at Monte Vista (2-1).
"We've got to improve our defense," said Bellici. "We have to improve our toughness."
The defense surrendered 312 yards through the air, 205 of which went to the Mustangs' leading reciever, Marco Zamora.  Most of the receptions came on quick slants, a route that the Grizzlies have struggled to defend all season.
Even after a tough loss, Cal shows that it will be one of the players in a tight race to win the EBAL, which can no longer be claimed by De La Salle because the private school is now independent again.
Impressive wins over Foothill and Amador are great examples of that.  Cal whipped Foothill 36-7 on Sept. 28 and Amador 31-21 on Sept. 21.
The Grizzlies are ranked 14th  by NORCAL website and 16th by SF Bay Area website.
These are Cal's highest ranking since the end of 2010, when the Grizzlies lost to De La Salle in the NCS championship game.
The Grizzly rushing attack cannot be stopped by anyone this season. They have already racked up more than 1,700 yards with 21 rushing touchdowns.
Leading this attack is the senior Johnson, who has 600 yards and 12 scores.
"We can make it late into the playoffs if we pick-up our game," said Johnson.
Junior sensation quarterback Cameron Owen isn't making it any easier for opposing defenders either. He is completing 60 percent of his passes with a 5-to-1 touchdown to interception ratio.
"It's about determination," said Owen.  "We can go as far as we want to go."
Cal pulled off a 40-34 upset over heavily favored Pittsburg on Aug. 31. The Pirates were ranked almost 40 spots ahead of Cal in the state at the time.
It was the same story for Cal, pound the run and wear down the opponent.
Cal's monstrous backfield combined for more than 220 yards on 31 carries.
Cal beat Castro Valley, 42-34, and Washington, 40-7, to open the season.
Women's Volleyball
Head Coach: Todd Baham
2011 Record: 18-8 Overall
Key Returners: Tracy Ogata, Stephanie Smith
Key Losses: Lindsay Wood, Alison Good
Key Newcomers: Anissa Lai, Samantha Fisch
The volleyball team is off to a hot start and leads the NCS in first place, boasting an 19-3 overall record and a 6-1 record in EBAL league play.
The team won the Dougherty Valley tournament after completing a six game sweep for the championship.
The Grizzlies suffered their first loss in league play against Amador Valley on Oct. 4 by a score of 3-2.
"Our goal is to win the EBAL and NCS," says senior Sabrina Clayton. "We are improving by playing more consistent and working on our passes."
The Grizzlies got started league play on Sept. 18 by beating Monte Vista, 3-0.
The Grizzlies are preparing for big games against Foothill on Oct.30 and Carondelet on Nov. 1.
– Eric Yee
Cross Country 
Head Coach: Dave Hill
Key Returners: Christian Aldana, Kyle Kao, Scott Barlow
Key Losses: Sameer Patel, Chris Jachowschi
Key Newcomers: Travis Flemming, Erik Johnson
Last year, the Grizzlies made two key mistakes by not training hard enough and slacking off, which led to their the downfall.
"You can expect a better season and a lot more wins from us this year," said sophomore Christian Aldana, one of the top returners. "We've been training a lot harder than last year and are already off to a good start, so I can't wait to see how the season turns out."
Team captains Aldana and senior Brian Paniagua did extremely well at the last meet by placing first on the team for frosh/soph and varsity.
With the Monte Vista meet coming up, the team has already been practicing a lot harder, doing more 400 sprints and mile repeats.
The Grizzlies main goal is to do a lot better than last year and by the looks of it, they are.
– Ashwath Mohan
Men's Water Polo
Head Coach: Matt Head
2011 Record:20-6
Key Returners: Jamison Shapland, Kyle Costamagna, Adam Hurd
Key Loses: Jake Hoyt, Eric Hildreth, Jack Farina
Key Newcomers: Josh Shapland, Connor Daly
Last year the team did extremely well, finishing 19-5 and reaching the second round of the NCS playoffs.
In order to repeat last year's success, the team has to listen to Coach Head and play as a team, said Hurd, a senior.
Head said this years goal's consist of building team chemistry and returning to the postseason.
Cal is off to a solid start with an 8-7 record, that includes wins over Alameda (twice), Live Oak, Irvington, Livermore, Liberty, Pinole Valley, and Berkeley.
"We're all such good friends," said Costamagna. "But we lost a lot of the seniors."
– Olivia Percivalle
Women's Golf 
Head Coach: Mike Pottinger
2011 Record: 0-12
Key Returners: Jennifer Zeng, Madayln Schenk, Chi Cheng
Key Losses: Angela McElroy, Samantha Cookson
Key Newcomers: Fericia Terciano, Alexis Guimaraes, Qi Tian
The women's golf team has achieved their goal of improving from last season and should be returning to the NCS qualifier for the first time in three years.
After going winless in league the past two seasons, Cal (5-8 EBAL, 6-8 overall) has accomplished many firsts this year.  The Grizzlies beat Monte Vista and swept San Ramon Valley for the first time in school history.
"Beating Monte Vista was super exciting," said Schenk,  a senior captain. "It gave a huge boost to our season."
Cal not only beat Monte Vista, 232-235, on Sept. 20, the ladies got the upset on the Mustangs' home course, Round Hill. Four girls shot in the 40s in that match, including Zeng (43), Terciano (45), and Schenk and  Guimaraes (both 46).
"We have really surpassed our goals for the season," said Pottinger. "I think they have over achieved."
The ladies concluded their regular season on Thursday at Carondolet. Results were not available before The Californian went to press.  After next Monday's EBAL tournament, Cal will learn if it will be returning to the postseason.
– Ashwath Mohan
Women's Water Polo
Head Coach: Kelsey Williams
2011 Record: 12-10
Key Returners: Ellen Perfect, Maddie Hurd, Ceri Larking
Key Loses: Zara Juskalian, Mackenzie Larson
Key Newcomers: Hannah Skrentney
The ladies are off to a great start and hop to make a trip to NCS a reality.  Cal recently went 4-1 in the Sierra Shootout, placing third overall.
"They play well together, a very smart team, they're motivated and fun," said Williams, a first-year coach.
The Grizzlies are 6-8 overall, 2-5 in league play.
"I feel it's a building year. It's not about the wins, but growing as a team," Hurd said.  "Last year was a much different team. We worked hard, but not everyone was spirited about it."
– Olivia Percivalle
Women's Tennis 
Coaches: Kal Peters, Laurie Radanovich
2011 Record: 3-11
Key Returners: Michelle Kim, Tiffany Jow, Jessica Ma
Key Losses: Shannon Hung
The women's tennis team is young and eager to compete in EBAL after finishing sixth last year. But the team has struggled early on.
The team, led by captains Kim and Jow, boasts several strong players in juniors  Cal also has a couple other strong players in Ma and Mia Nakajima, juniors who comprise Cal's top doubles team.  Kim, a senior, is  the team's best singles player.
"We have a young team," said Radanovich. "We will improve this year with a lot of experience."
Cal (2-4 EBAL) started on a sour note by losing its first two games in league.  Cal lost to Monte Vista, 9-0, on Sept. 13, and San Ramon Valley, 8-1, on Sept. 18.
"It was a struggle," said Radanovich about the SRV match "But (senior) Lucy Li had a great win."
The team got its first two league  wins first wins by beating Livermore, 8-1, and   Granada, 7-2.
– Alec Bandler