Triathlete swims, runs, bikes to finish line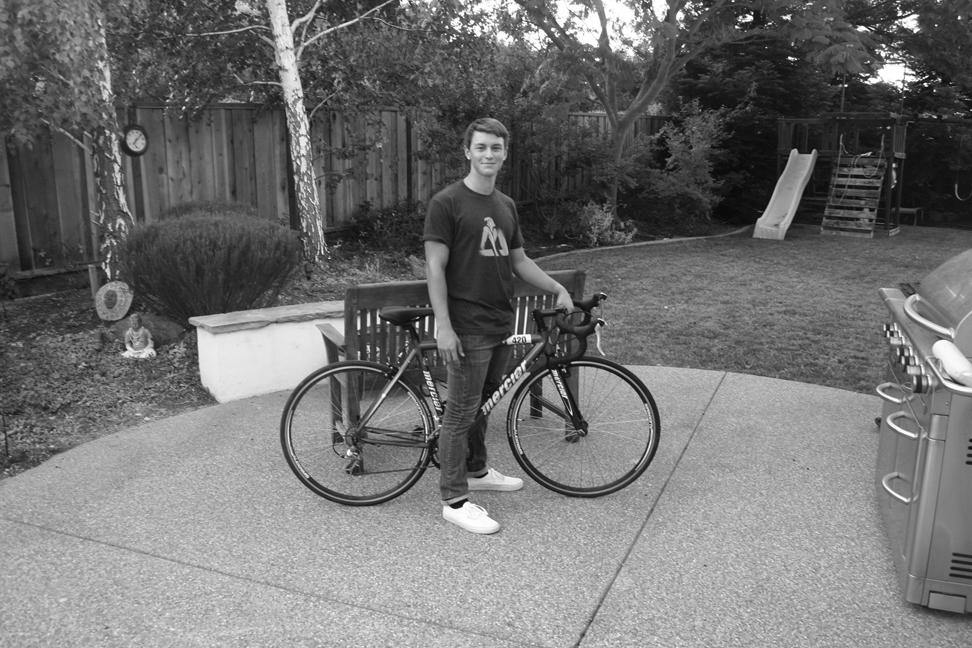 Marisol Montes, Staff Writer
October 12, 2012
Junior Stephen Waltrip's blood is pumping.
Stretching his muscles, his mind is racing and right before the whistle blows he thinks, "Let's get it done."
Waltrip competed in his second triathlon Sept. 9 in Pacific Grove, finishing fourth with a time of three hours and one minute.  That's more than three straight hours or swimming, cycling and long-distance running.
Many students might view such as experience as pure hell. But Waltrip sees it as an endurance event that is a huge accomplishment if he survives.
"When you go out there to compete, you feel a lot of adrenaline when you go out there and start because it's a lot of people who all train and know what they're doing," said Waltrip, "And when I finish, I feel dead tired. You feel accomplished but you feel you're ready to pass out and feel like all your hard work is finished."
Waltrip's only other triathlon was Sept. 10, 2011, when he finished  second place with a time of three hours and four minutes. Waltrip thought the triathlon was intimidating the first time, but not as much as the second time around.
Waltrip trains for the 1.5k swim ( .93 miles), 40k bike ride (24.8 miles), and 10k run (6.2 miles)  by training four to five days a week by working out, biking twice a week, running, swimming, and practicing with his team at the Tri Valley Triathlon Club. He trains months before to prepare himself for the competition.
"Running is my least favorite out of the triathlon because I'm just not that good of a runner and my feet seem to go numb on that part," said Waltrip.
Waltrip's favorite part of the triathlons is biking because he says that he has a lot of time to think about anything.
Waltrip is grateful for the support from his family and friends. His parents fund his training and equipment, which runs upwards to $1,000.
In addtion to the $200 membership in the Tri Valley Triahlon Club, Waltrip has costs that include his bike ($500), bike computer ($50), running shoes ($100) and wet suit rental ($50) every time he swims in a competition.
Waltrip not only receives support from his parents but also his friends, such as juniors Seth Rackmil and Hussain Kahn, who describe Waltrip as very motivated.
One needs to be with the nature of the demanding sport that combines three challenging aspects.
Cal teacher Steve Dick, a former cross country coach, said adding the three sports together is the easy part. The tough part is competing in all three at once, said Dick, who feels it would be challenging to finish a triathlon.
Added teacher Paul Fortayon, an avid cyclist, "Triathlons are very difficult," said teacher Paul Fortayon, an avid cyclist, "because running is hard on your body and swimming takes a lot of technique."
Waltrip began training for his first triathlon in the summer of 2011 because his mom said he needed to do something over the summer. After completing his first triathlon, Waltrip said he continued to train and compete because he liked his coaches, Lael and Liz, the environment, and enjoyment he got from it.
Waltrip maintains a balanced and healthy diet as part of his training.  He drinks a muscle shake every morning and eats a lot of vegetables.
Waltrip has always been athletic. As a kid, he was a gymnist for about eight years, swam in middle school, played soccer, water polo and dove for Cal, and even participated in tae kwon do for a short time.
But now he's strictly into triathlons.  He wants to continue to improve his times, and he hopes to compete in a triathlon called, "Escape to Alcatraz" in March. The only way to join that competition is through a lottery since it's so popular. Waltrip wants to continue his summer triathlons as well.