Kinavey's loss felt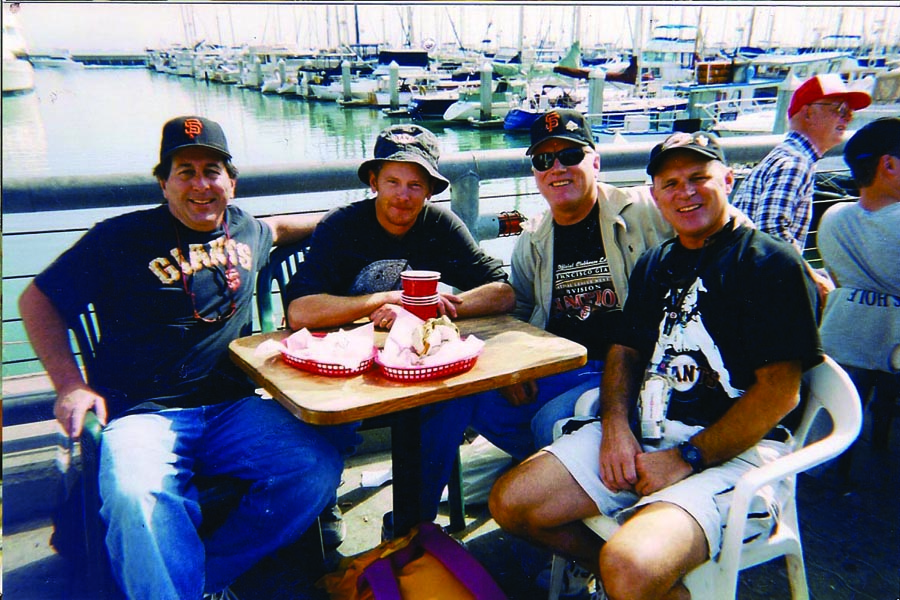 Emily Jones, News Editor
November 16, 2012
Few current Cal High students have had the privilege of entering a classroom filled with everything from Giants paraphernalia to a James Dean poster to a tree with a  plastic pink flamingo sitting around its base.
To top it off, there sat Randy Kinavey casually perched on top of a desk at the front of the room ready to enlighten and fascinate his students in exploring the English language.
It is with great sadness that students said goodbye to Kinavey who passed away on Oct. 14, more than two years after he was diagnosed with lung and brain cancer.  He was 62.
Friends and family said goodbye to Kinavey at a memorial service on Oct. 25 in Castro Valley.  His 24 years of teaching Advanced English 9 and Honors English 11 at Cal (1987-2010), as well as his years at Bishop O'Dowd, left an indelible mark on all students and staff.
"He's touched the lives of all of his students, because they're going to remember everything he did for them," said math teacher Gary Triebwasser, one of Kinavey's good friends.  "And certainly anybody he worked with here, if they took the time to get to know him, you could learn a lot from him."
In 2010, Kinavey was awarded the $10,000 Warren Eukel Teacher Trust for excellence in teaching, a countywide recognition of his dedication to education that inspired his students.
"I never really thought of (English) as something that interesting, that thought-provoking, or that deep, but when I was in his class I wanted to study literature because he made it so interesting," said senior Tessa De Vilbiss, who had Kinavey as a freshman.
Whether learning about Greek mythology, analyzing "To Kill a Mockingbird," or discovering the ways of William Shakespeare, students said Kinavey's charisma and passion made subjects more enjoyable and relatable.
"I remember when we were reading (Emily) Dickinson, he was totally in love with her,"  said 2011 Cal High graduate Maithili Jalihal, who had Kinavey for Advanced English 9 and Honors English 11. "It wasn't superficial in the slightest, and his genuineness made it so much easier to learn."
From the Beatles music he played before class to his T-shirts with witticisms funny enough to match up to his own remarks, a typical period (if there ever was one) spent in room 325 was always one to remember, students said.
"I looked forward to every single day," said senior Aditya Jalihal, who had Kinavey for Advanced English 9. "I actually don't think there was a day I regretted being in that class. It just made literature much better."
Teachers also admired Kinavey's passion for teaching.
"He taught with a lot of enthusiasm," said Triebwasser. "He taught with a sense of urgency that most people don't have, so every day was important."
Principal Mark Corti agrees.
"(Kinavey's) expertise in the classroom was unsurpassed," Corti wrote in an email to the staff. "The knowledge and passion he shared about literature made an impact on every student."
Students said they learned more in his class than any in other they have taken.
"He really pushed his students to think at a higher level even as just freshmen," said Ellen Perfect, who had Kinavey for Advanced English 9. "I hadn't really had that experience anywhere else."
Atypical 'about me' speeches, memorized "Romeo and Juliet" soliloquies, and on-the-spot "magnetic poems" are among the myriad of assignments that challenged his students to think outside of the usual English essay.
"I think he demanded a lot from his students in depth and idea," said English teacher Donna Montague. "He pushed them hard intellectually. He made students slow down and pay attention to detail."
Students say his class is one of the hardest, yet most satisfying, classes they have ever had. The grades that students received were more meaningful, as they spent their time in class earning them.
"The interaction he had with students was amazing," said English teacher Richard Hight, who shared an ongoing contest with him of who could keep student essays the longest. "He encouraged students to take risks."
The open community Kinavey created in the class elevated daily discussions, students said.
"He made us feel comfortable with each other and I think I've never been closer to another class in that way and I attribute that to him," said Aditya Jalihal.
Students said Kinavey listened to whoever was talking wholeheartedly, as if he/she was all that mattered at the moment.
"He really respected the intelligence of his students," said Perfect. "He made us all feel like his equals. We all really respected him because he treated us so equal. We took English seriously after that."
Not so serious, on the other hand, was his humor.
"He had a really great, wicked sense of humor," said Montague. "He enjoyed irony and things that were a little twisted."
When his homeowner's association told him the basketball hoop outside his house was not allowed, Kinavey looked through the handbook to see if pink flamingos were acceptable. Seeing that there was no rule that prohibited them, he stuck one of the tacky, plastic ornaments on his lawn so that the association was forced to create a new rule in order  to make him to remove it.
Stories like this made his classes more personal, students said.
"Our class had a lot of inside jokes," said senior Mischa Fritz, who also had Kinavey for Advanced English 9. "His remarks and his comments about everything we (did) were just funny."
Aside from an array of literary terms, his classes became very familiar with "Kinaveyisms," a word students use to describe one of his many witty or profound remarks. A shrine of a Facebook group dedicated to these various quotes even exists. (It can be found by searching "Kinavey Quotes!!!")
Some favorites include "I used to have a six-pack but now I have a keg," "My heart soars with the eagles," and "You are the woman [or man]."
"For Mr. Kinavey, being funny wasn't about degrading someone or something," said Maithili Jalihal. "I think what I learned from that was that people can enjoy life and laugh about things without hurting each other. I know how important that is now."
Kinavey's down-to-earth personality and willingness to outreach his hand to others was recognized by many of his students.
"He took time outside of class to read the novel I was writing at the time and (gave) me his opinion, which he definitely didn't (have) to do but I really appreciated (it)," said senior Miranda Shakes, who had Kinavey for Advanced English 9
Triebwasser, having been to sporting events, family outings, and meals with Kinavey, also recognized Kinavey's dedication.
"When you eat lunch with a guy for 27 years you really get to know him," Triebwasser said. "We knew how each other felt and at a personal level we knew how we taught, we knew how we felt about things, we knew we could exchange ideas about any topic at any level and not worry about how we thought or how we said it because we understood each other and we knew what to do, as good friends would."
The respect, wit, knowledge, and charm Kinavey exuded will always be remembered, students said.
"Kinavey was one of those teachers that nearly every student liked, but more importantly everyone genuinely respected," said Maithili Jalihal.
And so, Kinavey's heart will soar with the eagles.
Randy Kinavey was survived by wife Suzanne, son Zack, daughter Hilary, son-in-law Victor, grandsons Kyan and Luca, sister Jacki, nieces Olivia and Jessica, Jessica's husband Scott and children Jack and Brooklyn.
In lieu of flowers, donations can be sent to KQED or the SPCA at 8323 Baldwin St., Oakland CA 94621.