Gearheads draw crowds with showcases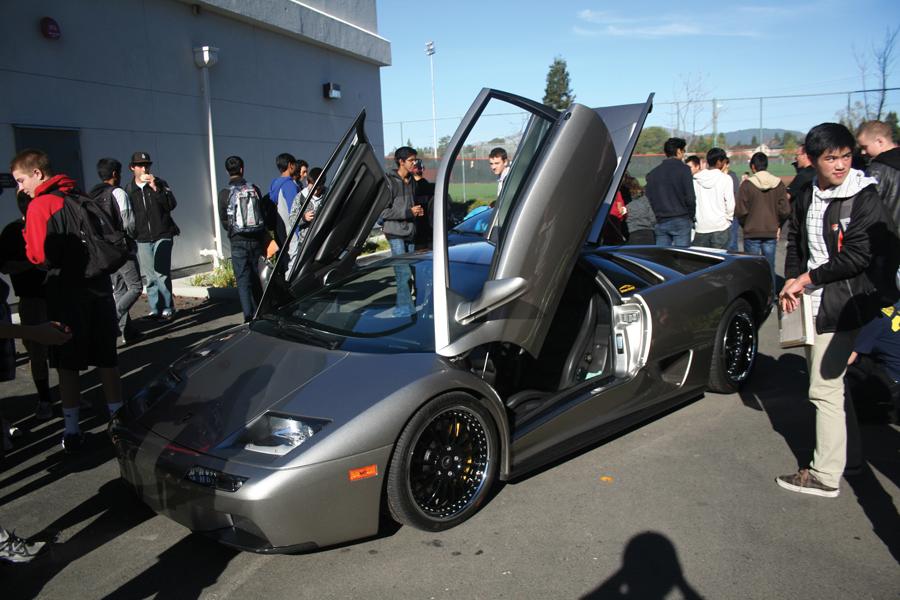 It was easy to hear the roar of two monstrous V12 Lamborghini engines at lunch on Dec. 7.
Students gathered between the main building and event center to take pictures, sit in the Lamborghinis, and ask the owner's questions about the Italian sports cars. This spectacle was courtesy of Cal High's new Automotive Club.
This isn't the first time students have seen exotic cars on campus.  The Automotive Club had also displayed a Mustang Shelby GT 500 during the club fair in September.
With all of these amazing cars on campus, it's easy to wonder what the Automotive Club is all about.
"It's just a meeting place for a bunch of car enthusiasts," said junior Mitchell Lum, the club's president.
The club's creation started just like any other. A group of students shared an interest, but didn't have anywhere to meet to talk about it.
The club, which meets every odd day Monday in room T5, usually discusses car news, such as new models or rumors about upcoming ones.
The meetings usually consist of multiple speakers and presentations with car related information.
The most identifiable aspect of the automotive club are its showcases, such as the Lamborghinis and the Shelby.
But that's just the beginning. The club is hoping to have a Mitsubishi Evo and a couple Teslas on campus later this year.  All of the cars showcased come from connections with people in the club itself.
The club predicts it will have guest speakers from the automotive industry visit to discuss their jobs as well. The members plan to invite employees from WYOtech and the Tesla factory to campus to talk about what they do and how to get involved with the industry.
Even though the club meets mainly on campus, they are not confined by the walls of the classroom.
There are plans to make Automotive Club related field trips in the future.
"We plan to make a trip to the Tesla factory (in Fremont) for a tour, and possibly even a race track." said junior treasurer Shriram Apte.
Besides discussing car news and attending automotive-related field trips, the club plans on acquiring and old car so students can restore and modify it.
The club has a Honda Civic, but because of a lack of funding, time, and a properly equipped garage, the club is holding out for a more desirable car like a 1960s Mustang or another vintage muscle car.
Currently, the club has 35 regular attendees, and is looking for more so it can fund future projects and trips. The club is open to anybody, but co-president Junior Uttam Kumaran says it is more appealing for a specific audience, essentially gearheads.
"We usually are more on the serious side about cars, and get more technical than most people do," said Kumaran.
Even though this is true, Kumaran urges anybody who is interested in cars to join the club, which plans to exercise the more technical side of the club with the help of their adviser, Steve Dick.
"I plan on giving some classes on how the physics and mechanics of cars work," said Dick.
Dick used to teach Cal's auto shop class before it got shut down a few years ago because of liability concerns.
He plans to use his knowledge to teach the members of the club how cars work.
"I think the club provides a lot of good experiences and events for us to marvel at what society can achieve mechanically," said freshman club member Dhuvarakesh Karthikeyan.