Soccer team starts strong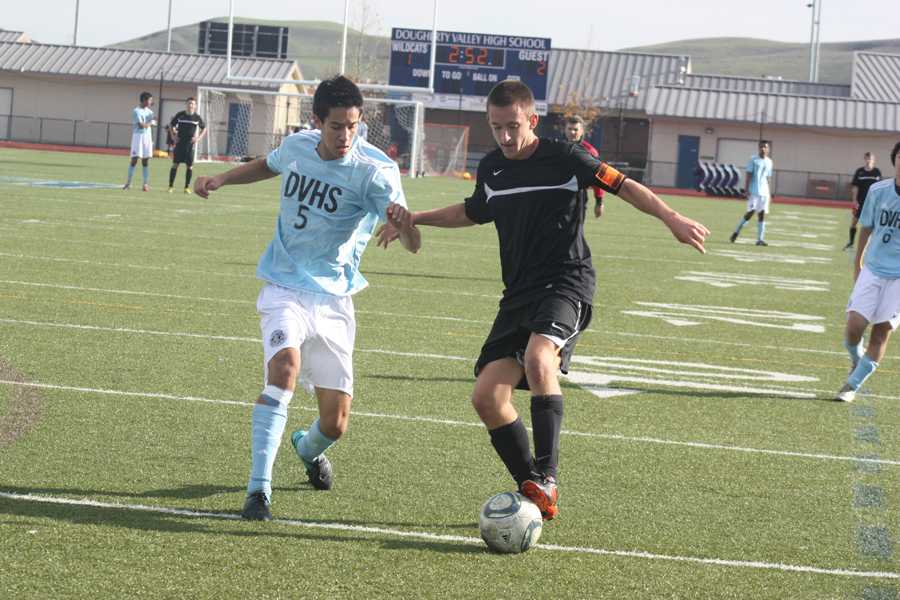 Eric Yee, Sports Editor
December 19, 2012
Men's Soccer 
Head Coaches: Chris Faidley, Todd Higley
2011-12 Record: 17-3
Key Returners: Nate Grixti, Jon Massimino
Key Losses: Chris Nodhal, Cameron Townsend, Duke Driggs
Key Newcomers: Davis Bullock, DeVante Raynor
The men's soccer team has high expectations this year after last year's early exit from the NCS playoffs.
This year, the Grizzlies (9-0-1) opened league play with a 1-1 tie at Monte Vista on Dec. 13. Junior Connor Clark contributed with the lone goal on an assist from junior DeVante Raynor.
This year the team is led by senior captains Nate Grixti and Jon Massimino, who were part of last year's squad that earned a No. 3 seed before their early upset in NCS.
In a preseason game at Dougherty Valley on Dec. 8, Grixti and junior Fernando Ramirez each scored a goal en route to a 2-1 win.
"They year before we won the league, so this year, we'd like to win league again and then win NCS," said coach returning head coach Chris Faidley.
The team is preparing for key EBAL games against Amador Valley on Jan. 8 and De La Salle on Jan. 15.
Women's Soccer 
Head Coach: Lee Munson
2011-12 Record: 14-4-6
Key Returners: Lauren Holden, Heather Donner
Key Losses: Morgan Collyer, Rachel Hamilton
Key Newcomers: Radhika Balagopal, Preethika Rajeskar
After finishing last season by reaching the NCS semifinals, the women's soccer team is hopeful for another successful season.
But Cal (1-2) is off to a bit of a shaky start.  After opening with a 2-1 win over Irvington, the Grizzlies were shut out next two preseason games by Washington,  1-0, and Berkley, 3-0.
The team has welcomed back many returning players, including senior goalie Lauren Holden, who is also one of the team captains.  There are also several new faces who are starting to get to know their teammates.
"It's great playing against them and alongside them," said junior Preethika Rajeskar, who is new to the team.  "We lost the last preseason game but we're still getting used to each other."
– Erica Drake
Women's Basketball
Head Coach: Anthony Khoo
2011-12 Record: 8-18
Key Returners: Jessica Catson, Michelle McQuiston, Kat Hupke
Key Losses: Tori Edwards, Shannon Villanueva
Key Newcomers: Marta Mueller, Cate Mueller, Grace Peng, Janelle Suico
This year has started a little slow for the Grizzlies, who have gone 3-6 in pre-league play so far but have already taken out Dougherty Valley in their first meeting with a 58-49 win.
First- year coach Anthony Khoo said he took the coaching job because he wanted to more interactive with the community. He said the team's  main goal this season is to work together to achieve excellence and to have fun while doing it.
After winning two games early on, the girls dropped three in a row before bouncing back to defeat James Logan. Cal most recently suffered a heart-breaking 46-45 loss to Mission San Jose in overtime on Dec. 11.
With the help of senior team captain Marta Mueller and senior Jessica Catson, things can only get better.
"Success is measured potential," said Khoo.
The Grizzlies have potential to perform at the highest level.
– Andrew Evans
Men's Basketball
Head Coach: Garrett Fitch
2011-12 Record: 12-14
Key returners: Shane Haley, Josh Ip, Blake Guardino
Key Losses: Ryan Hyrn, David Eplin, Noel Frazier
Key Newcomer: Matt Lorenz
This is going to be a tough year for the men's basketball team after losing 10 of 14 players to graduation or transfer from last season.  Cal also has to adjust to first-year coach  Garrett Fitch, who replaced  Bob Donovan after he was forced to resign earlier this school year because of parent complaints (See editorial, page A6).
Even so, Fitch is optimistic about the team.
"A lot of people might underestimate us," he said. "We might end up taking many of them by surprise."
It is clear that this is going to be a rebuilding year for Cal, which is 1-2 early on. Only four players have any varsity experience, and that presents a unique challenge to the coaching staff.
"The newcomers are talented, but have to adjust to the speed of varsity ball," said senior power forward Shane Haley, one of the few returning players.
– Sam Canter
Wrestling
Head Coach: Kevin Lopez
Key Returners: John Pricco, Mick York, Jordan Manibusan, Jared Toth
Key Losses: Shaun Lin
Key Newcomers: Brian Fermandois, Cole Dohmann
The Grizzlies are looking to improve this year after having no players place in NCS last season.
The team has most of its core wrestlers back with the exception of Shaun Lin.  Senior captains John Pricco and Mick York are Cal's top returners.
The team is looking to improve by focusing  on technique, endurance and speed.
"Our goal is to have the team go to NCS Dual Championships, and have the individual wrestlers place in EBAL and NCS, "said senior Scott Chamberlain.
Chamberlain has personal goal of placing in the top seven at NCS.
The team's first big tournament was on Dec. 1 at Freedom High.  The Grizzlies did well by placing third and they would like to build off their success in future matches.
Overall, the Grizzlies are looking for their hard work to translate to more success.
– Alec Bandler