Student breaks female stereotypes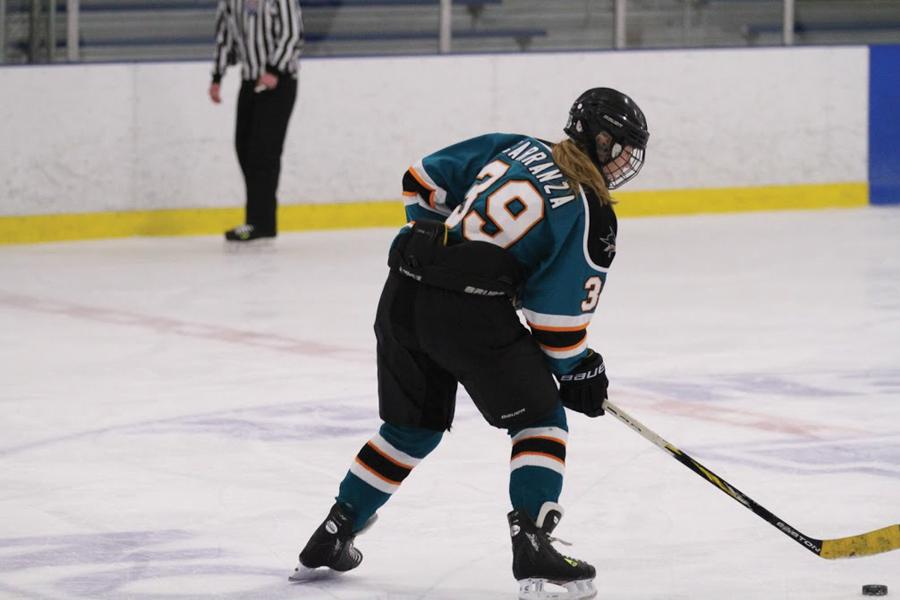 Erica Drake, Staff Writer
February 11, 2013
When most people picture hockey players, they imagine buff Canadian men. But sophomore Rachel Carranza is breaking the mold as a female hockey player.
Carranza has enjoyed hockey from a young age. Her dad and her brother both played and eventually Carranza picked  up the sport.
"I got bored of waiting for (my dad and brother) to stop practicing so I decided to try it out," she said.
That was when she was eight, and she has been playing ever since.  While Carranza is currently playing for the all-girls San Jose Jr. Sharks, she played for a boys' team closer to home for the first six years of her hockey career.
Things weren't exactly easy for her, being the only girl on the team.
"The dads on the team were sexist," she said. "I was always the odd one out."
Carranza recalls team parents telling her that she didn't deserve to be on the team because she was a girl.
Her father, Joseph Carranza, also remembers this being a hard time for her.
"It was isolating at times," he said. "Also, some boys gave her a hard time or didn't fully accept her because she was a girl."
She didn't let this stop her from proving them wrong.
Her father is nothing but supportive in her decision to pursue hockey in the future and sees her going far. Because Carranza has to travel to San Jose three times a week for practice, juggling hockey and school can be a hassle for her.
But seeing as how little opportunity there is for a female hockey player in the East Bay, she doesn't have much choice.She does additional traveling around the Bay Area for games.
But her travels don't end there. Last October, Carranza was one of 20 players from California and Minnesota picked by the U.S State Department and USA Hockey to go on a 10-day trip to Russia, where she trained with Russian students and professionals. She stayed in the training center in Novogorsk, a city outside of Moscow.
Although most of the Russian students knew how to speak English, Carranza said hand gestures played a role in communicating with each other.
At the end of her trip, she along with her American and Russian teammates played against a team from Moscow.
Carranza wishes to pursue hockey in the future and hopes for a hockey scholarship to college.
But her future in hockey in the Bay Area has been put into question. Next season, it seems likely that there won't be a San Jose Jr. Sharks for Carranza to return to, as there might not be enough people for a full team.
As a result she has been looking elsewhere for an opportunity to play hockey.
She has already applied to several boarding schools with hockey teams and hopes to finish high school at one of them. Some of these schools include Deerfield Academy in Massachusetts, and Westminster and Gunnery Schools in Connecticut.
She decided that boarding school would be a good choice for her since the schools she has applied to have the best academic programs and smaller class sizes. And with hockey and school in the same place, it would make managing her time much easier.
Carranza doesn't let hockey get in the way of her schoolwork.
Sophomore Kelsey Aguirre said her friend, Carranza, always puts schoolwork first.
"Rachel is a hard worker and she gets things done," Aguirre said.
Despite previous hardships she has faced being a girl in a male-dominated sport, Carranza believes that it is actually a good thing.
There is much more competition to continue the sport professionally as a male.
"As a girl playing hockey, you can go so much further with it," Carranza said.
Fellow hockey player, junior Willie Chan, agreed.
"It's pretty difficult to get far with hockey," Chan said. "It's really competitive."
Math teacher Fred Albano also sees a bright future ahead for Carranza.
"She's a hard worker and committed to hard work," said Albano. "She's a very athletic student with lots of athletic potential."