Students unveil secrets of the SAT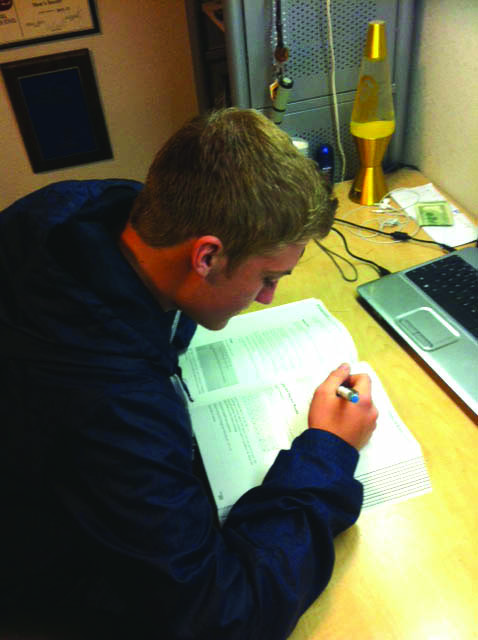 Marisol Montes, Staff Writer
March 19, 2013
Every year high school students face two dreaded tests  – the SAT and ACT – that could determine if they attend their dream college:where they attend college.
The SAT (Scholastic Aptitude Test) tests students on reading, writing, and math. The ACT (American College Testing) consists of English, math, reading, and science sections.
In addition to taking the PSAT, or preliminary-SAT, in October to practice test-taking skills and qualify for scholarships, students  have many other ways to prepare for the test.
An app called "The Official SAT Question of the Day" keeps students regularly updated with different questions.
It keeps past questions and indicates the subject. It also includes explanations for answers.
Another great app to use is "Ace the SAT," which provides more than three million questions for students to solve. It explains problems step-by-step for each question, allowing students to catch their mistakes.
There are also many SAT and ACT websites, such as sat.collegeboard.com and  grockit.com, that provide access to many different types of information about the tests.
Sat.collegeboard.com is an official College Board web site to help prepare students for the SAT.
The site has free ways to practice as well as items for sale to help prepare. The information is organized and easy to use.
Tutoring is also a viable option for prospective SAT and ACT test takers.
"I had a tutor that I went to once a week," said junior Cole Huse.
Huse used resourses with his tutor such as books about the SAT to help him prepare. He found his tutor at the Bay Area Tutoring Center.
A good book to use is "Tracking the SAT, 2012 Edition" made by Princeton Review.  Itreviews vocabulary, writing techniques, and grammar through drills and explanations. It also contains SAT strategies and advice to prepare for the test.
Another book useful to students is "The Official SAT Study Guide, 2nd Edition,"  which is by the College Board, the same company that writes the SAT.
The book features 10 official SAT practice tests, and reviews critical concepts.
Junior Tanya Talwar said  the "Kaplan SAT Prep Book" is another helpful resource that she used to study.
It has practice tests, tips, answers to the questions, and strategies to use during the test.
Another way that Talwar studied was that she made thousands of flashcards of vocabulary words.
In addition to this, she tried to use it in her daily vocabulary so it could help her remember.
There are endless other ways to study for these tests. Books and websites are good tools to use, but those are not the only ones.
Students have found ways to study beyond using textbooks.
Although the preparations for these tests is important, so are the preparations that students make the night before and the morning of the tests.
"The night prior to the SAT I went to bed early and ate healthy," said senior Noah Garner. "I woke up early and studied over some vocabulary and critical reading skills to jog my memory."
With the SAT covering such broad topics, many students have trouble studying for the test.
"Take as many PSAT as you can so it doesn't feel as long during the test, and you will get used to the timing," said Talwar. " Don't stop practicing until you take your SAT."
Senior Eleanor Adachi shared another great way to study while she was at home practicing.
"I would split the practice test up into sections so I wouldn't get overwhelmed and to get better in skills," said Adachi. "I usually go into a place where there are no distractions."
Grimm said the best way to study is to keep up with course work.  Staying on task and focusing is the best way to sharpen skills to keep up.