Gymnast makes national team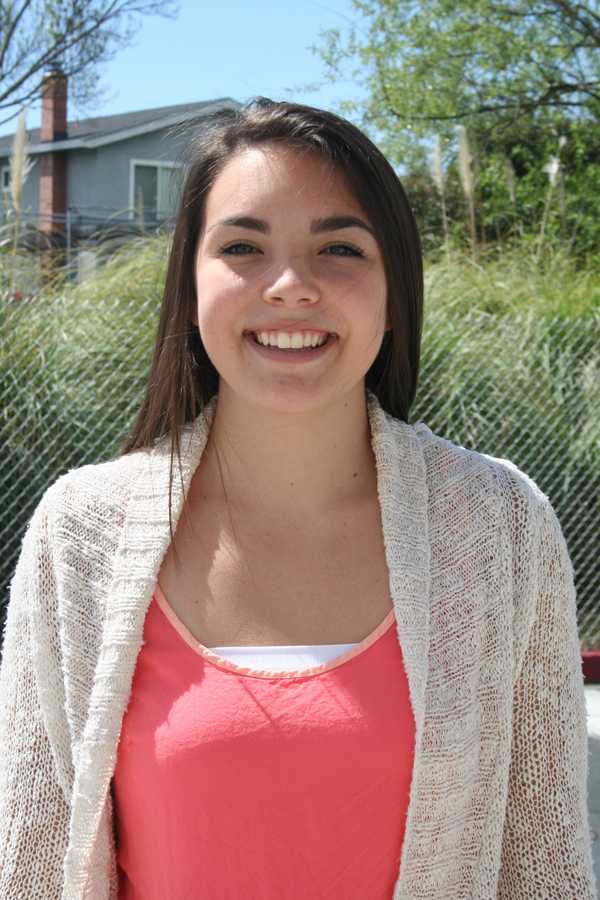 Erica Drake, Staff Writer
April 29, 2013
Some people spend their whole lives chasing after their dreams.
Luckily for freshman Amanda Waterson, her recent acceptance to the USA National Gymnastics teams will make her dreams come true.
After competing with a club team for five years locally, Waterson tried out for the national team in February.
Waterson described the tryouts to be just like a normal competition for her, even though it was for a spot on the highly coveted national team.
In addition to judges, there was also a selection committee watching the gymnasts. This committee could pick whomever they wanted to join the national team.
For her specific spot, Waterson was pitted up against 20 people. In total, there were 16 teams of three, or trios, trying out for the national squad, only four of which made the team.
"It felt really good (to make the national team)," said Waterson. "We were really proud and excited."
Waterson became interested in the sports at a young age and started gymnastics when she was in kindergarten.
It wasn't until third grade that she discovered where she really belonged: in acrobatic gymnastics.
Acrobatic gymnastics, or acro for short, has a pair, trio, or team of people who perform together on the floor instead of the traditional solo gymnast.
In addition to tricks and flips on the floor, the teams hold each other up and throw each other in the air.
After finding acrobatic gymnastics, Waterson trained at the West Coast Training Center in Livermore and began competing with her club team.
Waterson's friend, freshman Clevian Hsia, admires how far Waterson has made it.
"It's really cool that she's on the national team for acrobatics," Hsia said.
But Spanish teacher Angela Kouris isn't surprised that Waterson has been accepted onto the team.
"Amanda seems very disciplined and hardworking so I would certainly recommend her for any team, since she works well with her peers and dedicates herself," said Kouris.
While Waterson continues to train at the West Coast Training Center, for the last two months she has been working with the national team instead of the club team.
She trains as the oldest of her acro trio under coach Marie Annonson.
Waterson's mother, Diana Waterson, does her best to support her daughter's gymnastics.
"Her gym is in Livermore, so it is a bit of a commute getting to and from gym requiring dedication from the entire family to get her there five days a week," Diana Waterson said.
Despite the hectic schedule, Waterson doesn't let it interfere with her schoolwork.
"It's definitely hard to do my homework when I have to practice every day but usually it doesn't get in the way," said Waterson.
There have been some scheduling conflicts, however, with a few training camps occurring during school but she works with her teachers to make up all the work she has missed.
Waterson is attempting to make things easier on herself academically by trying to take independent PE next school year, so she has more room in her schedule for other classes she would like to take.
Waterson's mother has been told that IPE is for school sports only, but she is trying to work with the school to get IPE for Waterson.
"Acro isn't offered at the school and she is competing at high level in which she represents the United States and wears the U.S. flag on her leotards when she competes," Diana Waterson said.
As a member of the National team, Waterson is now eligible to participate in the World Championships, or Worlds, held every two years.
Worlds are like the Olympics, but since acrobatics gymnastics is not an Olympic sport, winning Worlds is the highest achievement an acrobatic gymnast can get.
Previous Worlds winners Michael Rodrigues and Kristin Allen, who both trained under Annonson at the West Coast Training Center, come by the gym every once in awhile to help out and they serve as role models for everyone at the gym.
Waterson, however, has not given up on going to the Olympics.
"Acro is trying really hard to get into the Olympics," Waterson said.
Meanwhile, Waterson has her sights set on 2014 World Championships in France.