District, teachers reach agreement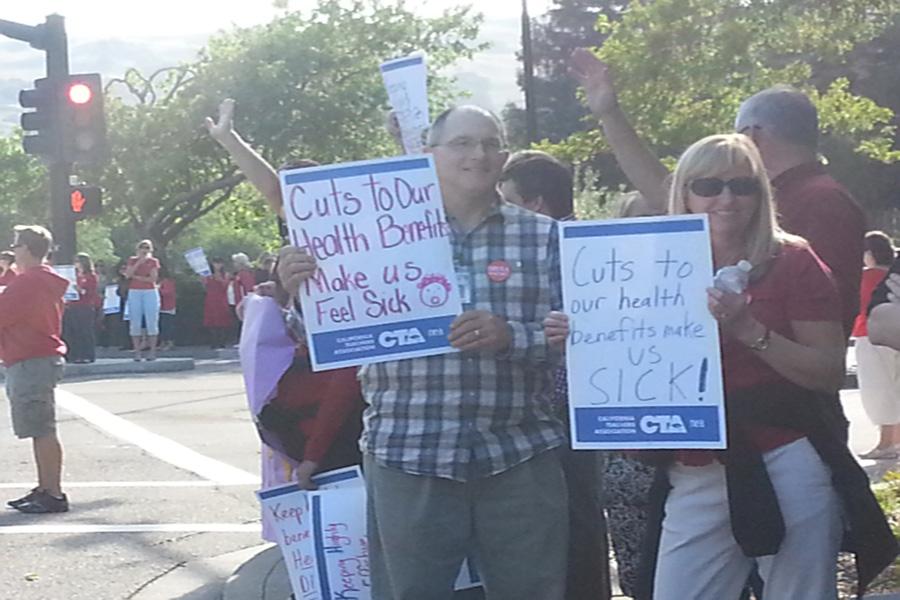 Clad in red, teachers and staff swarmed the lawn outside the school district office in Danville on May 7, holding signs and chanting protests to make their voice heard throughout the community.
"Red is historically a color of anger," said Hidden Hills Elementary School teacher Marissa Smith. "We could have worn black for mourning, or purple for victory, but the bottom line is we're angry."
The reason for their anger originally arose from stalled contract negotiations, which ironically  entered a deadlock on May 8 during Teacher Appreciation Week and resulted in the San Ramon Valley Unified School District declaring an impasse.
But on May 20, a tentative agreement was reached that would not change what teachers pay for health care benefits.  The tentative contract also calls for a one-time 4 percent bonus for all teachers, but no permanent raises.
The union voted whether to accept the agreement last week.  The agreement must also be approved by the school board.
"The decision was reached because in the course of negotiations, both sides decided it was important to reach an agreement," said Bob Donovan, Cal High government teacher and a representative for San Ramon Valley Education Association (SRVEA), the teacher and staff union.
Since the beginning of the school year, the district and its teachers have been engaged in negotiations concerning teachers' salary and health care benefits.
"It's a cost that continues to escalate every year because of rising premiums," Terry Koehne, the district's community relations director, said about health care benefits.
Koehne predicts that health care will sustain a seven percent increase each year in the future.
While current health care benefits provide full coverage for Kaiser and partial coverage for Health Net, the district wanted to increase the amount teachers paid for both plans.  Most teachers found this unacceptable because they felt having to pay more out of pocket for their health care benefits was equal to taking a pay cut.
District teachers have not had a pay raise in five years, according to union vice president Ann Katzburg.
"We believe one draw that brings quality teachers to our district is that they offer 100 percent health care coverage," said Jan Engberg, a math teacher at Windemere Ranch Middle School and bargaining chair for the union.
Because of financial concerns, the district offered teachers a cap to their health care benefits, meaning the district pays a fixed amount for each teacher's medical plan with Kaiser and then teachers pay the difference.
For teachers who choose Health Net, the amount they currently pay for it would have also increased.
When this offer was refused, the district then offered the teachers shared responsibility or percentage, meaning the district would pay 95 percent  of costs for Kaiser and teachers would pay the remaining 5 percent.
After the impasse was announced, a state-appointed mediator was expected to come in and help both parties reach a decision. Both the district and the teachers managed to agree on a settlement without the help of a mediator.
"Both sides felt like they made a legitimate effort to settle," said Donovan.
Many teachers felt the district had five times the amount than was legally needed in reserves, so it wasn't going to be financially damaging.
But Koehne said the original offer from the district was made because the cost of total coverage for Kaiser would continue to rise without  incoming revenue to offset it.
According to Koehne, a crucial distinction must be made between a one-time for a bonus and an ongoing health care coverage.
But teachers felt the district's offer did not accurately represent the amount of long hours and hard work they had put in to contribute to the district's prestige.
"We're a very successful district," said union president Darren Day, a Bollinger  Canyon Elementary School teacher. "Our teachers are some of the best in the state."
Many teachers also noted they work long hours away from the classroom to support the district in times of need.
"We worked hard to get Measure D passed," said Stone Valley science teacher Laura Finco. "Teachers were instrumental in getting (Measure) A passed. And the thanks we get is, 'How about a pay cut?'"
Measures A and D are  recent school bonds that  contributed to updating facilities, technology, and addressing overcrowding in the district.
Teachers fought to maintain health benefits because they have been helpful to many staff members, including Cal English teacher Richard Hight.
"My daughter was diagnosed with some kind of heart defect when she was an infant," said Hight. "We were able to get that checked. It was not anything we could have afforded to test."
Younger teachers also highly depend on sufficient fringe benefits, or non-salary additions that help cover health costs.
"Without good fringe benefits, it could wipe you out," said Cal math teacher Gary Triebwasser. "You could lose your home."
Both of the proposals earlier in the year came with a one-time financial bonus for teachers and staff, but both were refused.
The reason for the refusal, Donovan explained, was that the bonus money would be needed to compensate for what the district was proposing to no longer pay for heath care. With medical costs increasing each year, teachers would eventually be left to pay themselves.
Not all teachers are happy with the tentative agreement.
"It's always a long, drawn- out battle," said Triebwasser. "If there was more transparency on negotiations we could've concluded this faster."
Koehne said the district values its teachers and worked with them to peacefully settle the situation.
Both sides made concessions to find middle ground, said union representative and Cal High chemistry teacher Kelly King.
"You don't want to disrupt (school)," King said. "It's a relief we were able to come to an agreement."