Junior goes to USC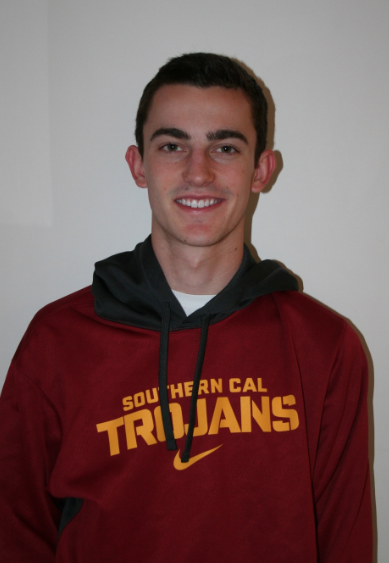 Junior Scott Barlow will be the first in Cal High's 40 years to skip his senior year and attend college a year early.
Barlow was recently accepted to University of Southern California's honors program and will finishing his high school career next month.
Cal has never dealt with a situation like Barlow's, said Michelle Reardon-Sampson, Cal's longest-tenured counselor.
"Scott is really dedicated, strong, willing to work hard – he absolutely does that, never makes excuses." said English teacher Gilita Thomas. "Obviously he's mature, ready for college, and very respected by everyone."
Barlow received a letter in the mail early in the school year inviting him to apply to USC's Resident Honors Program (RHP), said Barlow's mom, Chrissy Barlow. Not initially considering USC, Barlow decided that it would be a good opportunity to go through the college application process before his senior year.
Based on USC's Dornsife website, dornsif.usc.edu, a person who wants to apply for the honor's program must have a minimum combined SAT score of 2050 or a composite ACT score of 32, and a high GPA with grades mostly higher than an A-.
Students must also present a strong resume that shows readiness for college work and a high level of maturity.
"He is very quiet," said math teacher Gary Triebwasser. "He is not intrusive, he is not a bragger. Unless you knew, you didn't know."
On March 26, Barlow was one of the 20-30 students who received letters of acceptance to the honors program. Accepting the offer would ensure him a spot as a freshman in college during the upcoming school year.
After receiving his letter of acceptance, Barlow pondered for three weeks about the advantages and disadvantages of attending college a year early before finally deciding to accept their offer.
"Since I'll be majoring in biochemistry, which takes 10 years [of schooling], I think it'll be more beneficial to take classes now and just take off a year of school," said Barlow.
While an early acceptance to a prestigious school may seem like a dream offer no one could refuse, Barlow was conflicted with the thought of leaving high school a year early.
"It was a hard decision," Barlow said. "I'm going to miss all my friends, cross country, and leadership, but there'll be so many new opportunities [in college]. It's not the end of the world. We're all going to leave no matter what after senior year anyways."
Also complicating his decision was his concern about whether USC was the school for him. Barlow previously dreamed of going to Brown University, but he decided he preferred to be a part of USC's small liberal arts program and large research university.
He also realized that while both schools would offer equal education, he liked that USC was a larger school, had more school spirit, was closer to home, and offered much more opportunities than Brown.
A few complications arose among school administrators because Barlow will be the first from Cal to skip a year of high school.
"Missing his senior year and leaving early is not an issue, but Barlow wants to come back to Cal and graduate with the class of 2015," Principal Mark Corti said.
Barlow would like to graduate with the class of 2015 because he feels it would be right to graduate with the class he's spent his three years of high school with. Corti is working with the district to help make this possible.
Barlow has developed close friendships with many students in the past three years. His friends remain inspired by him and ecstatic as well as saddened by his leave.
"Scott is my hero," said junior Charlotte Forgey-Jahn. "He always motivates me to do my best and we'll be crying when he's not here to hang out with us."
Teachers have seen the exceptional behavior of Barlow and agree with USC's decision to accept him a year early.
"I think he's racked up the highest number of Aces in midterms," said AP Biology teacher Andrew White. "He's interesting in the kind of questions he asks. Since he's already figured out the main concept [of things] he asks questions trying to find out more beyond it."
Barlow's parents are also proud of their son and are excited for his future.
"It sounds like a wonderful program and we believe he will thrive there and receive a fantastic education," Chrissy Barlow said. "[My husband and I] do not have any concerns as he is a mature young man with a promising future. We love him and are so proud of the young man he is becoming."