Wondo's cousin named to US national team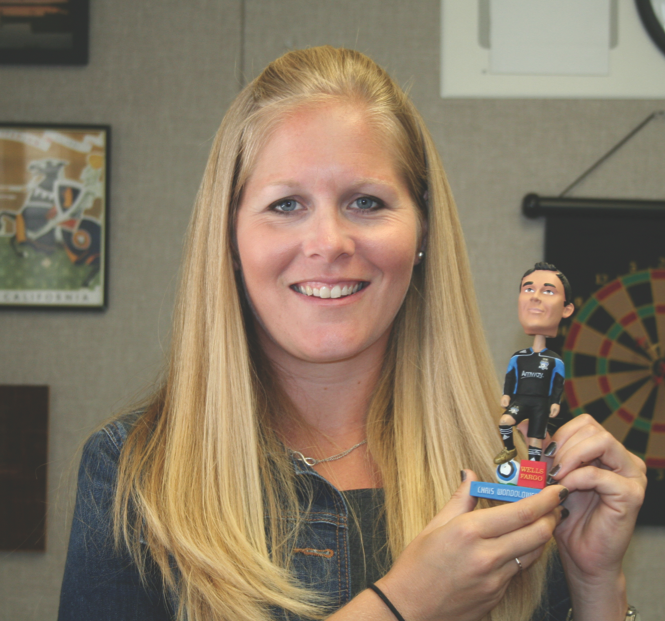 Cal High assistant principal Sarah Wondolowski received a text two weeks ago that was unlike any other.
The text was from her aunt and it was immediately followed by a barrage of joyous emails, calls, and texts frantically trying to spread her family's earth shaking news: her first cousin, Chris Wondolowski, was selected to be on the 23-man squad that will represent the United States at the FIFA World Cup in Brazil, which will begin next week.
Chris Wondolowski, a 31-year-old forward who plays for the San Jose Earthquakes of Major League Soccer and Danville native, has made his cousin and family very proud.
"Honestly, we [the Wondolowski family] are still in a lot of disbelief," said Sarah.  "It is so unexpected because he has been through so much."
The FIFA World Cup is undeniably the holy grail of soccer. For Chris to be playing in this prestigious tournament is the dream of almost all soccer players, including himself.
"It has always been my dream," Chris wrote to the The Californian via text. "But I knew it would take a lot of hard work and a little bit of luck to get to be a part of the World Cup."
Luck definitely played a part in getting Chris to where he is today. He has taken an unorthodox route on his journey to say the least.
Upon graduating from De La Salle in 2001, he was not recruited by any major universities for soccer. Many colleges offered him generous scholarships for track, including UCLA, but he did not accept them.
"My sister told him not to go somewhere for soccer," said Sarah, whose father, Ed Wondolowski, is the brother of Chris's dad, John Wondolowski. "She told him that he could get a far better education at the colleges recruiting him, but he ended up sticking with soccer."
Chris finally ended up playing Division II soccer for Chico State, an unlikely path for a professional athlete. Toward the end of his schooling he decided to try out for MLS at a combine held in the East Bay. He was rejected at first, but after a second attempt he was drafted by the San Jose Earthquakes.
Following one season with Earthquakes, he joined the franchise that would become the Houston Dynamos. His record was nothing impressive, but he showed enough promise to be re-signed by the Earthquakes in 2009.
But it wasn't until 2010 that Chris's skills were recognized on the field. Due to injuries incurred by the four forwards before him, he was given some playing time on the field and he made the most of it, scoring 18 goals in 28 games.
This knack for finding the net stuck with him and he eventually tied the MLS single-season scoring record in 2012 with 27 goals. In that same season, he was named the Most Valuable MLS Player by Sports Illustrated in their mid-season awards.
"We finally thought he was going to do it," said Sarah. "We realized that he could make a living off of playing soccer."
This realization was not shocking at all. Sarah said that as a child, her cousin excelled at all sports. Whether it be basketball, soccer, track, or tennis, he was the best. These skills shined brightest at the many sports-centered Wondolowski gatherings, where Chris was always sure to smear the competition. Again, in 2014, he was voted MLS MVP according to Fox Sports after scoring an impressive 27 goals.
Many students on campus are excited to see Chris represent the US at the World Cup.
"I believe it's a great opportunity for a local player to make a name for himself on the biggest stage of the world," said junior Joe Laux, a former soccer player and referee.
Many have questioned US Men's National Team coach Jürgen Klinsmann's decision to pull up Wondolowski to the World Cup squad while leaving veteran Landon Donovan off the team, but this viewpoint is not shared by all.
"He's worked hard through World Cup qualifiers and deserves a spot on the team," said junior Esteban Montes, a former Cal High soccer player.  "He's my favorite player on the San Jose Earthquakes and I'm glad he earned a spot on the US men's national team."
Sarah testifies to the fact that Chris is just as good of a father and cousin as he is an athlete, despite his reputation to be more a vocal and argumentative player on the field. Off the field, he takes on a whole new persona.
"A lot of guys on the Quakes talk about how he is such a nice guy and so easy to work with," said Sarah. "That's the Chris I know."
This familial bond is still going strong today as the Wondolowski family gears up to support Chris as he heads off to Brazil. A majority of the family will be joining him in his travels, but unfortunately this group will not include Sarah. She has already accepted the position as principal of summer school, which begins during the World Cup.
Even though she she will not be able to join the rest of her family, it will not stop her from supporting him as much as she can from back home in the states.