Californian editors sample 'a latte' coffe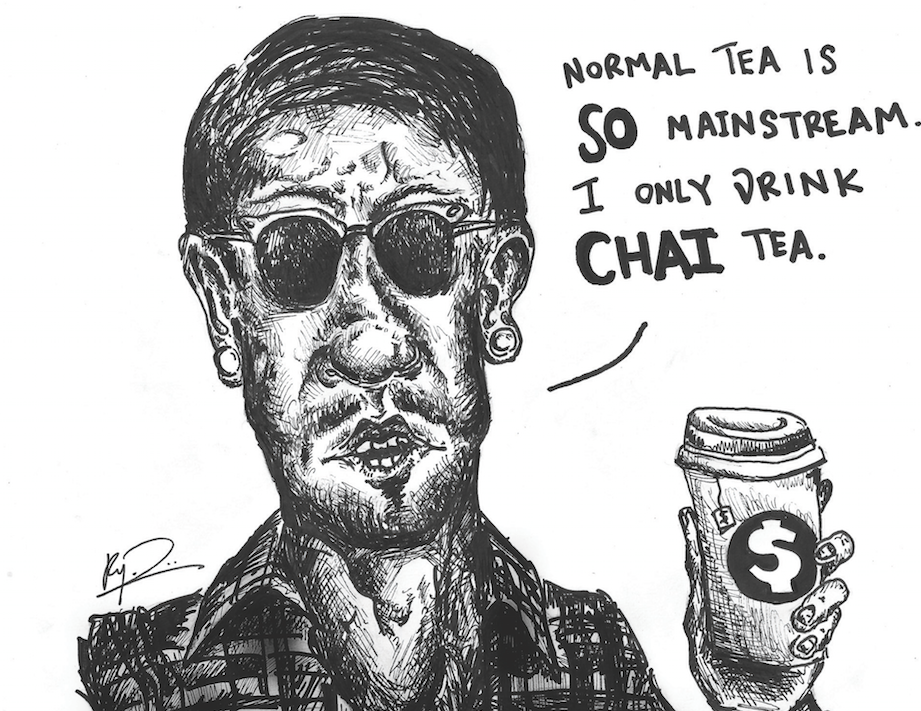 As students have probably noticed, it's becoming increasingly common for any given social media feed to be filled with pictures of the inaugural pumpkin spice latte.
Why is it that the seasonal Starbucks to-go cups can be seen all around campus clutched in the hands of a girl in a scarf and leggings?
To see if these drinks live up to the hype, The Californian took a field trip to Starbucks, Peet's Coffee and Tea, and Has Beans to compare seasonal drinks. First came the inevitable looks of judgement as we ordered five drinks for two people.
After we got over the initial pain of having holes burned in the back of our heads, we got to seeing why everyone loved these autumn filled beverages.
Peet's
The seasonal drinks at Peet's are, as always, more authentic in terms of the taste.
The Vanilla Chai Tea Latte was by far the best drink offered on the seasonal menu. It captured the spice and warmth of the fall season without being too overpowering.
Both coffee lovers and non-caffeine addicts will enjoy this drink. Hipsters can discuss the unique flavor profiles of the chai tea, while middle schoolers can relish in the sugar overload that comes with the vanilla taste.
The same can be said about the Pumpkin Spice Latte and Pumpkin Freddo. They both had pumpkin flavors that tasted the least artificial compared to the pumpkin drinks offered by Starbucks.
On top of this, Peet's does a really good job of not saturating all of its drinks with excessive amounts of sugar. For a bolder freddo, ask to add ground beans and nonfat milk.
Despite these highlights, some drinks at Peet's are not so hot. The Pumpkin Chai Latte and Dirty Chai Latte were not only indistinguishable, but poor excuses for a beverage. They did not inhibit the flavors one expects from Peet's. Instead, they sink to the level of Starbucks or something even lower.
Starbucks
Starbucks, as always, attracts those who are in favor of the Pumpkin Spice Latte. But be warned, the drink does not live up to the expectations set by those who fought to have it on the menu two months before its usual release date.
The beverage was disappointing, did not encompass anything remotely autumn, and instead chose to highlight nothing-but-sugar artificial "pumpkin" syrup.
If someone is ever pondering whether they should purchase this beverage to see why everyone goes on and on about it, the answer should be no. It is not worth the insane price tag of $4.50 (grande) for what it is: sugar, watery milk, and a drop or two of espresso.
Although this diluted seasonal coffee was beyond repair, there is a possibility the baristas created a terrible cup on accident.
Every Starbucks makes drinks a little differently, and our total order of five drinks, all seasonal, may have put them a little on edge.
The Oprah Chai Latte was a great disappointment as well. We expected more from you Oprah, not the bland taste of your chai latte.
Another drink someone shouldn't be seen walking out with is the Dirty Chai Latte. The extra shot of espresso does nothing to help this beverage. It tasted extremely similar to the Oprah Chai Latte, but it had  a hint of coffee that tasted like an awkward addition.
The Pumpkin Frappuccino was a great contender compared to the Peet's Pumpkin Freddo. As usual, the Starbucks version of this blended pumpkin beverage was on the sweeter side and more whipped.
Nevertheless, the drink was a good addition to the Starbucks menu, especially considering the heat wave we are experiencing early this fall.
These ice infused drinks are a great alternative to iced coffees that still allow for the appreciation of the pumpkin theme.
The favorite at Starbucks was the Salted Caramel Mocha. This drink had a tang to it, but was not overpowering. It was warm and inviting, giving that wonderful cozy feeling associated with fall.
This drink, however, is also served at Peet's later in the year, usually around the holiday season. Compared to the soon-to-be Peet's Salted Caramel Mocha, the Starbucks version comes at a close second.
Has Beans
If this quaint coffee shop in the Crow Canyon Safeway shopping center doesn't lure customers in with its crowd of cute senior citizens and a casual feel, then the coffee sure will.
We tasted the Chai Tea Latte at Has Beans, and when compared to the big coffee chains, it is a true contender. Its soft notes of cinnamon and cardamom are perfect for a cold fall evening.
If a customer wants to take a break from the stereotypical teenage coffee spots, Has Beans just might free them of the stuck-up, rich kid attitude felt at the big chains.