De La Salle stays in EBAL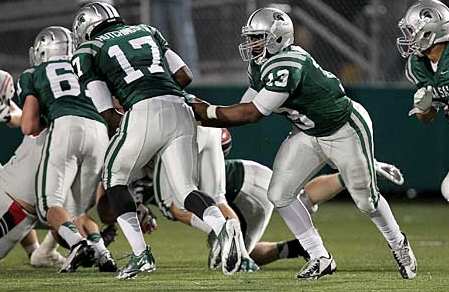 Many sports fans have mistakenly believed that De La Salle is migrating to a new league because it is no longer allowed to win an EBAL championship.
The Spartans, who joined the EBAL in 2008, still can't win a league title, but they will continue to play many teams in league, including Cal High.
"They still are in our league, but they are given an automatic playoff bid. This means that at the start of the season, they are put into the playoffs," said Cal athletic director Arley Hill. "Given that bid, they are no longer able to compete for the EBAL Championship."
This move was voted on in the spring of 2012 by EBAL school principals, according to a  Bay Area News Group article.
But for the first time since De La Salle joined the league, EBAL teams can opt out of scheduling the perennial powerhouse. Monte Vista, Livermore, and Granada have all opted not to play De La Salle this year, whereas San Ramon Valley, Foothill, and Amador Valley have joined Cal by keeping De La Salle on their schedules.
It's not surprising that some schools are opting not to play De La Salle, which has gone 42-0 in EBAL since joining the league and winning these games by an average of 34.6 points. Cal has kept it the closest in these meetings, losing by an average of 20.6 points. This includes the three NCS title games between the Spartans and Grizzlies in which Cal lost 49-17 in 2013, 49-21 in 2010 and 37-0 in 2007.
De La Salle has gone 23-2 in NCS championship games. The last time the Spartans lost an NCS title game was to Pittsburg High School in 1991.
"Even though they are no longer in our league, I really enjoy playing them because of the challenge that comes with playing a team of that caliber," said varsity linebacker David Lord, a junior.  "It is always a good fight. You get a different feeling when you go to battle against them."
Quarterback Jack Gerlach and lineman Kyle Lark, both juniors, said the De La Salle game is always fun regardless of the outcome.
But varsity head coach Eric Billeci believes De La Salle should be a part of the EBAL or join another league entirely.
"It should be either all in or all out, meaning that everybody in EBAL plays them, or nobody plays them," Billeci said.
The Spartans have been named national champions seven different times during the famous 151-game win streak: once by ESPN in 1994; five times by USA Today in 1998, 2000, 2001, 2002, and 2003; and once by the National News Sports Service in 1999.
They have also been honored as the top team in California 16 times: 1992, 1994-2003, 2007, 2009-2012, and have produced NFL Stars such as Maurice Jones-Drew of the Oakland Raiders and D.J. Williams of the Chicago Bears.
Cal has started the year 5-1, with wins against Rodriguez, Castro Valley, Livermore, Granada, and Amador Valle, and a loss to Pittsburg.  De La Salle has started the year 7-0.
The two schools are set to meet Nov. 7 at Cal in the regular season finale.