New teachers head up major programs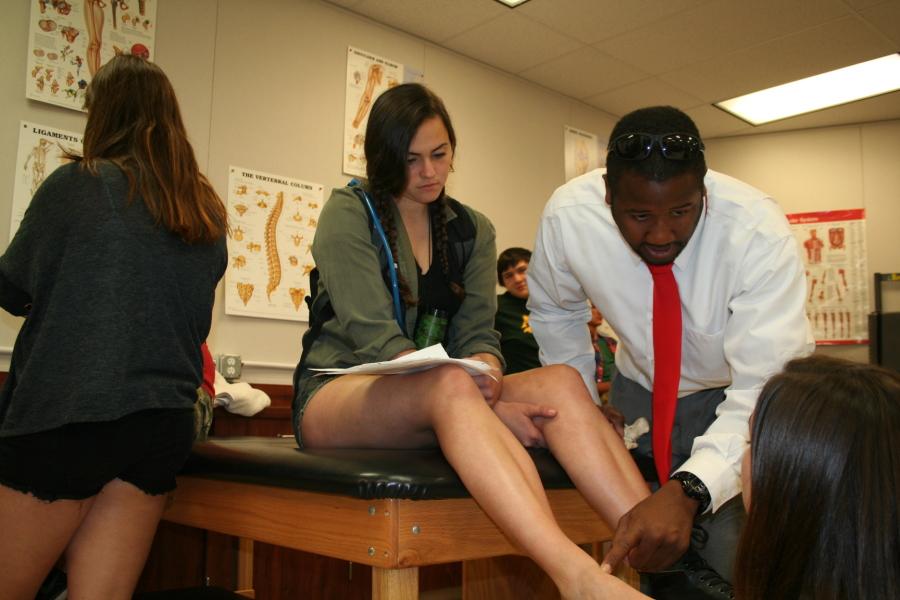 This year, Cal High welcomes Nick Patton, Mikel Jackson, and Jenna Ray, who are putting their own personal stamps on the choir, sports medicine, and leadership programs, respectively.
Patton is taking over as the new choir teacher after longtime program leader Lucerne Mottaz moved to Chicago to teach music in college. He is teaching all choir classes, and AP Music Theory.
"He is very funny but also detailed and thorough," said junior Nikita Thumma.
Patton hopes to share with his students how music can be incorporated into one's life and how it has shaped culture.He is especially focusing on expanding the music program.
"Choir is open for anyone to join, and auditions or not, anyone can join a choir," Patton said.
Music was always incorporated into Patton's life. At age 14, he started working at the non-profit Music School of Sunnyvale to emphasize singing for grades K-12.
Working there inspired Patton to become a music teacher after he received a college degree in voice. He has taught the past seven years at Mountain  View High School.
"I love music," said Patton. "I'm always plugged into music.  Whether I'm teaching it or arranging it, something musical is happening in my life at every minute."
The students are optimistic about Patton taking over the choral department.
"I can tell we'll be really good this year," said senior David Karbo.
For the upcoming year, Patton plans to have three more concerts and to perform at various community events.
"I think our choir will grow a lot as singers," said junior Bailey Jensky.
Also heading up a new program is Jackson, who is teaching students the ins and outs of sports injuries and medicine.
"I want to implement a program that helps students to become better individuals and to practice career skills, collaborations, injury prevention, and using technology in the field," said Jackson.
Jackson believes the field is a rising career interest where students and athletes alike should be educated and aware of medical issues. He also believes they should incorporate the knowledge they learn in class into their own lives and personal experiences.
"He knows his stuff, is helpful and pretty laid back," said junior Dana Kudelka, "I love the class and I like learning about the subject."
A former high school football player, Jackson said he realized in college that business finance wasn't his calling.
Jackson started working at the Children's Hospital in Oakland, a pivotal point in his career. His boss suggested he go after a career that suited his interests: sports and medicine.
Jackson went from a substitute teacher to full-time high school educator. He taught at Berkeley High School for two years before coming to Cal.
Jackson said he is working on a student athletic training program for his students to get hands-on experience by working with Cal's sports teams. The students will be responsible for the team's day-to-day care for practices and games.
His students agree the class is interesting and educational.
"He makes the class fun," said junior Trevor Heneweer. "It's cool to learn about sports rather than playing them."
Although not new to Cal, Ray has taken over the leadership program from former adviser Scott Corso, who moved into an administrative role.
Ray first started out substituting at Cal for three years for leadership and math classes. Last year, she taught her first year of geometry and was actively involved with helping Corso with leadership projects and school activities.
"Leadership teaches responsibility and how to be a positive leader, which is something I want all my students to achieve," said Ray.
One of her most prominent contributions last year was organizing Every 15 Minutes, a campaign that taught students the negative effects of drunk driving. An active participant in leadership last year, Ray has much more to offer this year.
"She has a lot of good ideas for this year," said senior Kaidyn McClure. "We have a lot of different activities planned for this year that I'm excited about."
Ray, with the help of the two leadership classes, wants to focus more on encouraging the growth of the school's spirit. She claims the leadership classes will be bringing 110 percent into everything they do.
"I want them to represent the face of  Cal in a very spirited way and give them the opportunity to bring different ideas to the school," said Ray.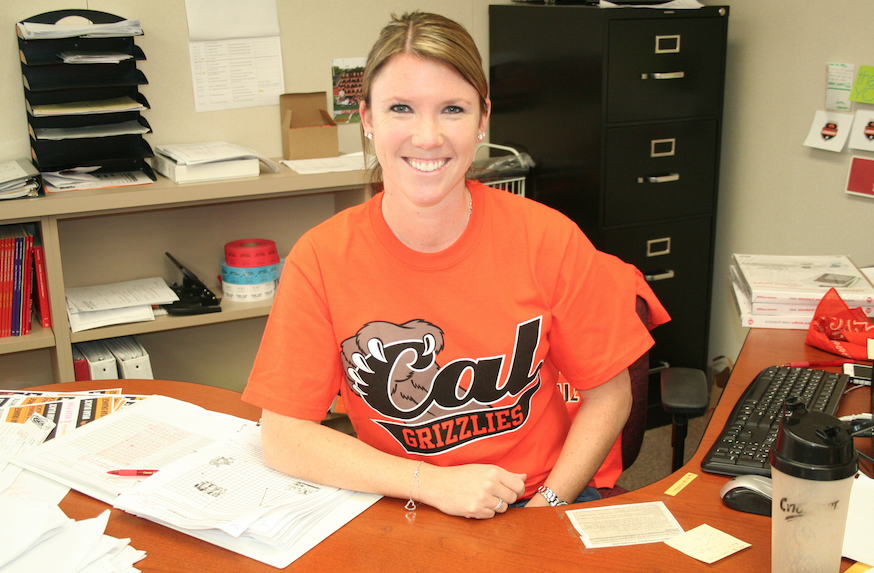 Jenna Ray is the new head of the leadership department.