Big Hero 6 is A Huge Hit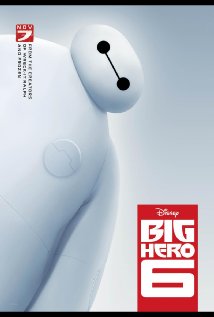 "Big Hero 6" is the uplifting story of a young genius named Hiro Hamada and his friendly, marshmallow-y caretaker robot, Baymax-Hiro.
The story takes place in futuristic San Fransokyo. The robot is made by Hiro Hamada's older brother, Tadashi Hamada, to be a softer (literally) and more able caretaker robot for Hiro. But when an evil villain threatens to destroy San Fransokyo, Hiro transforms Baymax-Hiro into a crime fighting super robot.
This movie is the first one to be released from Disney's animation studios since last year's wildly successful "Frozen."
This action packed kids flick is anything but just a kiddie flick.
"Big Hero 6" has a strong underlying message of 'don't ever let what isn't in your life prevent you from being the best person you can be'.
The movie starts with a pan in on the fictional San Fransokyo bridge, a combination of the Golden Gate Bridge and torii arches done in Japan's famous architecture.
As the movie progresses it is clear not a single detail was left unattended to in the animation studios.
Every frame is beautifully detailed, to the point where certain scenes look like they were shot by camera.
Each character is just as vivid as the scenery, with personalities so unique they break all of the molds.
The main character Hiro is a typical teenage boy, except he kind of graduated high school by the time he was 14.
His older brother, Tadashi, wants his genius little brother to stay out of bot fighting and wasting his genius, and pushes him to join "nerd school," or what most of us know as college.
Tadashi creates the lovable and incredibly frank Baymax-Hiro. A robot with one purpose: to heal and protect Hiro from harm, only stopping when Hiro is "Satisfied with his care."
Upon marveling at how wonderful (and annoying) Baymax-Hiro is, Hiro decides to go to this nerd school, and creates nanobots controlled by a headband that reads brainwaves.
After a mysterious and sudden fire at the school leaves Hiro with no immediate family, Baymax-Hiro goes into full on care mode, doing everything in his power to heal Hiro.
Part of this process is turning Hiro and six classmates into superheroes, hence, "Big Hero 6."
The creators of "Big Hero 6" totally challenge the way we see how a girly girl should be. Honey Lemon is the princess of this movie, but not at all in your typical sense.
She is a huge girly girl, full on pink and yellow in every outfit with blonde hair and supermodel body, but she is super-obsessed with science.
And if Honey Lemon is your not-so-typical girly girl, Gogo Tomago is the tomboy feminist.
Her best line is "Woman up."
Strangely enough the only character who sounds Japanese is Honey Lemon. All of the other characters sound straight out of San Fran.
Audiences can expect to be on an emotional roller coaster equalling that of puberty, with constant emotional highs and lows, lots of laughter, and many moments of struggling through life's tough decisions.
People of all ages can find some element in Big Hero 6 to enjoy, whether it be the incredible animation, the hilarious jokes, or the incredibly philosophical questions this kids' movie asks us.
"Big Hero 6" is no "Frozen," but it does rival it.
I am satisfied with my care.