Taylor Swift Shakes Off Her Old Style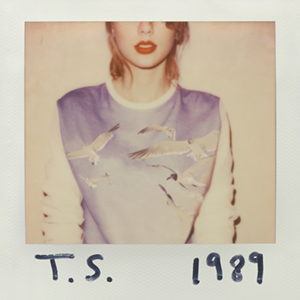 If you haven't heard Taylor Swift's "Shake It Off" yet, you've definitely been living under a rock. This month alone, it was the most overplayed radio song pretty much everywhere.
Fans of Swift's past four albums: "Taylor Swift," "Fearless," "Speak Now," and "Red" will very easily be able to notice the different sound in her newest album "1989," named after Swift's birth year, that came out on Oct. 27.
This pop-infused album features 13 songs in which Swift has collaborated with big name producers such as Max Martin and Ryan Tedder. Be warned that "1989" contains many catchy songs that will get stuck in your head all day long.
Swift goes a completely new direction, although her straying from the country genre has been foreshadowed in her hits  "We Are Never Ever Getting Back Together" and "I Knew You Were Trouble." She said that "1989" is her " first documented, official pop album" as inspired by late 80s pop.
"Welcome to New York," the first song in "1989" really dictates how the rest of the album goes. Swift sings, "It's a new soundtrack I could dance to this beat, beat/ forevermore" which really sets the tone for the other songs.
I thought this song was annoyingly repetitive at first, but once hearing it a few more times, it wasn't so bad. But if this song was sung by any artist other than Taylor Swift than it probably wouldn't be so popular.
The second track, "Blank Space," is the most recently released single on her album. The name is probably as innocent as it gets as far as the lyrics go. Swift sings, "Cause you know I love the players/and you love the game" and "got a long list of ex-lovers" in which she finally acknowledges in the most direct way possible her incredibly high profile romantic history.
Although the track when I first heard it sounded nothing like her voice from previous albums, it is actually meshes well with the song. Swift is cynical about her love life in the eyes of the public and fully uses it to her advantage. This song is sure to be a hit. "Blank Space" is one of the best songs from this album despite the low key title.
"Style" which is rumored to be about Harry Styles as are all the other songs in "1989," actually comes up to be really well put together.
In the beginning of the song when I first heard it, I was confused as to what it was. But then the chorus in the lyrics are extremely catchy. Swift talks about a relationship that seems to go bad as time comes around but never actually dies as "we never go out of style."
Swift says that "Out of the Woods" is her favorite song from the album as it most represents what "1989" is about. I initially had mixed feelings about this track, but now I am assured that it captured what she wanted it to.
As with most of Swift's songs on this album, the chorus is super repetitive. This song has an eerie vibe to it when I first heard it, but it really goes with the whole "1989" theme.
"All You Had To Do Was Stay" was the song Swift went right into the studio writing as hinted after her breakup with Harry Styles. On the bright side, although their relationship did not end well, a great song was produced as a result.
The high pitched note of "stay" in this song really gets to you. This full-fledged pop album really has its roots in especially this track.
As for "Shake It Off," it doesn't even need to be elaborated on. As the lead single off Swift's album, it topped the charts as soon as it was released. She says "players gonna play" and "haters gonna hate" so I think that sends a pretty clear message out.
"Shake It Off" makes everyone get up and dance, as it is so upbeat. On top of that, it gives off positive vibes. After a while, though, it can get annoying, for every time the radio is turned on, it's playing.
The next track off "1989" has a really fast tempo. At first I even thought that it was almost too fast, but after listening to it a few more times, it works. "I Wish You Would" is about wanting a lover to come back but then Swift sings, "You always knew how to push my buttons/ you give me everything and nothing."
"Bad Blood" really has an angry beat to it. When I first got this album, this was one of my favorite songs because it just gets stuck in your head right away. One thing I noticed about a lot of her songs, especially in this album, is she says "Hey!" a lot. This track is definitely a song to sing along to.
When I first heard "Wildest Dreams," I thought I was listening to Lana Del Rey, as Swift imitates her so well in this song. Swift's sultry voice in this makes a really good impression of her. No doubt, rip-off or not, this song with lyrics such as "He's so bad but he does it so well" makes for a very mysterious, hush-hush description of a past love.
On a much different note, "How You Get The Girl" is a very happy and optimistic song with sweet lyrics such as " I want you for worse or for better/ I would wait forever and ever."
It reminds me of one of her bonus tracks from her last album, "Red," called "Girl at Home." This has been one of my favorite songs from "1989" from day one.
The slowest song on this album is "This Love." It's about hoping love comes back and makes an analogy to waves on the ocean coming in with the tide. I think this song just needs to grow on me because it is my least favorite song on "1989" right now.
"I Know Places" has a very suspenseful feel to it. Swift references "They are the hunters, we are the foxes/ and we run" as the media watches her personal life. Many ominous allusions are made about the paparazzi in "see the vultures circling the dark clouds" and "they'll be chasing their tails tryin' to track us down."
Last but not least, "Clean" is the final song on the tracklist. It also happens to be most like Swift's old material. It's interesting as to why she chose this to be her last song in her supposedly all-pop "1989."
The chorus "Rain came pouring down when I was drowning/ that's when I could finally breathe" is another water reference, the last one being in "This Love." "Clean" sums up the story of "1989" nicely as Swift says she's finally let go and moved on.
She definitely took a risk by making this album completely pop. With her somewhat new sound, I think she plays if off pretty well with her catchy choruses and witty lyrics, but yet "haters gonna hate."