The Bay Area is a playground of holiday activities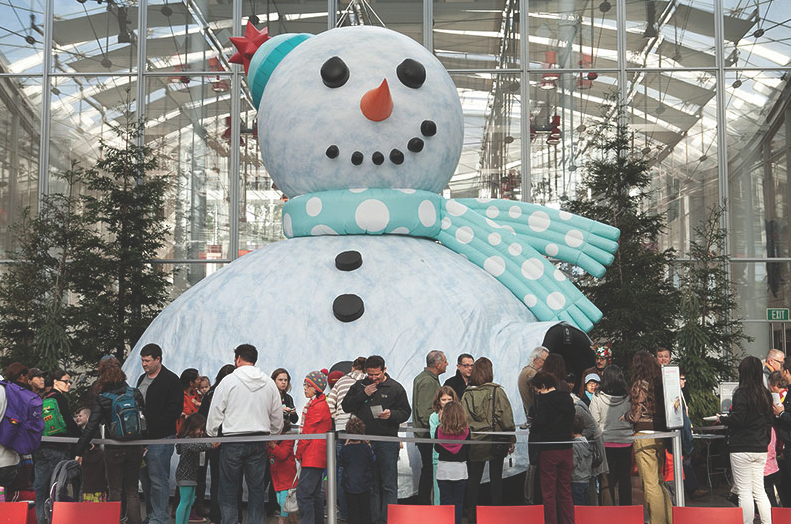 What a wonderful time of the year. Not only is the holiday season upon us, but winter break is finally here.
So what should students do to absorb as much holiday spirit and joy as possible?
Try checking out some of these winter activities that have Santa's stamp of approval.
San Ramon doesn't have much to offer in terms of exciting events, but a quick drive over to Danville can make a big difference.
Sideboard, a small restaurant close to San Ramon Valley High School, is a wonderful place to go for breakfast, lunch, or dinner.
Their charming winter decor pairs nicely with their comfort-food menu.
And for those coffee lovers sick of artificial holiday drinks, Sideboard offers drip or French press Blue Bottle Company coffee that truly makes a rainy day even better.
A little farther away in Walnut Creek there is the annual Walnut Creek on Ice in Civic Park open until Jan. 11.
Ice skating in Walnut Creek is something you should do at least once, especially at night.
After a day of shopping in downtown Walnut Creek, this charming ice skating rink is a perfect way to enjoy the crisp outdoors.
The Lesher Center for the Arts in Walnut Creek host plenty of holiday performances.
Ending on Sunday is "A Christmas Carol" and "The Biggest Gift" performances.
The Diablo Symphony Orchestra is performing "Home For The Holidays" on Monday.
Close to the new year will be the Big Fat Year End Kiss Off Comedy Show XXII showing on Dec. 27.  These festive performances are sure to make the holiday season just right.
Another perfect way to celebrate the holiday season in the Bay Area is to go to San Francisco.
Union Square is a popular attraction with it's glimmering Christmas Tree and ice skating rink.
Dinner at The Cheesecake Factory overlooking Union Square's festivities is a perfect way to enjoy a meal and, of course, cheesecake.
The Ferry Building, also in San Francisco, is a wonderful place to visit earlier in the day.
Inside visitors will find Christmas decorations adorning the second floor balconies and little shops lining the ground floor.
The French patisserie-inspired pastry shop, Miette, is a wonderful place to buy  macaroons and other treats, along with the Blue Bottle Company Coffee right across the way pair nicely with the view of the Bay Bridge outside.
The Ferry Building closes at 6 p.m. Monday-Saturday and 5 p.m. Sunday, so visitors should make sure it's their first stop in San Francisco.
On Tuesday, Thursday and Saturdays, there is a farmers market outside the Ferry Building where visitors can grab a delicious lunch or some fresh produce and flowers while looking at the wonderful winter waters of the San Francisco Bay.
At the Academy of Sciences in San Francisco, their annual holiday exhibit 'Tis The Season for Science is a wonderful idea for people of all ages.
According to their website, calacademy.org, there are live reindeer and plenty of exhibits that are sure to pique all interests.
This winter wonderland ends on Jan. 4, so take a trip over to the city to enjoy the history and science of the winter season.
The San Francisco Theater will be performing "Elf" until Dec. 27 as well.
So travel through the candy cane forest to enjoy this charming holiday performance that is sure to make spirits bright.
For those who celebrate Hanukkah, the Bay Area has much to offer.
Up until Dec. 24, the Hanukkah Festival of Lights in Union Square will proceed along with special guests.
This event has been occurring since 1975, so head on over for the lighting of the Bill Graham Menorah in San Francisco and enjoy a night of festivities.
At the Walnut Creek on Ice ice skating rink in Civic Park, the Chabad of Contra Costa is hosting Hanukkah on Ice.
According to bayjews.org this event is on Dec. 23  from 7:30-9:30 p.m. and is open for all ages.
Admission is $15. Organizers also will have kosher concessions.
So head on over to Walnut Creek for a fun celebratory Hanukkah evening on ice.