Big Dawg is back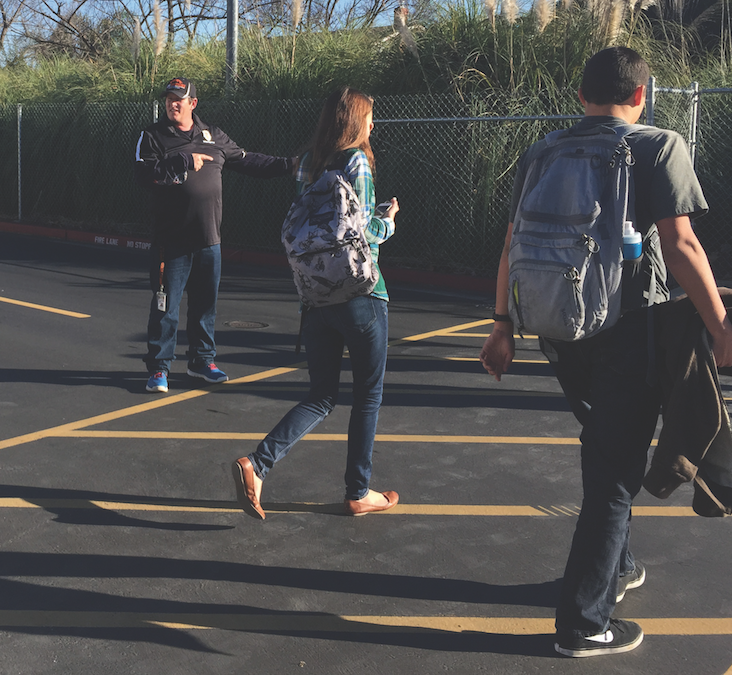 It's the first day of school. Everybody is in their bright new clothes walking energetically from class to class.
Every corner is filled with sheepish freshmen having a nervous breakdowns because they can't find the bathrooms.
All of this is normal, but, something is missing, something that has always been there before. That missing element was Tim Ford, campus supervisor and hallway monitor affectionately known as Big Dawg.
For the first fews months of school, Ford could not be found on campus because of a major motorcycle accident he suffered near Tahoe during the summer.
"[I] fractured my neck, broke my leg," said Ford. "I still have some swelling in my left leg, but, I ain't goin' to tell nobody."
Despite the extent of these injuries, he is fully recovered and was able to return to campus on Nov. 15.
Now, to anybody outside of Cal this doesn't seem like that big of a deal. As a matter of fact, it might have seemed like an advantage for students to be down one hall monitor for a while. But anybody who has gone to Cal for a period of time knows that is not the case.
"Tim is the greatest guy to come through Cal High," said junior Ryan Shell. "He is the only adult on this campus to care about the kids."
Ford has always been a major source of positive energy on campus, motivating students from a position that most would treat with disdain.
"He keeps kids straight, but he's not so hard on them," said sophomore Andris Gogos.
This attitude was confirmed when Ford returned to campus for the first time after his accident.  It was a happy moment for both himself and the students.
"[The kids] were happy to see me, like I was happy to see them, you know," said Ford. "It was a good mutual feeling."
Ford says his main job is to keep kids motivated despite the fatigue that school can cause.
"I try to keep kids in school, try to keep 'em going, focused," said Ford. "It's only four years, and you've got 45 years of working, so, get used to it."
The accident in which he was involved totaled his Harley Davidson motorcycle. Despite the major injuries he suffered, Ford still plans to ride again, hoping to purchase another motorcycle in the near future.
Truth be told, this is more than a story about the return of a long lost school staff member. Ford has played a vital role in lots of student's lives, and, in his absence, all learned to appreciate the amazing influence he has on campus morale.
"[He is the] greatest hall monitor to ever come through Cal High," said junior Brandon Heinzen.
So, Big Dawg is back, and he continues to brighten the days of so many students with his positive and energetic attitude, something that was summed up nicely when asked about what he missed most while gone.
"Just the kids in general, seeing good kids, associating with good people, and good administration," said Ford, with his trademark smile.