Gary Triebwasser has been teaching math at Cal since 1976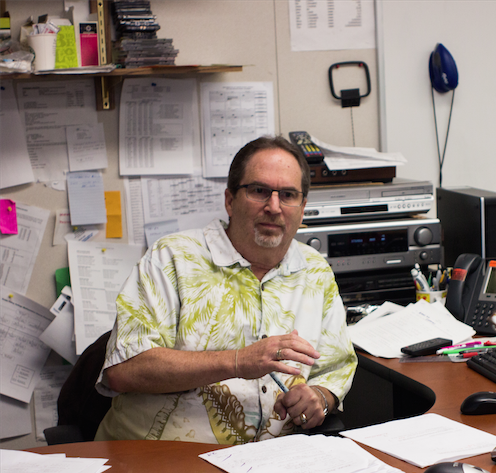 Adam Poklemba, Staff Writer
February 8, 2016
What is in a name? He who we call Trieb could by some other name seem twice as chill.
"I got yelled at every day" said AP Euro teacher and former Cal student Chris Doherty.
Or, perhaps, still just as sour.
Gary Triebwasser, affectionately known as Trieb by his students, is an Honors Precalculus teacher.
He graduated from Cal State East Bay majoring in math. He always had an interest in teaching.
"I worked at summer camps, so I was teaching, you know, campy stuff," said Trieb. "I've always enjoyed it."
Right after graduating, Trieb became a teacher at a small sixth to eighth grade school called California High School. This was 1976, and 40 years later he's still here.
"When we started, across the street there were cows, just open space," said Trieb. "As the sixth graders grew, the school grew with them, expanding through to 12th grade, and dropping sixth through eighth grades.
"There were only like 25 teachers here, we all hung out together," Trieb continued. "There were no walls, people had little dividers; bookcases, separating them. Those years were truly fun."
Along his journey, he's grown as a teacher.
"I used to be a lot more rigid," said Trieb. "When I started teaching at DVC, I taught arithmetic to adults who couldn't add, subtract, multiply, or divide. And they were trying really hard, but they were still struggling with it, and then I came here to school, and I decided 'Well maybe these guys are trying harder than I think.' Now, I'm a lot more laid back."
Trieb seems to focus on the importance of his chill attitude, as anyone can see passing by him in the hallway. The focus is clearly embodied on his Hawaiian shirts, of which he has an endless supply, thanks to uncreative birthday gifts.
His attitude toward teaching, combined with his extremely dry sense of humor, results in countless hilarious stories about Trieb.
From buying a red sports car with the license plate 'MRTRIEB' when he was younger to extorting staffle-raffle tickets from other teachers (and leadership students), only to lose the raffle with 10 of them, he's always been an interesting individual on campus.
Once when asked about his age, he misled his entire third period class on to believe that he graduated college at age 18 and instantly began teaching at Cal. He ended the endeavor by saying, "Sometimes I tell the truth, sometimes I don't. It's your job to find out when."
"He's very droll, he's stayed pretty much the same over the past 18 years," said honors physics teacher Debbie Sater.
Jean Dillman, the AP Calculus AB/BC teacher who has been at Cal almost as long as Trieb, said, "He's my source of coffee and sanity on this campus."
All of the Cal teachers interviewed agree that Trieb is a pretty nice dude. But many students currently in his class have a different opinion.
Some students said they felt discouraged from asking questions due to his rather dry sense of humor.
"If we're asking too many questions, he'll just grab his golf club and look at us," said sophomore Mitchell Bias.
His sense of humor results in habits that many agree are rather eccentric.
"He'll just skip a few people when handing out tests and give them their tests last," said Bias.
Added senior Joseph Holden, "He always used to call out students for talking. There were days where they weren't there and he still called them out."
Doherty, who teaches government, world history, and AP Euro, said he had Trieb as a teacher for Algebra about 30 years ago.
"I got shouted at a lot," said Doherty. "But that was mainly because I never did my homework. But, he gave me motivation, which I really didn't have for math."
Fred Albano, an Algebra II teacher, has been at Cal High a year longer than Trieb. They've been good friends for the past 40 years.
"He acts tough, but really, he isn't," Albano said. "I think he has the heart of a teddy bear."
Whether you love him or not, everybody agrees that Trieb is a fascinating character.