Multicultural fair showcases ethnicities
Annual event promotes cultural diversity on campus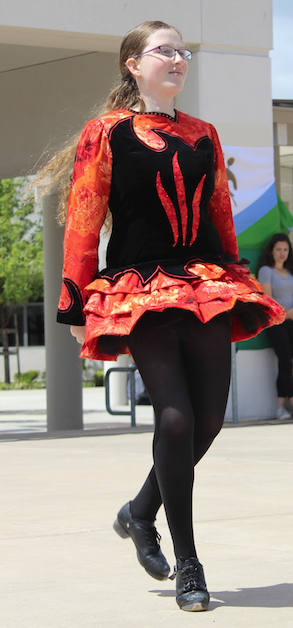 For the past four years, Cal High has celebrated the Multicultural Faire with its students through a variety of cultural-based clubs to bring awareness to the cultures present on the school's campus.
Cal is considered the most culturally diverse high school in the San Ramon Valley School District and 572th in the state of California, according to the 2016 Most Diverse Public High Schools report by niche.com, a website that ranks schools by various indicators.
Inspired by the idea of bringing unity and awareness to various cultures on campus, Cal leadership students organized the Multicultural Faire on April 14 to provide a space where anyone could feel like his or her traditions have been represented. Preparations for this event have been taking place since late March.
"We want to make everyone aware of the expression that we have in this school…that everyone is represented," said sophomore leadership student Mitchell Bias.
The quad certainly embraced this diversity at the Faire. During the lunchtime event, students involved in clubs ranging from the Asian Culture Organization to Foreign Language Study set up booths in the quad to exhibit the different aspects, cuisines, and customs of their ethnicity.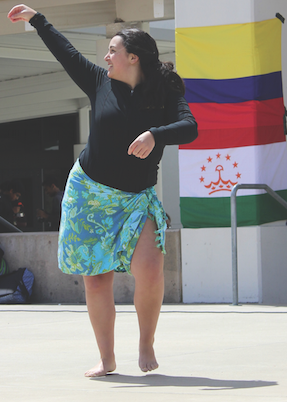 The Multicultural Fair is a completely student-run event that involves the various cultural clubs available on campus. Each club runs its own booths and is represented by its active members.
Many also brought in a taste of their culture by providing food and beverages for Cal students to enjoy.
As students entered the quad for lunch, they were welcomed by the flags of different countries hung around the area and a large banner and loud music.
The Asian Culture Organization, which is planning on visiting San Francisco's Chinatown for next year's Chinese New Year celebration, set up a tea booth and distributed barley tea to students.
Their club's objective is to enhance the understanding of different Asian cultures within their club.
Junior Ryan Higgins, who founded the Asian Culture Organization this year, said, "I think we just gotta have people be more open minded and just understand each other and our backgrounds, because without understanding our backgrounds, people may be fearful or perhaps judgemental about others."
The Foreign Language Club featured the Philippines at their booth and displayed foods, sweets, money, and sand from their country. The main goal in their club is to teach students how to speak their national language, Tagalog. They also teach four other languages besides Tagalog.
The Tagalog teacher within their club is senior Joshua Caleb Dy.
"We want people to know that we're proud of who we are and that we stand by our ethnicity," Dy said. "We also want them to know that we're accepting."
Chinese classes also took part in the faire and set up a calligraphy booth where students could get their name written in Chinese on a bookmark by Winnie Wang, the school's Chinese teacher.
Some of the highlights of the Multicultural Faire took place on the stage in the quad, where two students beautifully displayed their skills and culture through traditional performances.
Senior Katelyn Hefter demonstrated an Irish step dancing routine and junior Sara Zettle performed a Tahitian dance.
"I wanted to represent the culture," Zettle said. "Even though I'm not Tahitian, I am Hawaiian and I practice different Polynesian dancing. I just really wanted to have that culture represented."
Zettle also sees more participation from students in these types of events, even though others aren't as appreciative.
"I still saw people making fun of others that were trying to participate in the Multicultural Faire so that kind of sucked," Zettle said, "but I definitely saw more people trying to participate and put themselves out there."
The faire was certainly an enjoyable and educational opportunity for the students. The different foods, arts, and dances showcased at this year's Multicultural Faire brought awareness to students about all that the different cultures have to offer.
The faire wasn't the only event held at the school to raise knowledge about different cultures and ethnicities.
AP French teacher Patricia Goldin, along with other French classes, organized a French flash mob in order to encourage students to take French and show the enthusiasm that current French students have.
"This school's grown a lot and I've always thought it has really good diversity," Goldin said. "From my point of view, I think the students here are really grounded and really great in terms of accepting others."